Brighton & Hove Albion vs Manchester City. Prediction and Preview. Probable Lineups, Team News, Stats and more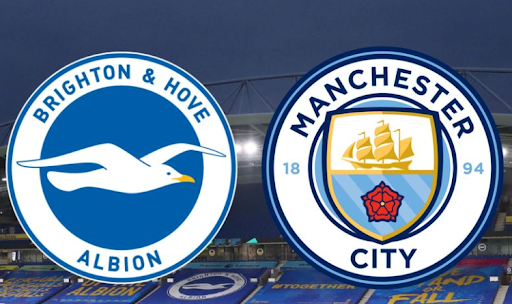 Man City have already fulfilled their goal in the EPL – they secured the silverware. Brighton, in turn, have the fight for the UEL on the horizon. Can De Zerbi lead the team to the Eurocup сampaign for the first time in their history?
Brighton & Hove Albion FC will host Manchester City FC in the English Premier League 32nd-tour match at Amex Stadium. The fixture will take place on Thursday, May 25, beginning at 00:30 IST.

What can we expect this Thursday night? Parimatch News will tell you everything you need to know ahead of the upcoming match.
Brighton News & Current Form:
Roberto De Zerbi's team has now guaranteed a place in the top seven, but the Italian coach stressed the importance of earning at least one point in the last two games to strengthen their sixth position and qualify for the UEFA Europa League next season. Brighton has almost guaranteed their first-ever participation in this cup.
Their last match will be against direct rival Aston Villa FC, who are currently in seventh place, three points behind Brighton. Should the Seagulls lose to both Manchester City and the Lions, they will finish in seventh place, which only gives them a ticket to the UEFA Europa Conference League.
Hardly anyone expected Brighton to compete for European places this season, but their attractive style of play under De Zerbi has earned them a respectable place. The coach has already attracted the attention of several top clubs. The Italian has played no small part in the fact that the Seagulls have become one of the strongest and most successful clubs in England.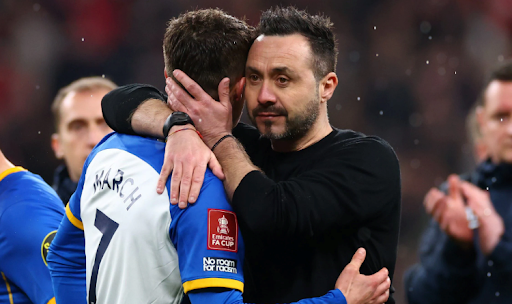 Roberto De Zerbi's charges have plenty of motivation. And the tone among the players is quite good. In the last six rounds of the EPL they lost to Everton FC (1 – 5) and Newcastle United FC (1 – 4). They have beaten Wolverhampton Wanderers FC (6 – 0), Manchester United FC (1 – 0), Arsenal FC (3 – 0) and Southampton FC (3 – 1).
In the game against the Saints, Evan Ferguson, a promising young talent, scored two goals in the first half, giving the Seagulls a solid lead. Although Mohamed Elyounoussi scored one goal for Southampton just before the hour mark, Pascal Gross gave Brighton a two-goal lead with a goal in the 69th minute.
The players show uncompromising soccer: without a draw in 10 meetings, six of which ended in victories. At home, De Zerbi have not conceded in eight of the ten encounters, of which seven have been successful. Roberto has built one of the most productive teams in the championship: Albion scored 70 goals and are in fourth place in this regard.
In the first round, Manchester City beat Brighton (3-1). City have dominated their previous meetings, winning 10 of their last 11 Premier League meetings since Brighton's promotion in 2017.
But there have been defeats, too: in May 2021, for example, the Brighton men riveted Pep Guardiola's boys in their last home game of the 2020-21 season (3-2), with goals scored by Leandro Trossard, Adam Webster and Dan Burn.
The task of beating City, however, does not look impossible. Roberto De Zerbi's team has an excellent balance sheet, as evidenced by their 2nd and 4th place in the league in goals scored (xG = 1.94) and conceded (xGA = 1.26) expectations.
Brighton striker Evan Ferguson could move to Manchester City. He is a prime candidate for the forward position if Erling Haaland decides to leave his current club. Ferguson's current contract with the club runs until the summer of 2028.
The Irish striker has played 32 matches for Albion this season, scoring 16 goals and giving five assists. The value of the player is estimated at 10 million euros.
Don`t miss out 👉: 5 Youngsters who enjoyed a breakthrough season in 2022-23 UCL
Manchester City News & Current Form:
Manchester City have already made the first step to treble this season, having secured the English Premier League title for the third time in a row. In the last round, Guardiola's charges beat Chelsea FC 1 – 0 at home, and they became champions even before the match, as the main pursuer Arsenal lost to Nottingham Forest FC.
Guardiola sent out a very experimental squad for the match, leaving a good half of the base. Nevertheless, the Citizens beat Chelsea. Julian Alvarez was the main hero of the game. The world champion scored in the 12th minute of the game with an assist from promising City trainee Cole Palmer.
Despite Guardiola's experiments, Man City had more possession and took more shots. The club's defense was not at its best, but they were lucky that their opponents did not take many of their chances.
The win marked their last home game of the season and captain Ilkay Gündogan was honored to lift the club's seventh Premier League trophy.
Now there are two big finals ahead, against Inter in the UEFA Champions League and Manchester United in the Emirates FA Cup. Of course, everybody dreams of winning the most prestigious European cup, but the main goal is the treble. Guardiola said that winning the Champions League would reinforce their status as one of the greatest teams in the history of sports.
In the second half of the season, Manchester City have made such progress that it is simply impossible to stop them. The club won all of the last 12 rounds of the championship of England. Also he reached the final of the FA Cup and the finals of the Champions League, defeating Real Madrid CF 4 – 0 in the return semifinal match.
City is the most scored team in the league this year (93 shots). And in general it leads in all other indicators – points (88), victories (28), draws and defeats (four each) and conceded goals (31).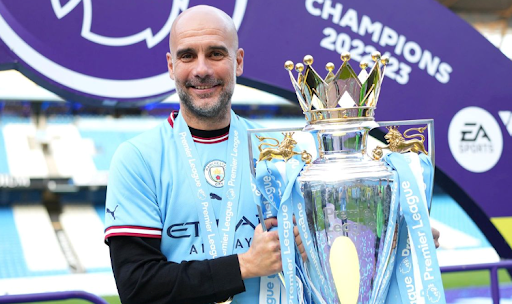 On the road, Pep's team has been predatory, winning five of their last five visits to opponents. And City rarely leave the field without a goal: the players have taken accurate shots in eight of their nine recent outings.
Nathan Ake is certain to miss this meeting due to injury, and Guardiola is certain to rest many of his players.
Manchester City midfielder Phil Foden has achieved a unique milestone. He set the EPL record for the time taken to win 100 games in the league. It took him 127 matches. In those matches, Foden scored 34 goals, gave 18 assists and won five titles.
Earlier the record belonged to his teammate Bernardo Silva. The Portuguese won 129 games. Brazilian Ederson Moraes – 130. Nemanja Vidic and Gabriel Jesus share the fourth place with 131 matches each.
Brighton form guide: W-W-L-W-L-W
Manchester City form guide: W-W-D-W-W-W
Brighton vs Manchester City Head-To-Head Record:
| | | |
| --- | --- | --- |
| Brighton | Draw | Manchester City |
| 6 | 4 | 19 |
July 11, 2020: Brighton 0 – 5 Manchester City (Premier League);
January 13, 2021: Manchester City 1 – 0 Brighton (Premier League);
May 18, 2021: Brighton 3 – 2 Manchester City (Premier League);
October 23, 2021: Brighton 1 – 4 Manchester City (Premier League);
April 20, 2022: Manchester City 3 – 0 Brighton (Premier League);
October 22, 2022: Manchester City 3 – 1 Brighton (Premier League).
Brighton vs Manchester City Predicted XI:
Brighton possible starting lineup (4-2-3-1): Steele; Veltman, Dunk, Colwill, Estupinan; Gross, Caicedo; Buonanotte, Mac Allister, Mitoma; Welbeck.
Manchester City possible starting lineup (3-3-1-3): Ederson; Walker, Dias, Laporte; Stones, Rodri; Mahrez, De Bruyne, Gundogan, Grealish; Haaland.
Statistical preview of the match Brighton vs Manchester City:
Brighton's First XI average age is 25.8 years.
City's First XI average age is 25.6 years.
Manchester City are victorious in their last 3 games against this rival.
Brighton are unbeaten in 6 of their last 8 games at home in the Premier League.
Manchester City are scoring an average of 2.20 goals per game in their last 5 games, while conceding an average of 0.40 goals per game.
Manchester City are without a conceded goal in their last 3 games.
In their last 5 games, Brighton are conceding an average of 2.00 goals per game, while scoring an average of 1.80 goals per game.
Brighton's top scorers: Alexis MacAllister (12+3), Pascal Gross (10+9), Kaoru Mitoma (10+7), Evan Ferguson (10+3).
City's top scorers: Erling Haaland (52+8), Julian Alvarez (17+4), Riyad Mahrez (15+13), Phil Foden (14+7).
What has been said before the match:
Boss of the Seagulls Roberto De Zerbi ahead of the game with league winner City:
"We want to play in the Europa League and to do that, we need another point. We want to play seriously and win the game. We have a big, big target – we respect the Conference League but if we have the opportunity to play in Europa, we must try."
"I'm not shy about setting big targets. It's not arrogance, because I know the quality and know our possibilities. It's because I love to dream. I want my players and the fans to dream. It's crucial to everyone."
"Manchester City are in a fantastic moment in terms of mentality and quality of play… but they have been playing like this for seven years. We will play a serious game and give our best. We will play with our style to try and win."
"About my future, again I'm not worried about my future. I know that my contract expires at the end of the season and what the club decides, it's going to be the club's decision. It's not my decision, I cannot control it, so I cannot spend time on that."
Pep Guardiola, coach of the best team in England, about the opponent's coach and the victory in EPL:
"Congratulations to Brighton for this incredible achievement of getting into Europe. Roberto De Zerbi is one of the most influential managers in the last 20 years. There is no team that plays the way they play, it's unique."
"I had the feeling that when he arrived I had an idea the impact he would have on the Premier League would be great but I couldn't expect him to do it in such a short time."
"They create on average 20-25 chances per game. They monopolize the ball in a way that hasn't been seen for a long time. Everybody is involved – the goalkeeper is like a holding midfielder."
"They completely deserve the compliments and the success that they have. It's one of the teams that I try to learn a lot from, it's unique. It's going to be an incredible challenge for us ahead of the two finals."
"I prefer to be a champion. They had a party after the game against Chelsea. I don't know how they will feel tomorrow. We will run a lot and suffer a lot. We'll have days off but the moment we have to play the players set the standards we have to maintain it. We have used an incredible amount of energy."
"We had the FA Cup, Champions League, playing Bayern and Real Madrid in Europe. Being behind Arsenal the energy we spent was massive. It's normal. It doesn't drop much otherwise the two teams can hurt us and really hurt us. Playing our game and adapting."
"Then we can arrive after one week to United and Inter in the best condition."
Brighton vs Manchester City Prediction:
The upcoming fixture offers Brighton a valuable opportunity to clinch a place in the Europa League 23/24, and that is something the Blues and Whites are keen on, as the Italian coach once proclaimed. Needless to say, there is no additional incentive to look for.
And this kind of ambitiousness and its materialisation are no fluke – the Seagulls show superb football. De Zerbi's crew produce a lot of goals (70 in a season; 1,94 per game) and even if they lose, they still manage to find their opponents' net. The Seagulls' scoring streak has already endured for 14 rounds. Besides, the meeting will take place at the Gulls' home ground. At the Amex Stadium, the club is much more confident – they have lost just once in their last five games.
Manchester City, of course, have been extremely effective in the second half of the season. Even with the reserves, they managed to beat Chelsea easily and convincingly. Nevertheless, the Citizens have much less motivation in comparison to their upcoming rivals. They have already won the EPL and have already started preparations for the finals in other tournaments (crucial UCL showdown against Inter and FA Cup Manchester Derby). Of course, England's glory is important, but the treble is more important, so it's unlikely that they will go all out in a non decisive away game. Expect a heated challenge from the Seagulls.
Don`t miss out 👉: Will Real Madrid bounce back again next season?
Parimatch News staff prediction:
We say: Brighton will not lose and both teams will score – Yes.