Borussia Dortmund vs Union Berlin. Prediction and Preview. Probable Lineups, Team News, Stats and more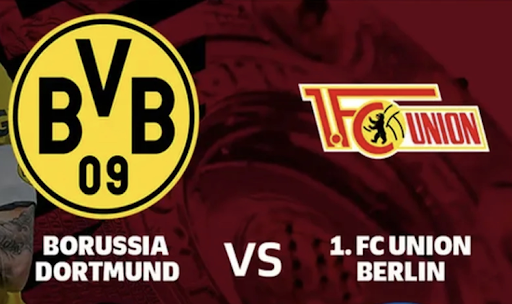 Bundesliga frontrunners are set to clash, who will emerge as Bayern's closest pursuer in the title race?
Borussia Dortmund will host FC Union Berlin in the Bundesliga 27th-tour match at Signal Iduna Stadium. The fixture will take place on Saturday, April 8, beginning at 19:00 IST.

What can we expect this Saturday night? Parimatch News will tell you everything you need to know ahead of the upcoming match.
Borussia Dortmund News & Current Form:
For some time Borussia Dortmund was at the top of Bundesliga standings, however they dropped to second place after an unpleasant trip to Munich. BVB's hopes of winning a trophy this season now solely rest on their chances of clinching the Bundesliga title after dropping out of German Cup, but that goal has become more challenging after their 4 – 2 defeat to arch-rivals FC Bayern Munich at the Allianz Arena last Saturday, the team that managed to fire Julian Nagelsmann and appoint Thomas Tuchel during the March break.
BVB fell behind 4 – 0 inside the first 50 minutes, following a disastrous own goal by Gregor Kobel in the 13th minute, setting the tone for another familiar defensive collapse against Bayern. Despite late goals from Emre Can and Donyell Malen, Dortmund can't afford any more slip-ups, especially with a defeat to Union Berlin on Saturday potentially resulting in them being overtaken for second place in the league.
After that there was a DFB-Pokal game with RB Leipzig, which is led by former Dortmund manager Marco Rose. RB thoroughly outplayed Borussia at the Red Bull Arena, resulting in a 2 – 0 defeat for the visitors, who only managed to generate two shots during the game.
Goal of Timo Werner in the 22nd minute gave the hosts a well-deserved lead, and although BVB managed to hold on until the end, a last-minute goal by Willi Orban secured Leipzig's spot in the last four of Germany's domestic cup.
Talking about Euro Cups, Dortmund dropped out of the UEFA Champions League, losing to Chelsea FC on aggregate. Summing up, in five previous matches, the Dortmund club won only one victory, beating FC Cologne 6 – 1 at home.
Recently, the Bumblebees had a streak of ten wins in a row. But now Borussia's players are in a slump. Yes, Edin Terzic's team was losing to strong opponents, but it can be stated that they definitely did not play their best game.
On the home field the team feels confident and shows good performance. They have not lost at home since the beginning of September, with nine wins and one draw. It should be added that the team scored in all home matches in this Bundesliga season scored 36 goals, only Bayern has more (43).
Edin Terzic's team plays vertical soccer, creating a lot of chances, but suffering from frequent mistakes in defense. In terms of expected goals scored (xG = 1.81) they are second only to Bayern, and in terms of conceded goals (xGA = 1.33) they are in the middle.
Let's talk about absentees now. It is highly probable that the young star of the team Jude Bellingham will return to the squad for the game this weekend, as he was only used as a substitute in their 2-0 cup defeat to Leipzig on Wednesday. Salih Ozcan is expected to replace the 19-year-old, although Coach Terzic may decide not to make any other changes, especially since absence of Karim Adeyemi from the squad indicates that he is not yet fit enough to start due to a recent muscle injury.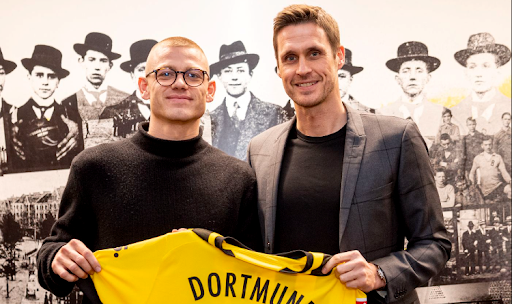 Injury will keep Nico Schlotterbeck, Mateu Morey, and Julien Duranville out of the team, while Sebastien Haller and Thomas Meunier are doubtful for selection due to knee and back issues respectively.
Transfers between the two teams have not been limited to changes in the league standings. Julian Ryerson played as a left-sided defender for Union, but he has now switched sides after being signed by Dortmund during the winter transfer window. Despite representing Union 79 times in the Bundesliga, the 25-year-old Norwegian has quickly settled into his new role at Signal Iduna Park, starting nine out of 11 league games since joining the club.
Union Berlin News & Current Form:
Union, meanwhile, are in third place with 51 points in 26 rounds. Yes, it's a fact – the Berlin club continues to fight for the league title, as well as for a ticket to the Champions League.
After missing out on UCL qualification by a single point last season, Urs Fischer's team trails Bayern Munich by just four points. They secured a comfortable 3 – 0 win against bottom-placed VfB Stuttgart in their last game, with Sheraldo Becker breaking the deadlock six minutes into the second half. Kevin Behrens doubled their lead, and an own goal by Genki Haraguchi ended the game.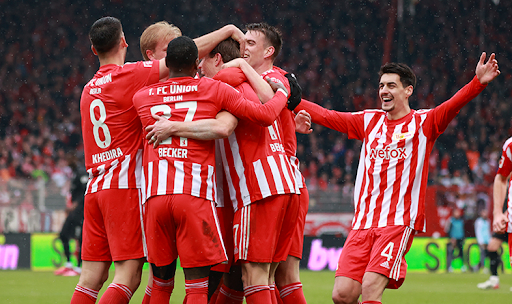 However, Union Berlin's cup hopes ended with a defeat to Eintracht Frankfurt, with Randal Kolo Muani scoring an early brace, leaving them with a mountain too high to climb at Deutsche Bank Park. Despite their exits from the Europa League and DFB-Pokal, Union Berlin remains on track to secure their primary goal of qualifying for the Champions League for the first time in their history. Their six-point lead in the top four places was increased by RB Leipzig's unexpected 3 – 0 defeat at home to Mainz 05 last weekend.
Fischer and his team are determined to keep pushing for more, and they have their sights set on overtaking Dortmund and moving into second place in the table, which could be possible with an upset victory on Saturday.
Let's talk about the numbers. Union had lost only one of their previous 11 games in the Bundesliga, with Urs Fischer's team losing to Bayern (0 – 3) at the end of February. On seven other occasions, the Berliners scored the maximum number of points.
In the context of the upcoming match, however, it should be noted that the Berliners still play worse away. For example, in the previous ten away matches in the championship they had five defeats. It should be noted that Union also tightened up their actions in defense, in 4 of the last 6 matches in the elite German division playing on a zero.
Berlin prefer to play second-string, relying on a low block and its strong defense. In terms of expected conceded goals (xGA = 1.19) it is second only to Bayern and Leipzig. However, the Iron Ones have to pay the price for that with their low offensive potential (xG = 0.7 – 2nd place from the end)
That in turn is compensated by excellent play on standard shots, from which Urs Fischer's team has already scored 34% of their goals. This could be a serious threat for the Bumblebees, since Schlotterbeck, who is one of the best players in head play, is injured.
The return of Frederik Ronnow in goal would be crucial for Union Berlin, who will be hoping for his recovery from a knock that kept him out of the midweek match against Frankfurt. Jerome Roussillon is expected to return as the left wing-back to provide natural balance, and Laidouni Aissa could also make a comeback to the midfield after both players were left on the bench on Tuesday.
However, Andras Schafer is unlikely to feature once again due to his long-term foot injury, and Paul Seguin is also expected to miss out due to a muscular issue that forced him to be substituted in the match against Frankfurt.
Borussia Dortmund form guide: W-L-D-W-L-L
Union Berlin form guide: D-D-L-W-W-L
Borussia Dortmund vs Union Berlin Head-To-Head Record:
| | | |
| --- | --- | --- |
| Borussia Dortmund | Draw | Union Berlin |
| 6 | 1 | 3 |
February 1, 2020: Borussia Dortmund 5 – 0 Union Berlin (Bundesliga);
December 18, 2020: Union Berlin 2 – 1 Borussia Dortmund (Bundesliga);
April 21, 2021: Borussia Dortmund 2 – 0 Union Berlin (Bundesliga);
September 19, 2021: Borussia Dortmund 4 – 2 Union Berlin (Bundesliga);
February 2, 2022: Union Berlin 0 – 3 Borussia Dortmund (Bundesliga);
October 16, 2022: Union Berlin 2 – 0 Borussia Dortmund (Bundesliga).
Borussia Dortmund vs Union Berlin Predicted XI:
Borussia Dortmund possible starting lineup (4-3-3): Kobel; Wolf, Sule, Hummels, Ryerson; Bellingham, Can, Guerreiro; Brandt, Malen, Reus.
Union Berlin possible starting lineup (3-5-2): Ronnow; Doekhi, Knoche, Leite; Juranovic, Laidouni, Khedira, Haberer, Roussillon; Becker, Behrens.
Statistical preview of the match Borussia Dortmund vs Union Berlin:
Borussia's First XI average age is 27.6 yrs.
Union's First XI average age is 28.5 yrs.
Borussia have won their last 5 matches at home against this opponent.
Borussia have won their last 7 games at home.
Union Berlin are winless in their last 5 away games in the Bundesliga.
Union Berlin conceded on average 1.20 goals per game in their last 5 games.
Borussia conceded an average of 2.20 goals per game in their last 5 games.
Borussia scored an average of 2.00 goals per game in their last 5 games.
Union Berlin have failed to score in four of their last five away matches.
Dortmund's top scorers – Julian Brandt (9 + 5), Jude Bellingham ( 8 + 5), Marco Reus (7 + 5).
Berlin's top scorers – Sheraldo Becker (9 + 5), Robin Knoche (6 + 2), Kevin Behrens (6 + 1).
What has been said before the match:
BVB coach Edin Terzic ahead of the Saturday clash:
"We had two weak performances. Leipzig in particular was disappointing. We looked at things that we urgently need to change in order to perform differently tomorrow. We still have one competition left and we want to play a good role there."
"Union have a very strong defensive line on the field. It's not easy to create a lot of chances against Union. We have to see free spaces and occupy them. Being brave on the ball and supporting each other, that's what matters."
"Schlotterbeck and Duranville will not be there. Meunier and Haller have trained individually and are expected to be in the final training session. Adeyemi will come back after being suspended in the Pokal."
"Gregor Kobel is currently one of the best goalkeepers in the league and in Europe. He was the reason that the result on Wednesday was still tight for a long time. That didn't surprise us. Not only do we know how hard-working he is, but also how good he is."
Coach Urs Fischer about the team's goals, the mood before the game and absentees:
"It's a huge game this weekend, of course. Second, versus third, two sides wanting to make up for their cup losses midweek. We've got some superb players, we have pace, we like to push our opponents, to break too, but looking for the one-on-ones. It'll be very difficult."
"It's not about how Dortmund have played, it's about focussing on the things Union can do."
"We'll have to play at their limit again. Union have allowed too many chances. The sharpness and compactness has been missing a little. But we've got to put it all behind you."
"You cannot give the opponents a free half. You've got to perform for 90 minutes. We had their chances against Eintracht too, that can't be forgotten. I can never accuse my team of not giving everything. The trainer must be authentic."
"Your self-belief can be hit by two goals in two minutes. And who'd have thought that there'd be these big games to play. It can't be forgotten how far we've come, he says. We want to qualify for European competition again, of course, but won't forget where we've come from."
"Andras is still not available. Freddie looks positive, he's going in the right direction, and looks good for saturday. But we'll see after training tomorrow."
Borussia Dortmund vs Union Berlin Prediction:
An extremely important match is coming up for both teams, who have been going down a storm lately. They are direct rivals for the title and Borussia have no right to lose points again in the league, otherwise the Meisterschale could spend another year in Munich, as Bayern have remarkable experience and equanimity when it comes to clinchering the title.
Union have already jumped over their heads and there are doubts that the Berliners can bring back points from Dortmund, after all, the Berliners play their best matches on their home ground, not on the road. It is very important for the BVB spirits to play this match excellently at Iduna Signal Park, otherwise, should their losing streak continue, the season can officially be called a failure. That said, there will be no easy walk for Borussia on Saturday – Urs Fischer's men have no problem with patience and discipline, obediently holding down the defensive formation. At the same time, the visitors are super swift on the counterattack, which will be a big deterrent for the Bumblebees, who have problems with goal creation. This suggests that the match probably won't be rich on goals.
Don`t miss out 👉: Super Cup 2023: All you need to know – Dates, Venues, Teams, Groups, and Format
Parimatch News staff prediction:
We say: Borussia Dortmund will not lose and the match total will be less than 3.5 – Yes.