Bengaluru signs I-League Golden Boot winner Bidyashagar Singh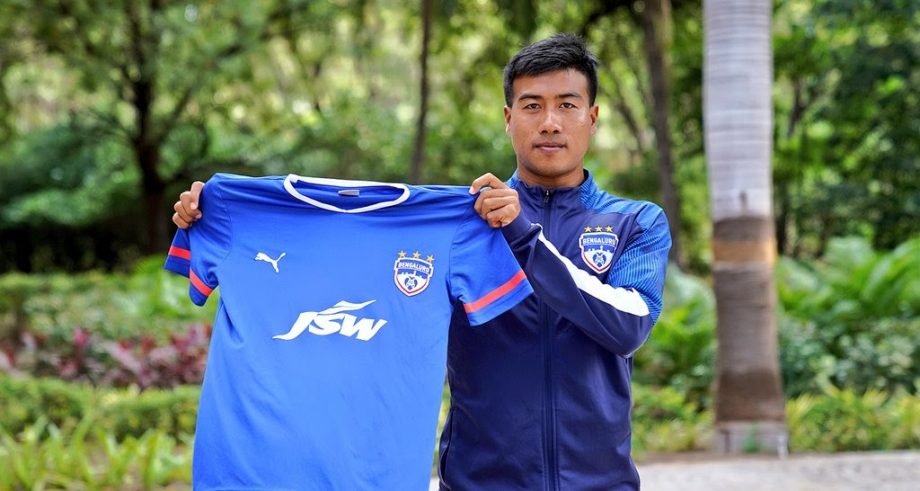 Bidyashagar Singh is ready to represent Bengaluru in the ISL
Bengaluru has signed 2020-21 I-League top scorer Bidyashagar Singh on a three-year deal until the end of the 2023-24 Indian Super League season.
After signing for the Blues, Bidyashagar said
"Signing for Bengaluru FC is like a dream come true for me. Now that I am here, I want to achieve more for the club and for myself. I am eager to improve and to contribute to helping this team to continue the winning legacy that it has established. I know that I am surrounded by so many great players like Sunil bhai and Gurpreet bhai, and I want to learn from them and develop further."
After missing out on winning the I-League title and not making it to the Indian national team despite winning the golden boot, the Manipur-born striker has his goals set for the upcoming season.
The 23-year old striker added,
"The opportunity to play for Bengaluru FC has arrived at the right time for me. Being in good form is very important for a striker and I would like to continue my good run here. My aim is to win trophies and to wear this club's jersey with pride. I also want to do well here so that I can make it into our national team."
Bidyashagar Singh was part of the East Bengal academy and broke into the Reds and the Golds squad in the 2018-19 I-League season. The Manipuri forward could not even complete 200 minutes on the pitch in the I-League in his two-year stay with the Kolkata-based club. The youngster enjoyed his breakthrough on the scene though in the 2019 Durand Cup where he scored 5 goals in two starts and two substitute appearances.
TRAU signed the versatile forward ahead of the 2020-21 I-League season and was rewarded for their faith in the youngster as Bidyashagar scored 12 goals and provided a solitary assist in 15 appearances.
Bengaluru manager Marco Pezzaouli was also full of praise for his latest signing and talked about the potential and versatility of the former East Bengal striker.
He said,
"Bidyashagar is a young player with a lot of potential. He is very eager to learn and make the next step and in the short time that he has been with us, he has shown us that he has the ability to score goals. The important thing now is to make sure he can bring his quality into our team and do that in the Indian Super League. He can play as a striker, as a winger, and in behind the striker, which gives us a lot of options in attack."
The 23-year old forward has joined the club's pre-season training camp in Bellary and will be part of their upcoming AFC Cup campaign.