Bayern Munich vs RB Leipzig. Prediction and Preview. Probable Lineups, Team News, Stats and more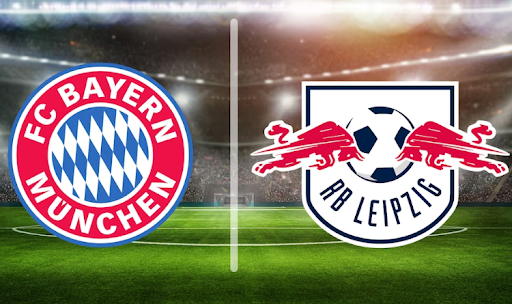 Will Marco Rosé and Co. be able to weaken Bayern's chances for the 11th consecutive title?
FC Bayern Munich will host RB Leipzig in the Bundesliga 33rd-tour match at Allianz Arena. The fixture will take place on Saturday, May 20, beginning at 22:00 IST.

What can we expect this Saturday night? Parimatch News will tell you everything you need to know ahead of the upcoming match.
Bayern Munich News & Current Form:
With their unplanned loss of points in the spring part of the championship, Munich brought about a heated finish and the necessity not to lose any more points. However, two rounds before the end of the current Bundesliga schedule, Thomas Tuchel's side are still at the top of the table, one point ahead of Borussia Dortmund, and have celebrated three victories in their previous three games.
In the last 20 seasons, only the last two matches have seen a change in the leaderboard: in the 2006/2007 season, VfB Stuttgart overtook FC Schalke 04 on the 33rd day to become champions.
The last victory came last Saturday when Star of the South received a visit from Schalke, who are struggling to keep their place in the elite. The home side's victory was predictable, but the fact that the match would end with a tennis score – not everyone expected that.
The Gelsenkirchen side arrived in Munich after three wins in four games and were fully prepared to take on the champion, but were swept aside by aggressive Bavarian attacking waves that gave the Miners a 6 – 0 showdown.
Schalke in response could not create almost anything at the Sommer goal area. It is noteworthy that against Schalke, Thomas Tuchel's charges created 5.1 xG, a record for Europe's top 5 leagues.
In 32 games played FC Hollywood scored 89 times, while conceding 34, the league's best record in both goals scored and conceded. In recent matches, the Bavarians' championship mindset is noticeable, as they are eager to win another Bundesliga season.
The club is gradually recovering from the changes in the coaching staff and already demonstrates at times the former confidence with which it is able to control most of its matches. In addition, the club's top scorer Serge Gnabry (15+7), who scored in the last 3 Bundesliga games, which has not happened since 2020, has tightened his performance.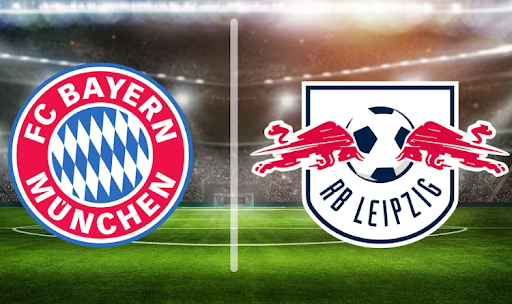 In the latest push for the German national championship, Bayern hope its injured goalkeeper Yann Sommer will be called up to the national team. The 34-year-old Swiss, who was already unable to train on Wednesday because of gastrointestinal problems, was absent the next day.
If Sommer takes a break, Sven Ulreich will be ready to step in as a substitute. The 34-year-old has already played three games each in the Bundesliga and UEFA Champions League this season and has played twice in the DFB-Pokal. He replaced Manuel Neuer when he dropped out in the fall because of a shoulder injury. Neuer is out due to a broken leg.
He talked about his recovery. Today the German had his first training session after a serious injury:
"I'm fine. Happy to come to Sebener Strasse every day and train there. The rehab is going very well, we are happy. The last shots were also good. It's nice to take a step forward every day. We are all optimistic."
"The goalie exercises we do indoors are having a very good effect. I can already ride my bike again without any problems, and I can do most strength exercises."
It is unlikely that striker Eric Maxim Choupo-Moting will be able to intervene again in the season finale. The 34-year-old continues to suffer from knee problems. Choupo-Moting has been out of action since early April.
Midfielder Thomas Müller reacted to rumors of his desire to leave the Munich club:
"I am not thinking about leaving. We are fighting for the championship, and my heart is redder than red. I even scored my first goal today! I think I will stay with the team longer."
RB Leipzig News & Current Form:
The Red Bulls are again eager to finish in the top three, from which they fell out last season in fourth place. And so far Marco Rosé's team is doing it – the team is third in the table and one point ahead of FC Union Berlin, but the Leipzig team will not be able to catch up with the duo of leaders. Overall, the Red Bulls are coming off a strong start to the championship, with five wins in their last six Bundesliga games.
Last weekend, Leipzig hosted a jovial SV Werder Bremen in the home walls and didn't give up their scheduled soccer concert. The game was sharp, but goalless until midway through the second half.
Leipzig were unable to level the score until the 87th minute when captain Willi Orban headed in Nkunku's pass. On 90+6 minutes, Dominik Szoboszlai netted the winning goal with his right foot. He was assisted again by Nkunku (2 – 1).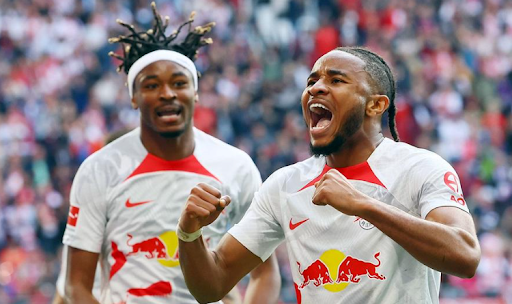 In addition, Marco Rose's team managed to break into the final of the German Cup, where they will meet with Eintracht Frankfurt.
It is worth noting that the Bulls have an excellent balance sheet. In terms of expected goals scored (xG = 1.79) and conceded (xGA = 1.07) they are in 3rd and 2nd place in the Bundesliga respectively.
Again and again, the Spaniard Dani Olmo has been thrown off by injuries. But when he's really fit, he matters at RB Leipzig. And could tip the scales at the end of the season.
Olmo practically single-handedly led the team to the German Cup final. And once again he showed that if he is really fit, he is a great player in the midfield. The Spanish player scored one goal in the 5 – 1 triumph against SC Freiburg and contributed three goals. Leipzig coach Marco Rose also knows how important the midfielder's brilliant moments are:
"We know about Dani's abilities and also his importance to us. I hope he starts playing again at the end of the season and hopefully stays healthy."
The Spaniard sees spaces that others don't. It's immediately noticeable that when he returns, more dangerous passes are played out. Then, when he is joined by his brilliant finisher Christopher Nkunku, Leipzig can dominate and beat any opponent.
The duo can be crucial for the remaining games when it comes to qualifying for the Champions League and the German Cup.
Bayern Munich form guide: D-D-L-W-W-W
RB Leipzig form guide: W-L-W-W-W-W
Bayern Munich vs RB Leipzig Head-To-Head Record:
| | | |
| --- | --- | --- |
| Bayern Munich | Draw | RB Leipzig |
| 9 | 6 | 1 |
February 9, 2020: Bayern Munich 0 – 0 RB Leipzig (Bundesliga);
December 5, 2020: Bayern Munich 3 – 3 RB Leipzig (Bundesliga);
April 3, 2021: RB Leipzig 0 – 1 Bayern Munich (Bundesliga);
September 11, 2021: RB Leipzig 1 – 4 Bayern Munich (Bundesliga);
February 5, 2022: Bayern Munich 3 – 2 RB Leipzig (Bundesliga);
July 30, 2022: RB Leipzig 3 – 5 Bayern Munich (Bundesliga);
January 20, 2023: RB Leipzig 1 – 1 Bayern Munich (Bundesliga).
Bayern Munich vs RB Leipzig Predicted XI:
Bayern Munich possible starting lineup (4-2-3-1): Sommer; Mazraoui, Pavard, De Ligt, Cancelo; Kimmich, Goretzka; Sane, Muller, Musiala; Gnabry.
RB Leipzig possible starting lineup (4-2-2-2): Blaswich; Simakan, Gvardiol, Orban, Henrichs; Laimer, Haidara; Szoboszlai, Forsberg; Werner, Nkunku.
Statistical preview of the match Bayern Munich vs RB Leipzig:
Bayern's First XI average age is 27.8 yrs.
Leipzig's First XI average age is 26.5 yrs.
RB Leipzig have won their last 4 matches.
Bayern Munich are victorious in their last 3 games.
Bayern are unbeaten in their last 11 games against this opponent.
In the last 5 games Bayern conceded on average 1.00 goals per game and scored on average 2.40 goals per game.
In the last 5 games RB Leipzig scored an average of 1.80 goals per game and conceded an average of 0.80 goals per game.
This season, the rivals met twice – in the summer battle for the German Super Cup, the Munich side was stronger (5 – 3), and in the Bundesliga match in Saxony the teams formalized a peaceful outcome (1 – 1).
In the current championship Bayern are traditionally the most productive team, the average scoring rate of the "Star of the South" is 2.78 goals per game.
Despite their high position in the table, Leipzig perform much worse on foreign fields, where they earned 22 points compared to 38 at home.
Bayern Munich's top scorers – Serge Gnabry (15+7), Eric Choupo-Moting (14+2), Leroy Sane (12+7), Jamal Musiala (11+12).
RB Leipzig's top scorers – Christopher Nkunku (16+4), Timo Werner (11+4), Emil Forsberg (7+4), Andre Silva (7+4).
What has been said before the match:
Coach of Bayern Munich Thomas Tuchel:
"We know Leipzig's key strengths. So, if we want to control the game, it's essential to prevent the counter-attacks before they happen. When we go into the attacking zone freely and aggressively, we have to keep ourselves safe. We want to try to let as many players attack freely as possible. We have to get the balance right. It's challenging."
"It is not a routine [the title race with BVB]. Usually, the championships were decided earlier. The table situation certainly isn't standard now. The best recipe is to focus only on our own tasks. We have a tough opponent ahead of us. We want to perform well and turn it into a great result. The only thing that counts for us is victory tomorrow."
The Red Bulls coach Marco Rose ahead of the important Bundesliga game:
"What is there to say about Bayern? Quality side and a quality coach, who tries to get the best out of his team. We're up against a real challenge of Champions League proportions."
"We can't allow Bayern to overwhelm us. Our job is to draw out their weaknesses. You have to be confident and believe in yourself in Munich – that's the key for me."
"It was an important and exciting win against Werder. It was a fair result over 90 minutes, but there were times where we struggled. We knew we needed to be patient against a Werder side who looked for the counter."
Bayern Munich vs RB Leipzig Prediction:
Bayern have been in a tizzy mentality before and after Tuchel's appointment, with the Munich side both suffering ignominious exits from the German Cup and the Champions League. At one point, it looked as though the title was slipping from their grasp. But then, Borussia Dortmund slipped up where hardly anyone was expecting them to and let their arch-enemy get ahead of them.
Now, Thomas Tuchel's men require two victories in the remaining two rounds to avoid looking back on Dortmund's results. An unmotivated FC Köln are unlikely to provide a credible challenge for the Munich side, while Leipzig will likely be a tough team to beat.
However, the chances are on the side of the hosts if we consider the recent rivalry history. In their head-to-head encounters, Bayern have been dominant over Leipzig, having remained unbeaten in 12 of their 13 matchups in the Bundesliga (7 wins, 5 draws).
And, as we probe the pre-match balance of powers, we should disabuse ourselves of the illusion that the five-match winning streak for Marco Rosé's charges in the league is not a sure indicator: besides Freiburg, they have beaten teams from the bottom half of the table, and even those with a minimal advantage.
And although Munich have often unpleasantly surprised their fans this season, the team will be at their best in the decisive moment to take a step towards their 33rd league title. Yet the Bulls are no whipping boys – they will put up a good fight, and that is what we factored into our prediction.
Don`t miss out 👉: Odisha appoints Sergio Lobera as the new head coach ahead of ISL 23-24
Parimatch News staff prediction:
We say: Handicap RB Leipzig (+1,5) – Yes.