Bayern Munich vs Paris Saint-Germain. Prediction and Preview. Probable Lineups, Team News, Stats and more
One of the main posters for the UEL Round of 16 delights us with fiery action in Germany: Bayern vs PSG
FC Bayern Munich will host Paris Saint-Germain in the UEFA Champions League second-leg 1/8 match at Allianz Arena Stadium. The fixture will take place on Thursday, March 9, beginning at 01:30 IST.

Kylian Mbappe had come on for Paris in the 57th minute and almost turned the game over, but… both of his goals were canceled out by VAR – a 0-1 defeat to Bayern as a result. After that, Mbappe scored three goals in two games in France. The return leg ⅛ to Munich will see a very different PSG side. Will Julian Nagelsmann and his men be able to stop the furious French to advance to the next stage?
What can we expect this Thursday night? Parimatch News will tell you everything you need to know ahead of the upcoming match.
Bayern Munich News & Current Form:
The teams had already met three weeks ago in the Champions League match. As fate would have it, PSG had to play at home not in the best condition, as the Parisians' acknowledged leaders could do little to help the club – Messi and Mbappé had just been released from the club hospital, while Neymar alone was not quite fit to play. The German champion capitalized on this as he showed his superiority from the outset.
In the first half, the hosts were nowhere to be seen at the Parc de Prince, but PSG managed to keep their goal locked. The latter failed to do so in the opening stages of the second period, with ex-Parisian player Kingsley Coman netting the winning shot on 53 minutes. After that, a recovering Mbappe appeared on the pitch, who managed to level the game at least. He even managed to score, but the French national team leader's goal was canceled out by VAR. In the closing stages of the game, the visitors were let down by the suspended Paward, but the scoreline remained unchanged at 0 – 1.
Bayern ended up in one of the toughest groups in the Champions League alongside FC Inter Milan, FC Barcelona and the Czech FK Viktoria Zizkov. However, Julian Nagelsmann's side had no trouble winning the quartet, with 18 points from a possible 18.
After the first game, the team from Munich played three more games, all in the Bundesliga. During this period, Julian Nagelsmann's side managed to make a mess of it, losing to Borussia Mönchengladbach FC (2 – 3).
This did not have much impact on the hosts' standing, as they picked up a total of six points in the next two games. First, the Munich side demolished a brave and cheeky FC Union Berlin (3 – 0), and then, with a more modest result, they beat VfB Stuttgart (2 – 1). In the match against Berlin, Sadio Mane was finally involved. The player recovered just in time for UCL to help the team climb higher in the championship.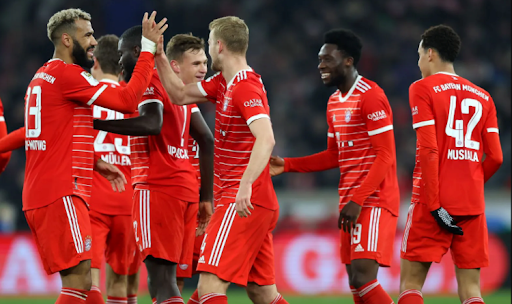 The situation in the Bundesliga is very tense, managing to hold onto the top spot for now, but second-placed Borussia Dortmund FC are only behind due to extra points. At the same time, Union Berlin are also five points away and pose a threat.
Munich head coach Julian Nagelsmann is considered the chief enemy for himself and his team, because the undoubted genius is prone to such tactical decisions, which may well go against his own team.
Manuel Neuer and Noussair Mazraoui will miss this game. The main left-back Lucas Hernandez is out injured. In addition, Benjamin Pavard is suspended.
Bayern Munich striker Thomas Muller has shared his expectations for the return leg against PSG:
"Everyone can decide for himself who he considers the favorite. The numbers say that we won the first leg 1 – 0. I think that gives us the edge. Besides, we are playing at home."
"Both teams will have to rely on the fundamental aspects of the game. I am confident that we can show them on the pitch. Luck also plays an important role in matches with such high stakes. It will be a hot game."
Paris Saint-Germain News & Current Form:
It is a shame that either Bayern or PSG will leave the Champions League after this match. Both teams are highly touted for the top prize, but the draw has brought Paris and Munich together in the 1/8 finals.
Yes, PSG lost the first leg, but the situation now has changed. First, Kylian Mbappe has recovered, and he made a big splash in Paris. Second, Lionel Messi, who was tired after the FIFA World Cup, has slightly improved his form. And Neymar will not help the Parisians in the second game.
In UCL Saint-Germain found themselves in the same group as SL Benfica, Juventus FC and Maccabi Haifa FC. Christophe Galtier's side were the clear favorites, but they managed to lose the top spot to Benfica and went ahead of Bayern in the play-offs.
In the French championship, the team have fully justified their status as clear favorites, holding on to the lead almost from the first rounds. At the moment, the Red and Blues are already eight points ahead of second-placed Marseille, with third-placed AS Monaco just 12 points away.
In the last round, the Parisians easily beat FC Nantes (4 – 2) for their third win in a row. Prior to that, they also recorded victories against LOSC Lille (4 – 3) and Olympique de Marseille (3 – 0). At the same time, the team's defense is not as monolithic. The Parisians have already netted 25 goals in their 26 Ligue 1 games.
Presnel Kimpembe, Achraf Hakimi, Neymar and Renato Sanches will not appear in the game.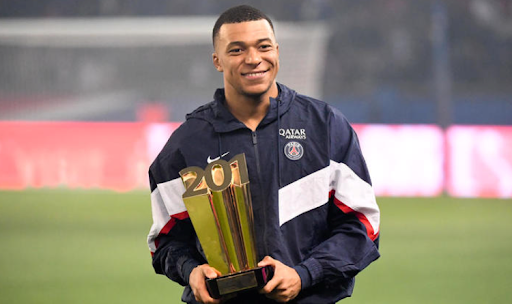 Leo Messi about the team's mood and motivation:
"We are fighting for the title. I think we played better against Marseille and we have become a stronger team thanks to those victories. We will try to do our best and turn things around against Bayern to qualify further. This is everyone's goal."
"It is important to arrive at the game with this spirit. We have a very equal game in Munich, a very difficult one, just like the first one. The small details will decide everything, because it is difficult to win in that stadium, but if we do everything right, we can make a difference. We want to continue our journey in the Champions League and we will try to do that."
Neymar has missed 43% of matches due to injury since joining PSG in 2017. A medical examination performed for PSG revealed that Neymar's right leg was "in poor condition" and surgery would have been the best solution to avoid frequent injuries. However, the club declined the surgery given the player's record transfer fee. Neymar moved to PSG for €222m, which is still considered a record to this day.
The PSG forward suffered an ankle injury in a Ligue 1 match against Lille in February and will miss the rest of the season. Neymar will undergo surgery to repair the ligament in the coming days.
Bayern Munich form guide: W-W-W-L-W-W
Paris Saint-Germain form guide: L-L-L-W-W-W
Bayern Munich vs Paris Saint-Germain Head-To-Head Record:
| | | |
| --- | --- | --- |
| Bayern Munich | Draw | Paris Saint-Germain |
| 5 | 0 | 2 |
September 27, 2017: PSG 3 – 0 Bayern Munich (Champions League);
December 5, 2017: Bayern Munich 3 – 1 PSG (Champions League);
July 21, 2018: Bayern Munich 3 – 1 PSG (International Champions Cup);
August 23, 2020: PSG 0 – 1 Bayern Munich (Champions League);
April 7, 2021: Bayern Munich 2 – 3 PSG (Champions League);
April 13, 2021: PSG 0 – 1 Bayern Munich (Champions League);
February 14, 2023: PSG 0 – 1 Bayern Munich (Champions League).
Bayern Munich vs Paris Saint-Germain Predicted XI:
Bayern Munich possible starting lineup (4-2-3-1): Sommer; Stanisic, Upamecano, De Ligt; Coman, Kimmich, Goretzka, Davies; Sane, Musiala; Choupo-Moting.
Paris Saint-Germain possible starting lineup (3-5-2): Donnarumma; Pereira, Marquinhos, Ramos; Hakimi, Ruiz, Verratti, Vitinha, Mendes; Messi, Mbappe.
Statistical preview of the match Bayern Munich vs Paris Saint-Germain:
Bayern's First XI average age is 27.1 yrs.
PSG's First XI average age is 27.9 yrs.
PSG have won their last 3 matches.
Bayern are unbeaten in 22 of their last 24 games.
Bayern are unbeaten in 5 of their last 7 games against the opponent.
PSG conceded an average of 1.80 goals per game in the last 5 games.
PSG are scoring in their last 3 games.
PSG conceded in 8 of the last 10 games.
PSG scored an average of 2.40 goals per game in the last 5 games.
In the last 5 games Bayern conceded on average 0.80 goals per game.
Bayern scored in their last 6 games against this opponent.
Bayern have scored in their last 23 games.
In their last 5 games, Bayern scored an average of 2.20 goals per game.
What has been said before the match:
Coach Julian Nagelsmann ahead of the game with PSG on Thursday:
"We cannot afford to step into the game for too long. One of the objectives for this match is not to give the opponents too much space in front of our defensive line. We will also have to cut off routes for Messi to deliver the ball and not allow him to change the direction of the attack."
"PSG have a recognizable style and clear style that you can use to your advantage, but they can also catch you on the counter if you make mistakes."
"We have a very good team structure. We all want to go very far in the Champions League. Against heavyweights like Bayern and PSG, the form on a given day always decides the outcome. The teams are of a similar level when it comes to individual players. Both clubs have real stars in their squads. Nevertheless, our players have a good understanding of how to interact with each other."
Coach of PSG Christophe Galtier shared his thoughts on the UCL clash with German team:
"Of course we are disappointed with the result of the first match. But we knew that after the first leg, no one would advance to the next round and not go out. We had a good 25 minutes – we established a team game and outclassed our opponent in that stretch."
"All matches are important. We are involved in a very tough competition. There will be a winner and a loser. We play all the matches with the ambition to win. The Champions League is always a very high goal."
"PSG have to be much more aggressive and win. If we stay in that frame of mind, we have a chance of qualifying to the next round tomorrow night. The plan for the game will be different from the first match. Mbappe's presence will give more opportunities in attack."
"Every system has weaknesses and strengths. We have been conceding goals in recent games. We have to fix that, we are working on it with the players, we talk about it a lot. I spent a lot of time with some of my players this morning. We have shortcomings, but so do our opponents. We have to be very alert and very brave in the attack."
Bayern Munich vs Paris Saint-Germain Prediction:
Although Bayern have parted ways with Robert Lewandowski and unfortunately lost Sadio Mane to injury. However, this has had little impact on their attacking potential – the Reds have failed to score in only one of 34 meetings in all competitions this season. And then, historically, the statistics are in favour of the Germans: they have managed to net against the Parisians in each of their last six games and have lost only one of them.
Although PSG will have Messi and Mbappe on the pitch, the absence of the mobile and vibrant Neymar presents a concern. Without his vision and dribbling, it will be harder for visitors to squeeze out chances and, consequently, goals.
Don`t miss out 👉: Mumbai City vs Bengaluru: Preview and Prediction
Parimatch News staff prediction:
We say: Bayern will score at least one goal and will not lose – Yes.