Barcelona Women vs Wolfsburg Women. Prediction and Preview. Probable Lineups, Team News, Stats and more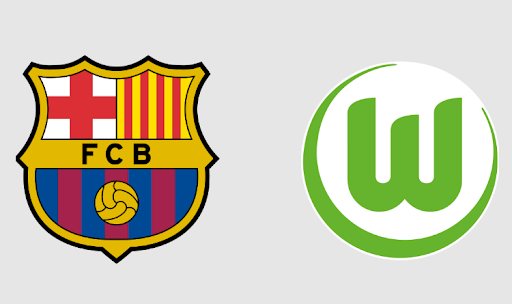 Catch up with the best of women's football: formidable Barcelona ladies' side look to take on powerful Wolfsburg in a bid to capture their second consecutive WUCL silverware
FC Barcelona Femeni will host VfL Wolfsburg Frauen in the UEFA Champions League Women final match at Philips Stadium in Eindhoven. The fixture will take place on Saturday, June 3, beginning at 19:30 IST.

What can we expect this Saturday night? Parimatch News will tell you everything you need to know ahead of the upcoming match.
Barcelona Women News & Current Form:
Experience the thrilling journey of Barcelona, three-time finalists, as they dominated their group and triumphed over tournament newcomers AS Roma Women in a commanding display during the second leg of the quarterfinals. The electric atmosphere of a record-breaking crowd in Rome witnessed Barcelona's narrow victory in the first leg.
Their path to the finals continued with a successful yet nerve-wracking semifinal clash against Chelsea FC Women. Although Barcelona didn't replicate their lightning-fast 33-second goal, reminiscent of their remarkable 4 – 0 victory over Chelsea in the 2021 final, they swiftly took the lead in the fourth minute. Caroline Graham Hansen unleashed a magnificent long-range shot, setting the tone for their relentless pursuit of victory.
Chelsea, however, refused to be outdone and mounted dangerous attacks of their own. Lucy Bronze displayed exceptional skill by blocking Guro Reiten after she skillfully escaped Sandra Paños. Additionally, the deployment of Sam Kerr on the right flank momentarily exposed Barcelona's defense, and the duo of Kerr and Reiten posed a constant threat.
Nevertheless, Barcelona's ability to counterattack kept Chelsea on edge throughout the match. The first leg concluded with a 1 – 0 scoreline favoring Barcelona, setting the stage for an eagerly anticipated second leg.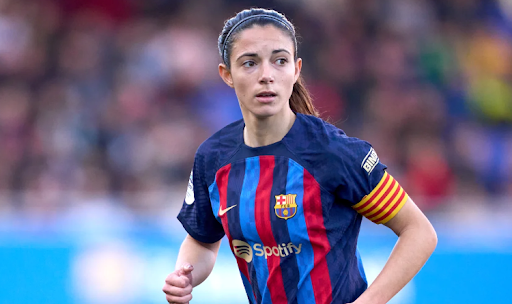 The second match took place at the Camp Nou Stadium, which gave the Spaniards confidence. Barcelona appeared on the field with the desire to develop a minimal advantage after the first match. Asisat Oshoala shot above the goal in the opening period, and then a good chance was missed by Mariona Caldentey.
Early in the second half, Fridolina Rolfo tried her luck with a shot from long range, and after an hour of play, the Blue-Grenadiers took the lead. Aitana Bonmati, after a run from her own half of the pitch, passed into the penalty area to Graham Hansen, who ricocheted the ball into the goal from Jess Carter.
Four minutes later, Chelsea restored the balance. The ball bounced to Reiten, who headed it into the net with a powerful shot. There was hope for Chelsea, but Barcelona prevented a breakthrough, although they had a couple of great chances that were missed. Alexia Putellas was never on the pitch, but she might have that chance in the final in Eindhoven.
Barcelona's player Aitana Bonmatí ahead of the Champions League final game:
"A final is a final. It'll be a very close game, I'm completely sure about it. And I'm very prudent about Wolfsburg: I think they're a great team, with big players, and they've made it to the final, and this is not their first final either."
"It's true that we had a great match against them last year at Camp Nou, but we lost at their stadium, so we have to be ready. I expect a close game. In a final, there is always a lot at stake, you have the rest of the season on your shoulders, you're nervous, you have the fans there."
"There are many things at stake in a final. So a final is a final, and sure it will be a very close game, so we'll have to be very attentive and focused throughout the whole game. As I've said before, they have great players that might hurt us at any moment."
Since the summer transfer window is just around the corner, let's talk about that as well. Ada Hegerberg could move to the Barcelona women's team this summer. Signing the first female Golden Ball winner is one of the club's main goals this summer.
Hegerberg is ready to leave Olympique Lyonnais Feminin in the summer as she believes this stage of her career has come to an end.
The sum for the transfer of Hegerberg may become a record in the history of women's football – Barcelona is ready to offer 420 thousand euros. The most expensive transfer at the moment was also carried out by Barcelona, paying 400 thousand for Keira Walsh.
Wolfsburg Women News & Current Form:
In their remarkable eleventh consecutive season in European competition, German powerhouse VfL Wolfsburg have once again reached the grand finale, marking their sixth appearance at this stage.
However, like their upcoming opponents on Saturday, they have often fallen short against the reigning champions Lyon. The French giants have been the cause of three final defeats for Wolfsburg and two for Barcelona, including last year's spectacular showdown in Turin.
By finishing at the top of their group, Wolfsburg showcased their dominance, and their journey to the final intensified when they narrowly overcame PSG Feminines in the quarterfinals.
Their clash with Arsenal Women FC in London pushed them to the limit, extending the match into extra time, eventually securing their spot in the final with a combined score of 5 – 4 against the Gunners. Interestingly, this will be the first time Wolfsburg and Barcelona meet in a final after Chelsea eliminated the mutual adversary Olympique Lyonnais in the quarterfinals.
Leading the charge for Wolfsburg is the experienced campaigner Alex Popp, who has been present in all of their previous final appearances. Popp, who had a standout individual season, clinching the Frauen-Bundesliga top scorer title for the first time in her career, is all set to captain Wolfsburg once again.
Adding to their arsenal of talent, Wolfsburg boasts the competition's leading scorer, Ewa Pajor. With their sixth final appearance since then, Wolfsburg aims to capture their third title and etch their name in the annals of European glory.
Wolfsburg beat Arsenal in a dramatic encounter in the Champions League semifinal match. The draw in the first match left Arsenal and Wolfsburg with equal chances of reaching the main game of the tournament. The return meeting was held in London in the presence of more than 60 000 spectators. What's even more remarkable, Alexandra Popp returned to the squad after recovering from an injury.
The beginning  of the match was better for the hostess. Stina Blakstenius got on a long pass from Lia Wälti, stood her ground against the defender and outplayed the goalkeeper. The Wolves answered late in the half. On a free kick, Popp dropped the ball to Jill Roord who shot it into the corner from 17 meters out.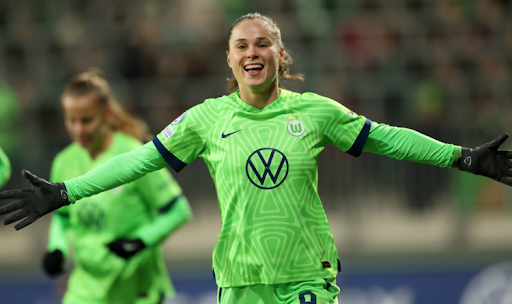 At the beginning of the second half the Gunners scored again thanks to Blastenius, but the referees called for an offside. Eleven minutes later, the visitors took the lead. Pass by Felicitas Rauch from a corner found Alexandra Popp on the edge of the net who headed the ball into the near corner.
The hosts had no option but to go on the storming of the Wolfsburg goal. A standard position also brought success. A feed from the corner of the field was blocked by defender Jen Beattie and put the game into extra time. Before it began, the Wolves' coach Tommy Stroot made a prophetic substitution, releasing Pauline Bremer.
The overtime period was quite brisk, with the main events unfolding in the final five minutes. Arsenal forward stray shot performed by Katie McCabe hit the crossbar. The denouement came in the 119th minute. A counterattack on the left flank of the Wolves was sealed by a Jule Brand shot into the penalty area which was taken by a fresh Bremer and she confidently shot into an empty net corner.
The final score was 3 – 2 and Wolfsburg made it to the Champions League final for the sixth time in history. Twice the team managed to win the trophy. Last season Wolfsburg lost 5 – 3 on aggregate to Barcelona in the semis, but after a heavy loss at the Camp Nou did win 2 – 0 at home.
Wolfsburg captain Alex Popp as she seeks her fourth title in her seventh final:
"The best way is to not let Barcelona play. If they have the ball and start playing their tiki-taka football, and you're too late going in for a challenge, then it's really tough to get the ball."
"We have to try and take away their enjoyment of the game, probably with high pressing as well. I don't actually know. I don't want to give too much away. We want to put them under pressure really early so they can't play their game."
"It's important to mention that football in general has changed, it has developed a lot. Football is much more tactical and technical now compared to ten years ago. And accordingly, the education of the players has changed, too. The young players that come up to the first team nowadays are more educated than we were back in the day. That, of course, has an influence on the game."

"When I look at our team right now and compare it with the last ten years, I think Wolfsburg have never had a squad with such an enormous amount and range of quality as we have today."
Barcelona Women form guide: D-W-W-D-W-L
Wolfsburg Women form guide: W-W-L-W-W-W
Barcelona Women vs VfL Wolfsburg Women Head-To-Head Record:
| | | |
| --- | --- | --- |
| Barcelona Women | Draw | Wolfsburg Women |
| 1 | 0 | 4 |
March 23, 2014: Wolfsburg 3 – 0 Barcelona (UEFA Women's Champions League);
March 30, 2014: Barcelona 0 – 2 Wolfsburg (UEFA Women's Champions League);
August 25, 2020: Wolfsburg 1 – 0 Barcelona (UEFA Women's Champions League);
April 22, 2022: Barcelona 5 – 1 Wolfsburg (UEFA Women's Champions League);
April 30, 2022: Wolfsburg 2 – 0 Barcelona (UEFA Women's Champions League).
Barcelona Women vs Wolfsburg Women Predicted XI:
Barcelona Women possible starting lineup (4-3-3): Panos; Bronze, Paredes, Leon, Rolfo; Bonmati, Walsh, Guijarro; Graham Hansen, Caldentey, Oshoala.
Wolfsburg Women possible starting lineup (4-2-3-1): Frohms; Wilms, Janssen, Hendrich, Rauch; Oberdorf, Lattwein; Huth, Roord, Popp; Pajor.
Statistical preview of the match Barcelona Women vs Wolfsburg Women:
Barcelona's First XI average age is 28.5 yrs.
Wolfsburg's First XI average age is 27.6 yrs.
Barcelona haven't lost in their last 23 games.
Last season's matches: 5 – 1 (Barcelona at home) and 2 – 0 (Wolfsburg at home).
Games involving Barcelona see a total of 4.5 goals scored on average. Wolfsburg also find this figure impressive at 3.5.
The average number of goals in meetings between Barcelona and Wolfsburg is 2.8.
Wolfsburg are unbeaten in their last 6 games.
Barcelona average 9.9 corners per game, Wolfsburg – 5.6.
Top scorers of Barcelona Women – Asisat Oshoala (21), Salma Paralluelo (11), Caroline Graham Hansen (11).
Top scorers of Wolfsburg Women – Ewa Pajor (8), Lena Lattwein (3), Alexandra Popp (2).
What has been said before the match:
Jonatan Giráldez, boss of Barcelona, about the season and upcoming opponent:
"We've had a very good run. We've achieved what we set out to do – reach the Champions League final. The only negative moment, which in the end I always think ends up helping you, was the defeat away to FC Bayern Frauen. It was a defeat that made us think again, focus on things that we thought were really important, but also continue to grow as a team."
"Wolfsburg have top-level players in every position, especially in midfield and up front. They are unique players at creating spaces, they are unique in one-on-ones, at playing that final pass, at shooting. They are a very difficult team to beat because of the way they defend."
"Thinking about lifting the Champions League trophy motivates me and gives me an adrenaline rush, because as a football coach there is nothing greater you can achieve."
"Becoming the best team in Europe just strengthens how we want to go about things. It also gives a meaning to all the effort and sacrifices you make on a daily basis, like waking up extremely early or traveling. It makes it all worthwhile."
"However, we shouldn't just enjoy winning the title, we should enjoy the whole journey. We should enjoy the time we spend getting ready for it. We should enjoy the whole process and experience it as normally as possible, and avoid changing habits. We are getting ready. If we win it, I'm sure we'll celebrate it in style."
Wolfburg's manager Tommy Stroot discussed last year's h2h game:
"It will be an occasion that none of us will forget. No matter how old we are, we will always be able to look back on this. Playing in a Champions League final will be a great moment in our careers."
"We know that it is the biggest challenge that we will face this year, but we also know it's possible because of the second leg we had. The stadium will be sold out and it will be an amazing atmosphere. It's a fantastic stadium – especially for a final – and I'm incredibly excited. This is what you work towards your whole life."
"Last year, we managed, in one leg, to defeat Barcelona. We know what to expect and what challenge awaits us. Despite that, and due to our development from last season, we are capable of defeating Barcelona in a game. That will be our challenge."
"It's almost impossible to imagine what winning the trophy and bringing it back to Wolfsburg would mean. I'm excited to see what the feelings will be if it actually does happen, but I'll definitely be proud – and certainly lots of other emotions will also pour out. However, let's take it one step at a time. When the game's finished, I'll release my emotions."
Barcelona Women vs Wolfsburg Women Prediction:
It's hard to disagree that the nominal hosts are regarded as the favorites for this clash. True, Wolfsburg (W) performed superbly in their last head-to-head encounter and won 2-0. But it's unlikely we'll see anything like that this time around. Throughout 2023, Barcelona (W) -have been excellent. This year, the home side have played more than 20 games and suffered only one defeat. In the coming game, we can expect that Barcelona will avoid losing in regulation time as a bare minimum.
Regarding the pattern of the game, we expect a match rich in goals, as the two offensively aggressive teams will collide. Not to be unfounded, the Spanish champions have scored a mind-boggling 118 goals (that's 3.9 per 90) in 30 games in the Women's La Liga (Liga F). Such a trend is unlikely to be halted, even with some nerve-racking due to the nature of the finals. Besides, the Wolves are not far behind the Spaniards in terms of productivity, for example, in the Bundesliga they chuck in 3.4 goals per 90 minutes (which is top 5 among all women's teams in Europe).
Other intriguing stats reveal a few more good options: based on matches played during the current calendar year, both squads are extremely careful not to commit any fouls. On average, Barcelona (W) receive 1.1 yellow cards per encounter. Wolfsburg's average individual total in terms of booking is 1.3. Given the info above, we might not expect a lot of violent play in the upcoming clash, although, adjusted for the principality and non-compromising nature of the match, the yellow cards total is likely to rise a little bit.
Don`t miss out 👉: Top 5 most interesting matches of the 2022-23 Premier League season
Parimatch News staff prediction:
We say: Barcelona will not lose in regular time; the match total will be over 2.5; and the total of yellow cards will be less than 4 – Yes.