Barcelona vs Real Madrid. Prediction and Preview. Probable Lineups, Team News, Stats and more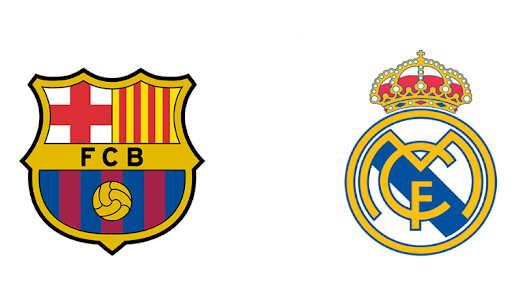 Things we love football for – battle of the titans, Barça takes on Real in the El Clasico
FC Barcelona will host Real Madrid CF in the La Liga 26th-tour match at Camp Nou Stadium. The fixture will take place on Monday, March 20, beginning at 01:30 IST.

What can we expect this Sunday to Monday night? Parimatch News will tell you everything you need to know ahead of the upcoming match.
Barcelona News & Current Form:
Barcelona will host their main and only rival, Real Madrid, at Camp Nou. Only a win will help the Whites break down the Catalans and restore the golden intrigue. So far, things are shaping up in Xavi's favour.
The Catalans have won 9 of their last 10 matches in La Liga, almost all by 1-0. The Striped have conceded just 8 goals in 25 rounds, and have a 9-point advantage, if Xavi's gang does not lose to Real, then the golden intrigue of La Liga has a minimum number of rounds left to exist.
El Clasico is a fairly frequent phenomenon this season. This will be the fourth meeting between the teams this season. In the first round, Real Madrid won 3-1 at home and the Catalans won the Copa del Rey and the Supercopa de España games(1-0 and 3-1). In La Liga, however, the advantage in the previous 7 games has been on the side of the club from the capital, who have won 5 games, 1 draw and only one defeat. The last 5 meetings in the league have been productive, with at least 3 goals scored.
This particular game will take place in La Liga, where Barcelona are marching towards the league title. Only Real Madrid can stop this fairytale from happening. The Blancos need to win to do so, so it is a heroic achievement that is needed. Barcelona have embraced the spirit of prime Atletico this season and are winning even when they shouldn't.
What could be unsound for the upcoming match is the tense general emotional backdrop surrounding the Catalan club. It is the controversial 'Negreira case' in which Barcelona have been entangled in a scandal involving payments to former referee José María Henríquez Negreira. The club, Laporta and Negreira are denying any wrongdoing, but prosecutors' investigations remain open and there is still a possibility that criminal charges will be brought.
"Have no doubt that we will defend ourselves. And we will not only defend ourselves, we will attack. But now we must be focused on encouraging the team this Sunday because, as I told you, their first objective is destabilising the team." he said on the eve of the El Classico.
The Blaugrana are currently leading La Liga with 65 points, Real are in second place with 56. In the last round of the Spanish championship, Barcelona played away against Athletic Club And beat them by a narrow 1-0 scoreline.
At Camp Nou, Barcelona have won 10 games in the current campaign, with two draws. Most interestingly, the team has conceded only 1 goal at home.
Unfortunately, the team will have to play without the long-term injured Ousmane Dembele. Pedri and Ronald Araujo are in doubt. The absence of the last one is especially frustrating, as his next duel with the Whites star Vinicius Jr. is at risk of not happening.
"I think it would not be definitive yet, because this is football and anything can happen but it [the victory] would be a big step towards our objective" says Araujo.
Real Madrid News & Current Form:
Carlo Ancelotti's side approach the El Clasico in high spirits as they reached the quarter-finals of the UEFA Champions League, beating Liverpool FC in fine style. The capital club also easily demolished RCD Espanyol de Barcelona 3-1 at home in the last round, but have also lost too many points of late. A draw in the derby with Atletico, when Carlo Ancelotti's side finished on the powerplay but almost lost (1-1). A 0-0 draw with Real Betis in Sevilla.
The team has not lost in La Liga in 5 consecutive matches, with 3 wins and 2 draws. It should also be noted that, in the previous 9 league games, Papa Carlo's men had managed to keep their goal intact in 6 meetings.
Since last November, Madrid have been in trouble on the road. The Madrid side have played 7 league games in that period and have not won two away games in a row – 3 wins, 1 draw and 3 defeats. In addition, in the last 3 away games of the Primera Division, the team has failed to score in two games.
There is a 9-point difference between the two sides and, should the Catalans win, their lead over Madrid will increase to an obscene 12 points. If Carlo Ancelotti's side can still beat Barcelona, the 6-point difference between the two rivals will increase the intrigue of the battle for the league title.
The matches alternate between bright and weak, with Ancelotti unable to get Vinicius and Rodrygo Goes to perform consistently well. The schedule adds to the difficulty – Barcelona have been preparing for the Сlasico all week, while Real Madrid have been distracted by Liverpool.
Forward Karim Benzema could miss another Сlasico. The French forward risks being left out of the squad due to health problems. Real Madrid players were given the day off after their Champions League 1/8 final match on Thursday. Madrid resumed work on Friday and began preparations for Sunday's match.
Benzema trained separately on an individual programme. Apparently, this is due to the player's injury. He was injured at the end of the match against the Reds.
​​https://twitter.com/realmadriden/status/1637136792016269312?s=20
The injured defender David Alaba will also not play against Barça.
Barcelona form guide: W-L-L-W-W-W
Real Madrid form guide: W-D-L-D-W-W
Barcelona vs Real Madrid Head-To-Head Record:
| | | |
| --- | --- | --- |
| Barcelona | Draw | Real Madrid |
| 119 | 62 | 105 |
January 12, 2022: Barcelona 2 – 3 Real Madrid (Supercoppa de Espana);
March 20, 2022: Real Madrid 0 – 4 Barcelona (La Liga);
July 24, 2022: Real Madrid 0 – 1 Barcelona (International Club Friendlies);
October 16, 2022: Real Madrid 3 – 1 Barcelona (La Liga);
January 15, 2023: Real Madrid 1 – 3 Barcelona (Supercoppa de Espana);
March 2, 2023: Real Madrid 0 – 1 Barcelona (Copa del Rey).
Barcelona vs Real Madrid Predicted XI:
Barcelona possible starting lineup (4-3-3): Ter Stegen; Kounde, Araujo, Christensen, Balde; F de Jong, Busquets, Pedri; Raphinha, Lewandowski, Gavi.
Real Madrid possible starting lineup (4-3-3): Courtois; Carvajal, Militao, Rudiger, Nacho; Tchouameni, Camavinga, Modric; Valverde, Benzema, Vinicius.
Statistical preview of the match Barcelona vs Real Madrid:
Barcelona's First XI average age is 26.0 yrs; total market value: €762.00m.
Real Madrid's First XI average age is 28.2 yrs; total market value: €851.00m.
Real Madrid wins their last 3 away matches against this opponent.
Barcelona wins their last 3 games.
Real Madrid are unbeaten in 7 of their last 9 matches.
Real Madrid concedes an average of 0.60 goals per game in their last 5 games and are scoring an average of 1.00 goals per game.
In their last 5 games Barcelona conceded an average of 0.60 goals per game and are scoring an average of 0.80 goals per game.
Barcelona are scoring in their last 9 games against this opponent.
Barcelona FC has scored in their last 3 games.
Barcelona have not conceded a goal in their last 3 games.
What has been said before the match:
Xavi, Barcelona's gaffer:
"They're strong. Very strong, recently. They're physically much better than they were in January. I'm sure they'll put our defence under pressure. This Madrid team is the European champion and they won the last league comfortably. It'll be a tight game, and I say we have a 50% chance."
"We'll try to control the game more than we did last time in the cup at the Bernabéu. We always try to press up front. That's our style. In the Super Cup we competed well with the ball and in the Copa del Rey we did without it. If we can do both, we should win, but I suffer when my team doesn't have the ball. We're defending well, but we need to dominate games more."
"I get excited about Clásicos, they motivate me. And it's a nice scenario because we have so much to win. It's my first Clásico as a coach at Spotify Camp Nou, so it's especially motivating"
"This game could be decisive if we win it, but it's not like a grand final. If we win it would build up a huge difference, but it wouldn't decide the league mathematically. We know what a big chance this is because it would be such a huge step forward. We are very motivated."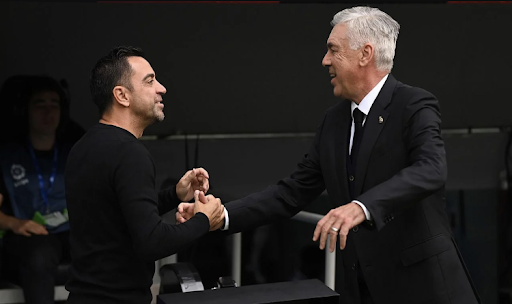 Carlo Ancelotti, Real Madrid's gaffer:
"We have to enjoy the moment and be on the front foot in a hugely important game. We can win it if we're able to show the best of ourselves in every sense; individually, collectively, in attack and defence. We're not thinking about the league being over, we're focused on winning tomorrow's game. That's the only thing in our minds, we want to cut the deficit".

"We'll have a plan because we know each other so well, there are no secrets. You just think about how to cause them problems and hurt them with how we go about the game. That will be in our minds until kick-off. We'll look to attack but without taking too many risks".

"They are solid at the back and don't concede many goals. That's how they've managed to win games despite being up against it more than they're used to. It's very difficult to know how the game will go because each one is different. In the Copa they were defensive because they had the lead. Depending on what happens in the match, they will change their approach."

"We have to look at Barcelona like a lion tomorrow, not a cat. If you go into it thinking they're a little cat, you'll take it too lightly and it's a huge game in which we have to fight to the end and show real commitment. I wouldn't say I'm scared or worried about it but you always get nervous in the hours before the biggest games, at least I do".
Barcelona vs Real Madrid Prediction:
In March, the Clasico had already seen a very exemplary scenario. Real Madrid have been in dominant positions, attacking a lot, but Ancelotti's players lacked sharpness, freshness in their feet and ideas. Barcelona had managed to score in the only attack and then were effective defensively, maintaining a minimal victory; the Catalans did not even think about elaborating on their advantage and scoring goals.
Something similar will be seen this Sunday night. At Camp Nou, it makes no sense for them to run any risks either. It will be very pragmatic football, we will not see many goals and even rapid attacks. Why should Xavi switch anything around? It's simplistic here, play to your strengths (best defense in the top 5 European leagues; 8 conceded in 25 La Liga matches) and try to catch your opponent on mistakes, taking 100% of the chances that fall out. There's a lot at stake, he needs to handle it cautiously.
Don`t miss out 👉: Arsenal vs Crystal Palace: Preview and Prediction
Parimatch News staff prediction:
We say: Barcelona will not lose and the match total to be less than 2.5 – Yes.