Arsenal vs Everton. Prediction and Preview. Probable Lineups, Team News, Stats and more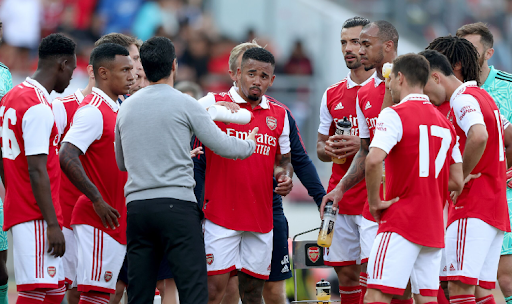 Arsenal will host Everton at the M&T Bank Stadium. The match will take place on July 17, beginning at 04:30 IST.
Both teams will be keen to get a win, and we will be looking forward to this exciting encounter.
Parimatchnews will tell you everything you need to know ahead of the upcoming match.
Arsenal News & Current Form:
Arsenal finished fifth in the English Premier League last season, just two points from qualifying for the long-awaited UEFA Champions League.
The Gunners have failed to qualify for the flagship European club competition due to a slippery end to the league campaign. In their last three games they have lost twice – 0-2 away to Newcastle United and 0-3 to Tottenham, who finished fourth as a result.
In the last round, however, the London side faced their upcoming opponents on home soil and managed to crush them 5-1. In Liverpool, on the other hand, Everton won 2-1 in the first leg.
Arsenal, perhaps, allowed such a dramatic turnaround in the end of the season because of the team's lack of experience, they simply could not cope with the excessive pressure, as Granit Xhaka, for example, has openly pointed out. Yes, because this is the youngest squad in the Premier League, with an average age of 25.2 years – a full year younger than Brentford, the next youngest. And that's a trend the club's strategy will continue, judging by the transfer activity. Gabriel Jesus (25), Fábio Vieira (22), Marquinhos (22) and William Saliba (22), who returned from loan spell at OM in the status of one of the best Ligue 1 defenders, have already joined the club.
"I was very proud [to win the Young Player of the Year award] because the league has a lot of good young players, so it's good for me but I want more. My plan is to fight and work with the team, win as much as possible, and grow more."

William said in a recent interview.
Most are particularly interested to see Jesus and Saliba in action, the first, by the way, has already managed to make some noise for the Reds. Quick, clinical and good link up play. Definitely a quality signing, which is exactly what Arteta's team lacked over the course of last сampaign.
Arsenal have already had two friendlies this off-season, in which they defeated English side Ipswich Town 5-1 and German side Nurnberg 5-3.
Everton News & Current Form:
Everton, in contrast, struggled to keep their place in the top flight last season, finishing 16th in the table, four points ahead of the relegation zone.
The Toffees found themselves heading right to the bottom of the table for some time, but in the final stretch of the championship they managed scored ten points in six games and maintained their place in the EPL with one round to go.
The decisive game for the Liverpool club took place at home against Crystal Palace. The home side conceded two goals in the first half but managed to respond with three in the second half.
Frank Lampard now has time to think about what went wrong last season, to get his men up to speed, and to strengthen his squad where it is most needed.
Blues' defender Michael Keane recently reflected on the Englishman's work and pre-season plans:
"The manager has been brilliant since he came in, he has galvanised a squad, got us pulling in the same direction, playing better football and getting better results. Coming in the middle of the season, it's not easy for a new manager to get all his ideas across, he'll be looking to do that more in this pre-season." 
"We've only been back training for four days now and it's been really tough, we know we're going to be pushed in pre-season and that's a good thing. We weren't good enough last year – we needed to be fitter, sharper, stronger. I think we're definitely going to be that judging from the first four days where we've been back in."
Special mention should be made of the loss of the Blues' main leader, Richarlison, who has left for Tottenham. How the English specialist will now ensure consistent goalscoring is a big question, relying on unstable Dominic Calvert-Lewin is too risky.
Arsenal pre-season form guide: W-W
Everton pre-season form guide: –
Arsenal vs Everton Head-To-Head Record:
It's been five face-offs since the two teams drew. In this period, Everton were stronger three times and Arsenal won twice. On four occasions, both sides have scored.
Arsenal vs Everton Predicted XI:
Arsenal possible starting lineup: Ramsdale; Bellerin, White, Gabriel, Cedric; Xhaka, Elneny; Saka, Odegaard, Martinelli; Jesus.
Everton possible starting lineup: Pickford; Godfrey, Tarkowski, Keane; Patterson, Doucoure, Davies, Mykolenko; Gordon, Calvert-Lewin, Gray.
Statistical preview of the match Arsenal vs Everton:
In Arsenal's last 3 home games, the teams have exchanged goals.
Arsenal have conceded in nine games in a row.
Everton have lost 12 of their last 16 away matches.
Arsenal have beaten Everton in 6 of their last 7 home games.
Arsenal have scored 5 goals in three consecutive matches.
None of Arsenal's last 16 matches have ended in a draw.
Arsenal vs Everton Prediction:
The management of the Reds have a lot of trust in Mikel Arteta. Arsenal will be very interesting to watch in the coming season and they could seriously rock. There are many reasons for that: over the course of several transfer windows, Mikel and Edu have built a very interesting squad full of talented players. There is chemistry and quality in the team, they are now also not what you would call 'green', and the four-time EPL title winner now at the cutting edge of the attack will definetely cure the problem of goalscoring. It has plagued the Reds for a long time. With a bit of luck (no injuries), the team will do really well, and millions of fans around the world believe in this.
The Toffees, on the other hand, do not look like a serious opponent at the moment, but they are certainly capable of scoring at least one goal.
Don`t miss out 👉: All you need to know about pre-season friendlies: fixtures, dates and more
Parimatch News staff prediction:
We say: both teams to score and Arsenal to win – Yes.