Arsenal come back after conceding 3 over half-an-hour at West Ham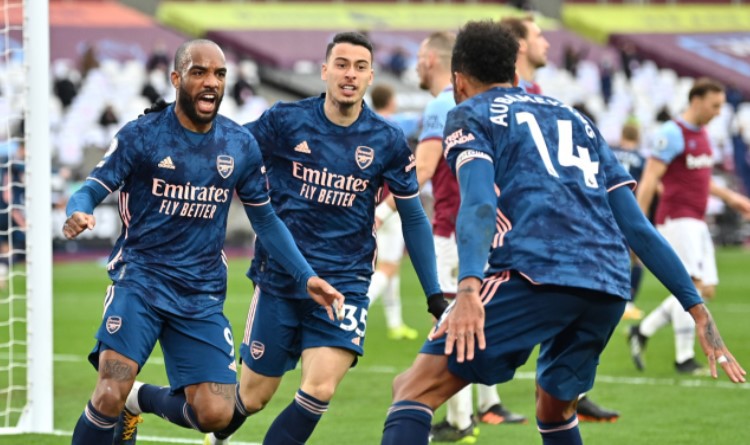 Lacazette is celebrating his brilliant equalizing header at the end of the match
West Ham of David Moyes managed to 'hammer' three goals in 30 minutes against Arsenal, but it was not enough to get the three points this Sunday.
The 29th tour of the English Premier League started terribly for Arsenal, no one could have expected, but in the 32nd minute, three goals were scored by West Ham.
First, Jesse Lingard shot it into the nine from the edge of the box after a pass from Micheál Antonio, and then, some minutes later, the same Lingard quickly played a free-kick with Jarrod Bowen – and he blasted the ball into the near corner to Bernd Leno.
Arsenal was shocked and could not recover for a while. Moreover, they conceded the third from West Ham's main player of the season – Tomasz Soucek.
However, Arsenal managed to avoid defeat. Soucek and Craig Dawson each netted an own goal before Alexandre Lacazette equalized in the 82nd minute.
Don`t miss out 💥: Man Utd will face Arsenal in the final? | Europa League draw.
"This game is going to give me a few nightmares because it is really difficult to stop some of the things we have been doing to hurt ourselves,"

– Arteta told after the match.
David Moyes commented on the result of the match:
"It's still a good point, It would have been nice to take another two points but we haven't lost too much ground today".
"We were playing a really good team. Sometimes people forget what we're up against. We had chances to move out of sight but we weren't able to take them."

he added.
West Ham seems to be gradually dropping out of the race for the Champions League. David Moyes' team is fifth with 49 points while Arsenal are unlikely to get anything this season in the EPL at all. 9th place and only 42 points, 9 points behind 4th place.
West Ham travel to Wolves on Monday, 5 April after the international break in the Premier League, while Arsenal host Liverpool on Sunday, 4 April.
Jesse Lingard scored his fifth goal against Arsenal in all competitions – the most he has netted against any opponent in his professional career.
West Ham are the first team to score two own goals in a single Premier League game since Swansea in January 2017, which was also against Arsenal.