AC Milan vs Barcelona. Prediction and Preview. Probable Lineups, Team News, Stats and more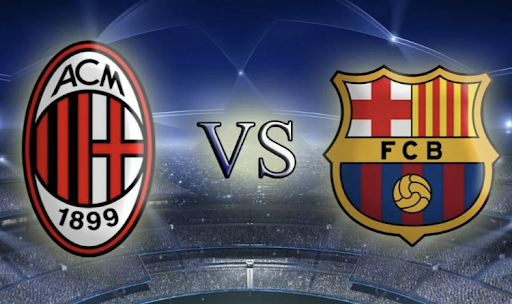 Brace yourselves for an electrifying encounter as two footballing giants, AC Milan and FC Barcelona, lock horns in a highly anticipated club friendly that promises to deliver a thrilling spectacle of skill, strategy, and passion on the pitch
AC Milan will host FC Barcelona in the friendly pre-season match at Allegiant Stadium in Las Vegas, USA. The fixture will take place on Wednesday, August 2, beginning at 08:30 IST.
What can we expect this Wednesday night? Parimatch News will tell you everything you need to know ahead of the upcoming match.
AC Milan News & Current Form:
In the vibrant city of Los Angeles, a mesmerizing pre-season friendly unfolded between Italian AC Milan and Juventus FC during their captivating US tour. The clash showcased four awe-inspiring goals from free kicks, adding an air of excitement to the encounter. However, both teams masterfully concealed their tactical plans for the upcoming season, leaving spectators intrigued about their strategies.
The match drew a massive crowd, with American sensations Christian Pulisic, Timothy Weah, and Weston McKennie stealing the spotlight with their exceptional performances from the start. Despite their promising display, the overall game failed to reach its full potential, as both league rivals seemed reluctant to divulge their true potential.
Remarkably, all four goals were born from or near corner kicks, underscoring the importance of set-pieces during the tightly contested affair. Juventus' players took to the pitch in the second half, emphasizing caution, while Milan decided to preserve their main stars until the latter stages before resting them.
The trio of US national team players showcased their talent but struggled to make a decisive impact, a sentiment echoed by many other players on the field. Yet, there were standout performances from Federico Chiesa of Juventus and Malick Thiaw of AC Milan, illuminating the pitch with their brilliance.
As the clock wound down, the match concluded with a 2 – 2 scoreline, leading to an exhilarating penalty shootout that saw Juventus emerge triumphant with one more accurate shot than the required five, adding a thrilling climax to an unforgettable friendly encounter.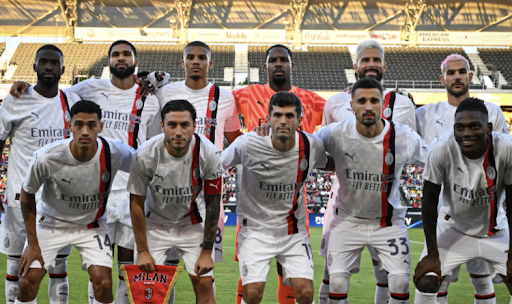 AC Milan faces a minor setback as they are expected to miss the services of Davide Calabria, who suffered an injury early in their previous clash against Juventus. Nonetheless, head coach Pioli is poised to maintain the core of the lineup that faced the Old Lady, demonstrating his confidence in the team's performance.
A potential alteration in the midfield could see inclusion of Tommaso Pobega, while Alessandro Florenzi may secure a spot as the starting right-back. The attacking trio is set to consist of Rafael Leao and Pulisic supporting the ever-reliable Olivier Giroud in the final third. Meanwhile, the talented Romero is likely to make an appearance off the bench, showcasing his abilities for the Italian giants once again.
Don`t miss out 👉: Revealing The Complete Guide for FIFA Women's World Cup 2023: All You Need To Know In One Place
Barcelona News & Current Form:
The friendly match that took place a couple of days ago, in which Barcelona met Real Madrid CF, culminated in a victory for the Catalan club, with Xavi's wards winning 3 – 0.
El Clasico was held at the AT&T Stadium in the state of Texas, USA. The game was attended by 82,026 spectators with a capacity of 105,000 people. This figure is a record for El Clasico in the United States. It is also the largest attendance of a football match in the history of this stadium.
In the winners' line-up Ousmane Dembele, Fermin Lopez and Ferran Torres distinguished themselves. It should be noted that in the 20th minute a penalty was awarded to Real Madrid, which Vinicius Jr. failed to convert.
After the game, Coach Xavi made his comment:
"We neither played well today nor poorly against Arsenal FC the other day. It was an even game and the result is misleading because Real Madrid also played well."
"We are happy and it's always better to win than lose a Clásico, but a lot of things still need to improve. We often came close to what we want to be today, keeping the ball for long periods and attacking the space, but we still lost the ball stupidly at times, which needs correcting. The result is very positive but it doesn't mean we played really well."
Earlier, Barcelona beat Japanese Vissel Kobe (2 – 0) and lost to Arsenal (3 – 5). It's also worth noting that in the 2022/2023 La Liga season, Barcelona won the Spanish championship while Real Madrid finished second.
So why do European clubs like to tour the United States? The fact is that for the top clubs, a tour of this country is not only an opportunity to qualitatively prepare for the season, but also to earn good money. Thus, a year ago, the Catalans brought from America at least 8 million euros. A decent amount of money, especially considering that the club has been trying to get out of the economic crisis for several years now.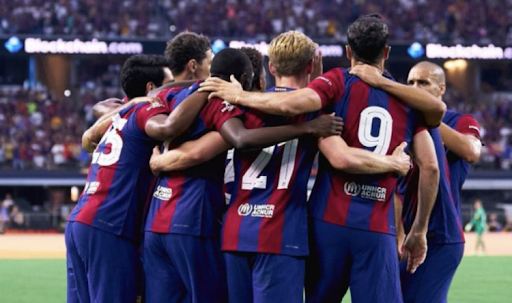 Against the background of the eternal opponent from Madrid, Barcelona looks like a poor relative. With the money, the Spanish champion has so far acquired only midfielder Oriol Romeu from Girona FC. And what kind of money it is: 3.5 million euros – more than modest at the present time.
Already not very young (each 32+) midfielder Ilkay Gundogan and defender Iñigo Martinez Barça signed as free agents, that is for free. Catalans coach Xavi has no reason to expect more serious and expensive reinforcements. After years of luxurious life, Barça is forced to go into austerity mode.
The long-awaited victory (the first one since 2019) in the Spanish championship brought moral satisfaction, but did not help to seriously improve the financial situation.
"Next year will not be easy,"

warns Barça president Joan Laporta.
"We will play in a stadium that holds half as many spectators (the Camp Nou, the club's home arena, is closing for global reconstruction). We will have less income, but we are looking for new sponsors. We are working to reduce our debt, which is €1.1bn. Hopefully, we will be within €960-930m."
Barcelona's squad is gearing up for their upcoming clash against Milan, but they have encountered some challenges due to recent injuries. During their match against Real Madrid, both Andreas Christensen and Ilkan Gundogan suffered unfortunate muscular issues, which will keep them out of the forthcoming game.
Additionally, Inigo Martinez's availability remains uncertain as he deals with a troublesome foot injury. Nonetheless, the rest of Barcelona's team is in strong shape, and a formidable starting XI is anticipated for the match. In preparation for the game, head coach Xavi plans to make some changes to the lineup that featured in the El Clasico.
Sergi Roberto and Raphinha are being considered as potential additions to the starting team, and this tactical shift may see Pedri taking on a deeper role during the match.
Amidst persistent rumors linking Dembele to a possible move to Paris Saint-Germain, he is expected to be part of Barcelona's roster once again and play a role in the upcoming game against Milan.
AC Milan form guide: W-L-D
Barcelona form guide: W-L-W
AC Milan vs Barcelona Head-To-Head Record:
| | | |
| --- | --- | --- |
| AC Milan | Draw | Barcelona |
| 3 | 5 | 6 |
February 20, 2013: AC Milan 2 – 0 Barcelona (UEFA Champions League);
March 12, 2013: Barcelona 4 – 0 AC Milan (UEFA Champions League);
October 22, 2013: AC Milan 1 – 1 Barcelona (UEFA Champions League);
November 6, 2013: Barcelona 3 – 1 AC Milan (UEFA Champions League);
August 5, 2018: AC Milan 1 – 0 Barcelona (International Club Friendlies).
AC Milan vs Barcelona Predicted XI:
AC Milan possible starting lineup (4-3-3): Maignan; Florenzi, Thiaw, Tomori, T Hernandez; Loftus-Cheek, Krunic, Pobega; Leao, Giroud, Pulisic.
Barcelona possible starting lineup (4-3-1-2): Ter Stegen; Roberto, R Araujo, Kounde, Balde; Romeu, De Jong, Pedri; Dembele, Lewandowski, Rafinha.
Statistical preview of the match AC Milan vs Barcelona:
Milan's First XI average age is 26.9 yrs.
Barcelona's First XI average age is 27.3 yrs.
Milan conceded an average of 1.20 goals per game in their last 5 games, while scoring an average of 2.80 goals per game.
In the last 5 games, Barcelona conceded an average of 1.40 goals per game, while scoring an average of 2.40 goals per game.
What has been said before the match:
After losing to Real Madrid a week ago, Stefano Pioli shared his opinion towards defeats:
"I don't agree that it's a step back from the game the other night. Many of those who started the game have been back exactly 7 days, including travel and many other things to sort out. We are trying to build our play, looking to read the spaces available left by the opposition, whether it be out wide or inside, or another teammate isn't important. We're trying to vary our play, to be able to dominate the game a bit more."
"Fitness of Christian Pulisic is getting better, like everyone else's in the group. We've been back working for just 2 weeks. He's a flexible and intelligent player: he can play on the left, on the right, behind the strike. He is certainly going to be really important in our attack."
"Our new players are excellent players, but they need time to settle in, even if they are players with some experience. It's not their first experience; they are mature but playing with another team in a different league against different opposition in a new style of play. I'm really pleased with their movement on the pitch in the games, but obviously we can do better in many different situations."
"These games are very important because they'll get us in the right condition to start the league campaign. We wanted these tough games, and as we saw from the game between Arsenal and Barcelona, the next game will be a real test and very complicated, but that's what we want and need. Each game teaches you something new, we'll look to take something from them all so we reach the start of the season in the best possible shape."
Xavi praised Arsenal for their intensive game:
"It was a good game for the fans but not so much for the coaches. It was up and down. You could tell Arsenal are much further down the line than us in preseason. That said, we were far too soft in defense. There were positives and negatives, though. I said to Mikel at the end of the game, that it was like a UEFA Champions League tie with the intensity they put in."
"It was not normal for a friendly, but I understand everyone wants to win. For us, it was our first friendly and we went into it off the back of loads of players having had a bug. Everyone wants to compete, but it is friendly. They were playing with another level of intensity. We took it seriously but the main reason for losing was the difference in rhythm and match sharpness."
AC Milan vs Barcelona Prediction:
As the pre-season unfolds, AC Milan is gradually finding their rhythm, impressively netting at least two goals in three friendly matches. The young talents within the squad are showcasing remarkable cohesion and mental toughness, hinting at their readiness for the challenges ahead. It would be unfair to attribute their performance solely to weak opponents, as they have faced formidable foes like Real Madrid and Juventus. Despite the losses, AC Milan displayed an admirable level of offensive prowess.
When they face Barcelona, don't expect a defensively-oriented approach from the Catalans. Even if they do attempt to tighten their backline, AC Milan possesses players with the skill to crack the Blue Granates' defense. This encounter promises to be a fruitful one, with both teams likely to deliver an exciting and productive display on the field.
Don`t miss out 👉: 4 Overseas ISL Transfers You Might Have Missed Last Week
Parimatch News staff prediction:
We say: the match total will be over 2,5 – Yes.