A record crowd of 91,553 sees unstoppable Barcelona Women trash Real Madrid in the Champions League quarterfinals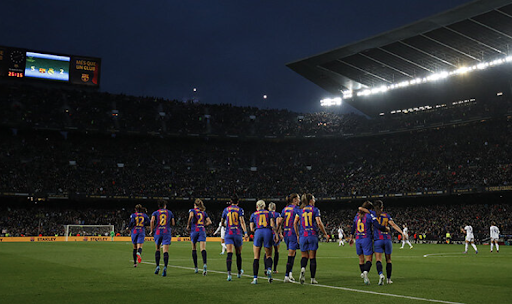 Barça celebrating another goal in front of full stands
On the night of 30 March, FC Barcelona Women hosted Real Madrid Women at the legendary Camp Nou in the second leg of the UEFA Women's Champions League quarter-final. Parimatchnews has compiled everything you want to know about the event below.
History is literally happening right in front of our eyes as the match grabbed the attention of the entire world, becoming the all-time highest-rated game of women`s football: such a vibrant and incredible team is something even unsophisticated football fans can't help but fall in love with.
The figures say it all: the Blaugrana net an average of five goals per game. The number of fixtures in which Barcelona have beaten their opponents by four goals or more in all competitions is 24 (ouf of 37)! And the El Clasico itself was at least as entertaining as the latest men's match.
Don`t miss out 👉: Aubameyang after inspiring El Clásico victory: 'This is the beginning of the new era'
The Catalans were 1-2 down as the match progressed, but reversed the storyline and won 5-2, advancing to the semi-finals with an 8-3 aggregate win.
Goals: 1-0, María León (min. 8); 1-1, Olga Carmona (min. 16); 1-2, Zornoza (min. 48); 2-2, Aitana Bonmatí (min. 52); 3-2, Claudia Pina (min. 55); 4-2, Alèxia Putellas (min. 62); 5-2, Graham Hansen (min. 70).
It is worth noting that, apart from their sensational 42nd consecutive victory in all competitions, the Champions League game at the Camp Nou was attended by 91,553 spectators – a number never before recorded in the history of women's football.
The previous all-time high was set in Pasadena during the 1999 FIFA Women's World Cup final between the USA and China. At the time, 90,185 people spectated the clash.
In addition, the meeting proved to be the highest-attended for the Camp Nou this season. The La Liga men's EL Clasico between Barça and Real Madrid attracted 86,422 spectators.
Women's Barcelona have played at Camp Nou before, but this scale is staggering in comparison to the team's usual life: Barça usually play matches at Johan Cruyff's stadium at the club's base. There, it draws an average of 2,938 fans (the best attendance in Spain's top women's division).
"I had to hold my tears back, because this is just too crazy. The crowd is not leaving, they're staying to celebrate with us. I couldn't imagine anything like it, it's just goosebumps all over the place.The fans have been singing all game, it's been amazing and it's something I never dreamed of happening. Here today we did it and I hope it's not the last time we do this."

says Barcelona`s Caroline Graham Hansen after the clash.
"In the first half I missed a really big chance and in the second-half it was an amazing feeling to score a goal. I can't even describe it, it's one of those moments that will be in my head for the rest of my life."

The 27-year-old midfielder describes her emotions.
"It's not only 91,000 here, it's 91,000 having a party – and if you're having fun, I think people will want to repeat it. It's going to be a game changer, not only for our team, but for the women's game."
Alexia Putellas, Barcelona captain and prolific goalscorer:
"I'm almost speechless, honestly. This has been utterly magical. When the match finished, the fans simply didn't want to go home… There was such a connection between them and us while we celebrated. To hear them singing that they want to go to Turin was superb."
"Tomorrow's match will inspire many people. It could be a before-and-after moment in women's football."

She prophesied before the game.
By the way, she was named best female footballer in the world, picking up the Ballon d'Or award last year.
Jonatan Giráldez, Barcelona coach:
"What a great day this has been! We'll remember it all our lives. The match was magical. We pressed so well without the ball. It's complicated, though, to explain all the emotions you feel on a night like this."
The Blaugrana fans can be proud not only of the rejuvenated men's team, but also of the ladies' team, who are tearing up everything in their path. They have long since secured the title with a 136-6 goal difference this season. 10 out of 24 matches have turned into thrashings (there was even a 10:1).
This makes the seventh time Barça have been crowned champions of Primera División, a league record: 2011/12, 2012/13, 2013/14, 2014/15, 2019/20, 2020/21 and 2021/22. Athletic are second (6 titles).
The star guests were there as well. Xavi and Puyol could not miss the show. All the more so, Xavi Hernadez is calling the women's Barça the benchmark of Catalan playstyle:
"It's great to see this team play. They show us the right way. Like Cruyff's Dream Team or Pep's Barça. They show us how we should play. They are an example for men's football"
"Historic day for football and society" he declared on his Instagram:
Don`t miss out 👉: Joan Laporta: "I want to win La Liga, Barça can do it. Xavi is doing everything like in the movies"
Barcelona have now won 42 competitive games in a row, including all 37 this season.
Barcelona's achievements look particularly potent when compared to Real Madrid, as the women's team was established only in 2020 and there has been no significant investment in the project so far. Of the seven clasico games, Barça have won them all. The total score of the encounters is 25-5.