Joan Laporta: "I want to win La Liga, Barça can do it. Xavi is doing everything like in the movies"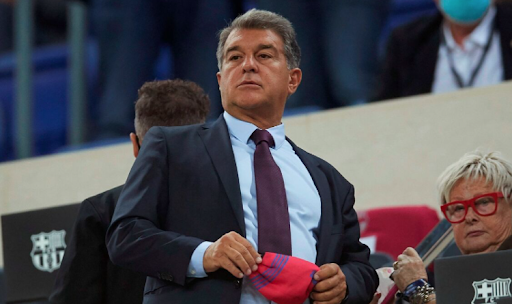 FC Barcelona president, Joan Laporta, recently spoke out on many matters regarding the club: the return of Lionel Messi, the club's ambitions, on potential transfers and the reconstruction of the Camp Nou, Ronald Koeman sacking, Xavi progress. We've compiled and bring you all the most interesting insights from his recent interviews.
The boss has no regrets about the sacking of coach Ronald Koeman.
"We spoke with Koeman. He asked me if he was right for me as a coach. I replied very clearly that no, he was not. We decided to give him a chance. There were a lot of injuries in the team, the motivation of the players was undermined. With all this in mind, we decided to give Koeman a second chance. But at some point I saw that he was going the wrong way, that Barça were not doing well. So I asked Xavi if he was ready to come immediately. He said he could, so he came."
"I don't regret firing Koeman, I do everything in Barça's interest. I only regret when I don't act in good conscience. In this case there was no such thing, so I'm not sorry."
"Now we play what we want, we create chances and we score goals. With Xavi we have returned to the origins and it has motivated the players. We are on the right track"

he backed up the validity of his decisions.
Don`t miss out 👉: Aubameyang after inspiring El Clásico victory: 'This is the beginning of the new era'
Barcelona's president subsequently declared the ambition of competing for the highest places in the league while praising the head coach:
"I want to win the league. I don't want to finish second. I'm convinced, Xavi does it as a film and is more eager than ever to win it. I think we have the team to win the league and because we're in good shape going into the final stretch of the competition."

he said about the chances of winning the league this season.
"The coach is doing a great job. Xavi has matured, I see him as extraordinarily mature. He is part of the family. And he is very optimistic. He will be here for as long as he wants. He's a Culé and always wants the best for Barça. If the time comes when he has to leave, he will take the step. I think he will be with us for many years. If he wants to, he will be the coach of my mandate". 
Barcelona, as part of the Espai Barça project, intend to renovate the Camp Nou, improve the area around the arena and modernise the club's infrastructure.
"In principle, the remodelling works will begin in September. We are moving towards the management of the licences. Everything is very advanced. The tender is scheduled for July. We have to be the first to be in a hurry, the project has been delayed for many years, but internally we are assessing the unjust war in Ukraine. I take this opportunity to send a message of support to all those affected. Materials are going up in price? We have to be prudent."
"We plan to finish the stadium in 2025. I will do everything I can to make it a reality. We are willing and able to do it, but we want to manage our assets well. How many years has it been since there was a war in Europe? We have found that the cost of materials has increased by 25% and interest rates have also risen, in connection with which we need to discuss everything with Goldman Sachs (one of the largest investment banks in the world), working with investors to attract 1.5 billion euros.  We can't avoid it, but we are optimistic. We have an agreement."
Laporta said, much to fans' dismay, that he was not considering the possibility of Paris Saint-Germain striker Lionel Messi returning to the Catalan club:
"I have not received any messages from Leo or his entourage with such content. At the moment we are not considering his return. We are building a young team that is just starting out. Leo is Leo, he is the best player in the world, but we are not thinking about bringing him back. Certainly it would not be a step backwards."
"Barça is Leo's home. I would like him to be at the inauguration of the new Camp Nou. The relationship is less fluid, now he is in Paris. For me it wasn't easy, I would have liked things to be different. I couldn't put the institution at any more risk. I think we did what we had to do. I don't talk to him like I used to, people close to him miss Barcelona and Barça. It was worse for me on a personal level than on a sporting level".

he told of his feelings about the transfer.
To recap, Messi moved to Paris Saint-Germain from Barcelona in the summer of 2021. The 34-year-old Argentinian forward has appeared in 18 French league games this season, scoring 2 goals and providing 10 assists. His contract with the French club expires in 2023.
Don`t miss out 👉: Who is the highest-paid player in the world? Revealing the latest ranking of salaries
Barça president confirms two transfers when asked about what kind of signings to expect:
"We've completed two signings for the next season: one is a midfielder, the other one is a centre-back. But I'm not allowed to mention their names."
We assume that this is about Franck Kessié and Andreas Christensen, that have been frequently flashed in the press in recent weeks.
Joan elaborated on other rumoured transfers, including Atletico Madrid striker Joao Felix.
"I like him a lot. Felix's agent knows that. He is a great footballer, I adore him. Was there a possibility of exchanging Griezmann for him? Yes, such a possibility was considered. We tried to get Felix, but Atlético do not want to see him go. Well, good."
Felix joined Atletico Madrid from Benfica Lisbon in 2019. The 22-year-old Portuguese has featured in 21 Spanish Primeração games this season, scoring 6 goals and providing 4 assists. Felix has been called up to the Portuguese national team since 2019. On 21 March, his contract with the Indians was extended until 2026.
"Raphinha is a player we really like and it's true that Deco's his agent. We've very good relationships. I want to clarify that Deco's not paid by the club. He will just help us because he dominates the Brazilian market".

the club boss has revealed the potential transfer of the talented attacker from the Premier League.
The Catalan admitted that despite many rumours of top player transfers, Barcelona do not intend to lose their head and cannot yet afford players of the Erling Haaland type:
"Haaland or Mbappé? If I have to choose, I'd go for the one who clearly states that he wants to come to Barça. If they don't want to, it will be difficult. The conditions I've been told about these two deals… we'd never accept to spend those figures, no way. I see both of them really far from Barça".
Laporta about Mohamed Salah and Robert Lewandowski:
"Top players want to join Barça, that's clear. I can't say if we're in talks for Lewandowski and Salah or not – or into the club they'll tell me that I'm creating problems in the negotiations".
Don`t miss out 👉: English Premier League club owners' approval ratings: who is the most hated and who is the most supported?