5 players Tottenham Hotspur must sell ahead of the 2022-23 Premier League season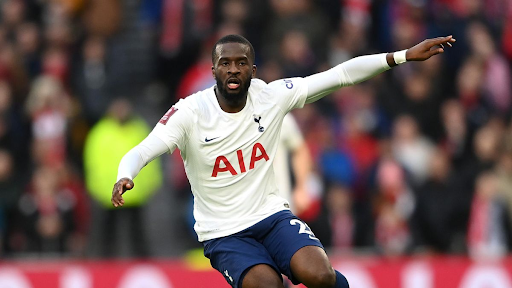 Tanguy Ndombele could be surplus to requirements at Tottenham Hotspur
Tottenham Hotspur was in all sorts of doldrums when Antonio Conte arrived at the club last season. The team from North London had lost five of their first ten matches in the 2021/22 Premier League, and back then, any Spurs fans would have happily accepted a top six finish.
However, Conte managed to do something he has done time and again in his career – rejuvenate and inspire the players. In their last 28 matches in the league, Harry Kane & Co.lost only six fixtures, as they miraculously made it to the top four ahead of arch-rivals Arsenal.
However, neither Conte nor the club hierarchy is willing to be too delighted with a fourth-place finish, which can be understood by looking at how aggressive they have been in the transfer market. Spurs have already made six superb additions to their squad and they are likely to add at least one more player to their roster. However, for that to happen, Conte's team might need to sell a few players first.
Check out five players Tottenham Hotspur must sell this summer:
#1 Tanguy Ndombele
Tottenham Hotspur broke their bank to acquire the services of Tanguy Ndombele back in 2019, spending £55.45 million. Despite the price tag, it seemed to be a sensible piece of business as Ndombele had an incredible season for Olympique Lyon just a season before.
The French midfielder had a fantastic start, scoring in his Premier League debut, but things have gone downhill ever since. Be it Nuno Espirito Santo, Jose Mourinho or Antonio Conte, none of the managers he has come across at Tottenham Hotspur has been impressed with his performances. Hence, it is about time for the team from North London to actively try to offload him.
#2 Sergio Reguilon
Sergio Reguilon has never really performed poorly, but he finds himself being a victim of a switch in the team's playing style. Brought into the club by former manager Mourinho for £27.5 million, the Spanish left-back did fairly well in his first season.
However, he has struggled to adapt to Conte's style of play, failing to have the same influence while playing as a left-wing-back. The Italian manager has signed a new player for that position in Ivan Perisic, and among the existing options, Ben Davies and Ryan Sessegnon have gone ahead in the pecking order as compared to Reguilon. Given that having four players for the same role does not make any sense, it will be understandable if Spurs sell Reguilon this summer.
3. Japhet Tanganga
Japhet Tanganga's case is very similar to that of Reguilon, in the sense that he also has been a victim of a sudden change in the style of play. The young defender was under the radar until he impressed Mourinho in the training sessions.
He was given plenty of opportunities to make his mark by the Portuguese manager, but Conte has not particularly been as helpful in this regard. With the current manager preferring Matt Doherty and Emerson Royal over him, it is perhaps the best option for both parties to part ways.
4. Harry Winks
Harry Winks is a graduate of the Tottenham Hotspur academy like Tanganga, and he too has found himself being reduced to a bit-part player since the arrival of Conte. Once an important part of the first team under Mauricio Pochettino's rule, Winks might not be satisfied with the role he has at the club currently.
The likes of Pierre-Emile Hojbjerg and Rodrigo Bentancur are far better options for Winks' position by Conte, and the arrival of Yves Bissouma has only increased the competition. Hence, both parties might agree to part ways.
5. Joe Rodon
Joe Rodon was 22 years of age when he was signed from Swansea City, and expectations were understandably high for him. However, he has not lived up to those expectations, playing only a sporadic role for the team so far.
Rodon still made 12 Premier League appearances in the 2020-21 season, but it came down to three last season. With the addition of Clement Lenglet, it will not be a surprise if the Welsh centre-back does not make a single appearance this season. Hence, finding the exit route as soon as possible is the best option.