5 players Real Madrid must sell ahead of the 2022-23 Premier League season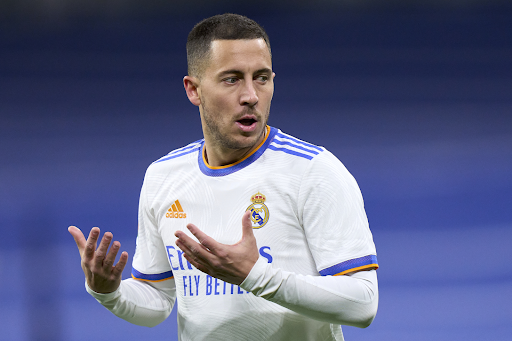 Eden Hazard has scored only six goals in three seasons for Real Madrid
By looking at what they achieved last season, it would seem that there is absolutely nothing Real Madrid could do to better their team. They won the La Liga title, with 13 points separating them and the second-placed side, their arch-rivals Barcelona.
In the UEFA Champions League, Real Madrid defeated the then defending champions Chelsea, Paris Saint-Germain, Manchester City, and Liverpool to win their 14th title. As if these two incredible glories were not enough, Carlo Ancelotti's team also won the Supercopa de Espana.
Hence, it is indeed very true that Los Blancos boast of a strong squad and they hardly require any improvements. However, it does not take look for things to change in football, and teams are expected to prepare for the worst.
In Real Madrid's case, it looks a tad odd that despite winning all these accolades, they have not spent much in the ongoing transfer window. On the contrary, Barcelona has splashed the cash and has improved their squad by a great deal. Ancelotti's team could react to the Catalans and improve their team, but for that to happen, they might need to sell a few players first.
Check out five players Liverpool must sell this summer in the transfer window:
#1 Eden Hazard
When Real Madrid signed Eden Hazard from Chelsea in 2019, they assumed the Belgium will be the best player in their team. There were justifiable reasons behind their assumption, as Hazard was indeed the best player in Chelsea, and certainly among the best in the Premier League.
However, he somehow lost his touch after arriving in Spain and has not been able to replicate his magic in La Liga. Having made 66 appearances for Los Blancos, he has scored only 6 goals, while he scored 6 goals in what was his worst season at Chelsea, which says all we need to know about his downfall. Given that he will turn 32 in a few months, it is perhaps the best time to ship off the lad from La Louviere.
#2 Marco Asensio
Marco Asensio broke through the ranks at Real Madrid back in 2016, when he was only 20 years of age. In the next couple of seasons, he would go on to score 21 goals for the team, establishing himself as one of the hottest young prospects in not only La Liga, but across the world.
However, Asensio has been on a downward slope since the 2018/19 season. While the arrival of Ancelotti saw a turnaround, with the Spain international scoring 12 goals, it is expected that Real Madrid will still be open to selling him if the right bid comes in. It has not come in yet, but teams like Newcastle United have shown interest.
#3 Dani Ceballos
Like Asensio, Dani Ceballos is another player who had a good start in Real Madrid after arriving. He was also 20 years of age when Los Blancos offered him a contract, and Ceballos did a fairly decent job in the first couple of seasons.
However, that has been about it, since the last three seasons has not been memorable for him. Two of these seasons were spent on loan at Arsenal, but the Spaniard could not impress Mikel Arteta to sign him on a permanent deal. Now back in Real Madrid, he finds himself way down the pecking order, behind the likes of Luka Modrid, Toni Kroos and Casemiro.
#4 Mariano Diaz
Mariano Diaz arrived at the Santiago Bernabeu as a 17-year-old, and rose to fame for his stint with Real Madrid C. Following that, he was promoted to the Real Madrid Castilla side, and in the 2015/16 edition of the Segunda Division B, he scored 27 goals in only 33 appearances.
His performance made it impossible for the management to keep him at Castilla, and he was eventually promoted to the main team in 2016. Mariano did have a decent first season, following which he was sent on loan to Lyon, but he has not looked the same player ever since his return. Having scored only 7 goals in the last four seasons for Real Madrid, it could be time for him to start speaking with other teams.
#5 Jesus Vallejo
Jesus Vallejo is one of the many players Real Madrid signed as a youngster, with the hope that they will make it big, but they ultimately faded away. Having arrived at the Bernabeu in 2017, he has made only 27 appearances for the club.
Vallejo has been sent out on loans to four different teams – Zaragoza, Eintracht Frankfurt, Wolverhamption Wanderers and Granada. However, his performance was not good enough on any of those occasions, which subsequently meant that neither of the teams showed interest in buying him on a permanent basis.