5 players Inter Milan must sell ahead of the 2022-23 Serie A season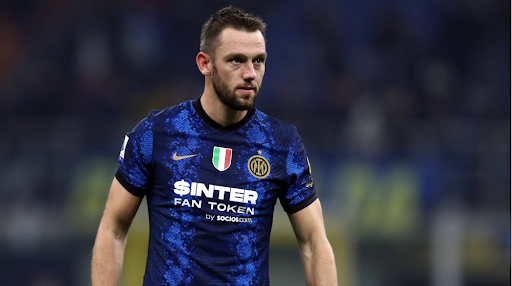 Inter Milan sell Stefan de Vrij for a significant fee season before he becomes a free agent next summer
When Inter Milan lifted the Serie A in 2021, after a long gap of 11 years, it seemed that they would embark on a winning streak in Italy. The big boys, Juventus had fallen miserably from their pedestal, and the road seemed clear for Inter Milan.
However, what many did not see coming is an incredible AC Milan resurgence. In the 2021/22 season of Serie A, Inter had to witness their arch-rivals – the very same team who finished 12 points behind them just a year ago, lifting the Scudetto.
The gap, however, was not too alarming. Inter Milan lost the title by only a couple of points, and while it will not matter in the grand scheme of things, manager Simone Inzaghi will know well that his team can fight for the title once again this season.
For that to happen, Inter Milan will some reinforcements, and they have also done a decent job by bringing in quality players in the likes of Romelu Lukaku and Andre Onana. However, Inzaghi has some other targets in his sight, for which he might first be asked to sell a few players, given the current financial condition of the club.
Check out five players Inter Milan must sell this summer in the transfer window:
#1 Stefan de Vrij
Our first mention could come across as surprising since Stefan de Vrij happens to be one of Inter Milan's most crucial players. He has made 35+ appearances in all of the four seasons he has spent at San Siro so far and is an absolute rock at the back.
However, there is a reason why Inter Milan could look to sell de Vrij this season. He is currently 30 years of age, but what is more important is that his contract is expiring next summer. While the Nerazzurri have reportedly started negotiations regarding an extension, nothing has come of it yet. Hence, with teams like Tottenham Hotspur and Manchester United lurking, it will be sensible for Inter Milan to sell de Vrij for a significant fee now, instead of letting him go for a free transfer next summer.
#2 Matteo Darmian
Matteo Darmian has not been poor in the couple of seasons he has spent at Inter Milan, but he has not particularly been impressive either. Inzaghi could decide to retain the full-back for his experience, but Darmain's situation is pretty similar to that of de Vrij.
Like the Dutch centre-back, the Italy international will also be a free agent next summer. While it is well documented that Inter Milan is in need of funds to pursue their transfer market aspirations, selling next year's free agents could be a good way of generating those funds.
#3 Robin Gosens
There seems to be no reason for Robin Gosens to not do well at Inter Milan. He arrived from Atalanta last season – a fellow Serie A team, where he was one of the best players in the squad. However, things have not quite gone as planned.
Gosens made only 9 appearances last season and has failed to replicate the form he showed for Atalanta in the Nerazzurri colours. According to reports, Inzaghi remains interested in Udinese's promising left-back Samuel Udogie, and hence, Gosens' Inter Milan dream could be over before it even properly started.
#4 Roberto Gagliardini
Roberto Gagliardini has been a part of Inter Milan for five years now, but he is not as important a player currently, as he was when he first arrived at San Siro. In the last edition of the Serie A, he started only six matches.
As is the case with Darmian and de Vrij, Gagliardini's contract ends next season as well, but this time around, it is the club who might not be interested in an extension. The Italian midfielder has attracted interest from the newly promoted side Monza, and a move could be on the cards.
#5 Dalbert
Many Inter Milan fans might be surprised to know that Dalbert is still a part of their team, and they cannot be blamed, as the Brazilian left-back has not played for the club since the 2018/19 season. In the last three seasons, Inter sent him out on loans with the view of making the move permanent.However, Dalbert was not really impressive in any of his spells at Fiorentina, Stade Rennes and Cagliari, which means he is once again back with the Nerazzurri. However, it could be very difficult for him to find a place in Inzaghi's current team, and a move away could be the most logical conclusion for both parties involved.