5 Biggest matches for Manchester City in the 2022-23 Premier League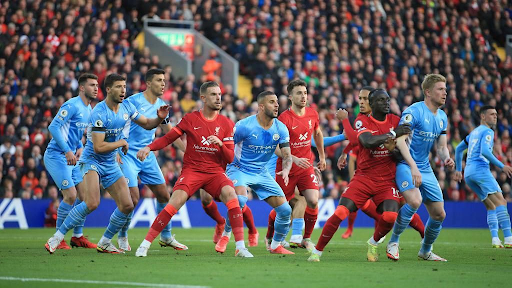 The Manchester City vs Liverpool clash will undoubtedly have repercussions on the title race
It has not been long since Manchester City made an epic comeback against Aston Villa. On May 22, the Citizens found themselves 2-0 down against the Villans, with the Premier League title slowly, but certainly, slipping out of their grasp. However, three late goals helped them win the crown of 'England's Best' for the second consecutive season.
The past month has been all about celebrations for Manchester City, but as champions usually do, it is now time to look forward and start planning for the new season. The fixtures of the 2022/23 Premier League season have been announced, and the boys in sky blue will start their title defense with a game against West Ham United on 7th August.
Also read: 2022-23 PL Season to kick off with Arsenal vs Crystal Palace
Let us check out the top five matches of Manchester City in the 2022/23 Premier League:
#5 Manchester City vs Crystal Palace – 27th August
This mention might surprise many, but there is a specific justification behind the selection of Crystal Palace as one of the opponents the mighty Cityzens will need to be wary of. If we rewind our memories to last season, we will recollect how Patrick Vieira's team caused Guardiola's men problems aplenty.
The Eagles defeated the champions by a 2-0 margin, while in the second leg, they restricted them to a goalless stalemate. In this season's Premier League, City will face the South London-based team in their fourth encounter – on August 27, and they will not be willing to repeat the same mistakes.
#4 Chelsea vs Manchester City – 2nd January
There is not any particular rivalry between Chelsea and Manchester City, but given that both teams are packed to the brim with superstars, any clash between these two sides becomes a must-watch affair. For our list, we have selected the first meeting on January 2 to be the more memorable one.
The defending Premier League champions will not have much time to prepare for this game, as they will take on Everton on 31st December. With only a day in between and a match against Manchester United not very far away, it will be interesting to see Erling Haaland & Co. cope with the intensity.
#3 Manchester City vs Spurs – 10th September
Though there are no easy fixtures in the Premier League, City's first big challenge in 2022/23 will be against Tottenham Hotspur on September 10. Fans will be eagerly waiting for his match for a couple of reasons, barring the fact that both teams have quality players in their ranks and hence, the overall quality on display will be high.
Firstly, Manchester City will have a fairly easy run till this match, as in their first six matches, they will not face any of the top six opponents, To add to that, it must be noted that City's first defeat of last season came against Spurs, and should they come into this fixture on the back of a six-game unbeaten streak, Guardiola's team will try to avoid something similar.
#2 Manchester United vs Manchester City – 14th January
While the clash against Liverpool is potentially going to be a title-deciding encounter, the Manchester Derby trumps everything when it comes to rivalry, as in this fixture, bragging rights over Manchester are at stake.
Unlike the first fixture, we have selected the second Manchester United-Manchester City clash, which will be held on January 14, to be a more riveting encounter. The match will be played at the Old Trafford, and the Cityzens will come into this game following a match against Chelsea.
#1 Liverpool vs Manchester City – 15th October
The most important fixture for Manchester City will undoubtedly be against Liverpool since while teams like Tottenham Hotspur and Chelsea could pose a threat, the Cityzens and the Reds remain the two prime contenders for the title.
More than the return leg, we feel the first encounter between these two teams, scheduled to be played on October 15, will be a football spectacle to behold for a few reasons. Firstly, this match will be played at Anfield and the Kopites will make Pep Guardiola's team run for all of their worth, and to add to their worries, Manchester City will take on Arsenal just three days after this encounter.