Twistzz Joins the CS:GO Roster of FaZe Clan After Being Released by Team Liquid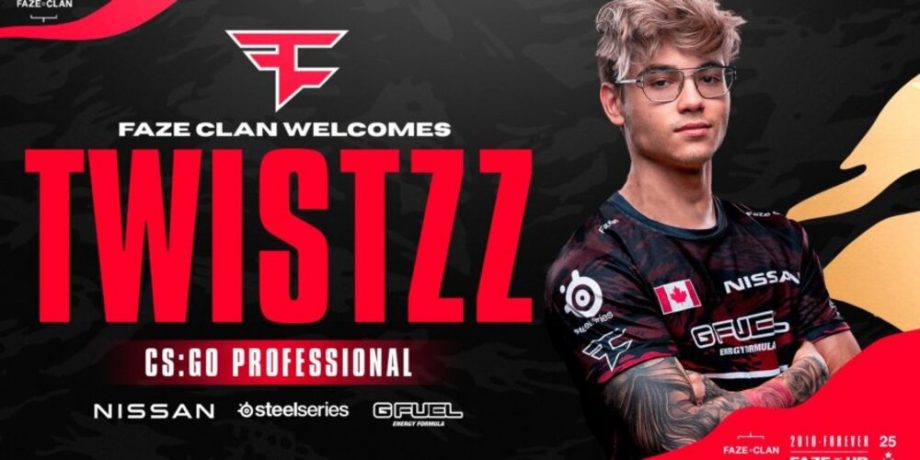 Popular European eSports side FaZe Clan has announced today the much-awaited signing of an established name in the CS:GO pro scene — Russel "Twistzz" Van Dulken. He will immediately join the already talented CS:GO roster of FaZe. The move was long time coming and predicted by many, ever since Twistzz's exit from Team Liquid last December.
Twistzz, known for his killer rifting tactics and fascinating gameplay methods, has always been considered a shining star in the North American CS:GO domain. His real potential came to light when he signed for Team Liquid in the earlier part of 2017. His eccentric performances were pivotal for Team Liquid's stellar 2019 season, considered as one of the best seasons in the popular organization's history.
But a golden era came to an end after almost three and a half years, when Twistzz and Team Liquid finally decided to part ways, through mutual agreement in December 2020. Twistzz made his intentions clear immediately after. He clearly wanted to enter and taste the European competitive CS:GO scene and the eSports media didn't waste any time to link him with a move to FaZe Clan, who were in need of a stellar rifter themselves.
Twistzz has gone on to express his delight on social media by claiming that he is looking forward to "a fresh new start" with a top CS:GO side like FaZe Clan. He also believes that FaZe is only warming up and gearing up to show their true colors and that FaZe is the next superpower in CS:GO.
FaZe, on the other hand, have been quite busy in the off season, weighing up their options for the next competitive CS:GO season. They lost two of their most prized assets — star player Nikola "NiKo" Kovač and their former coach Janko "YNk" Paunović — in the latter part of last year. But they have made a very good start in the new year with this high quality signing of Twistzz.
Although it is still unclear what will happen to FaZe's pre-existing rifter Markus "Kjaerbye" Kjærbye, many feel that he will be demoted to the FaZe CS:GO bench after the signing of Twistzz.
In a major turn of events, Russel "Twistzz" Van Dulken will ultimately make his FaZe Clan debut at the upcoming season-starter tournament, the BLAST Premier 2021 Spring Groups, which is set to start from February 4, against who else but his former employers, Team Liquid.