The E-ISL Season 2 April Update: Scores, Schedules, and Standings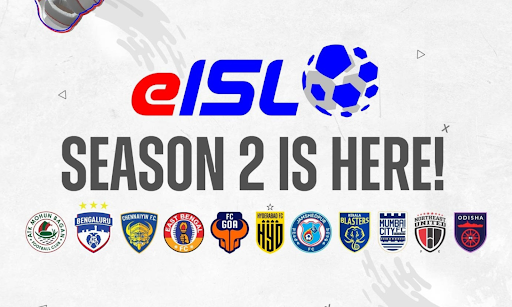 The E-ISL League season 2 sees some of the country's best professional eSports athletes compete for a grand prize of INR 15 lakhs. The 10-fixture league would be followed by the finals in May to determine the champions.
All 11 Hero ISL clubs participated for the second year running, and are being represented by 22 esports athletes through retention and club qualifiers. The champions of the eISL will have an opportunity to play in the qualifiers of the EA SPORTS FIFA 23 Global Series.
Match Day 1: April 1, 2023
Match Day 1 kicked off with a fixture between Mohun Bagan and Goa. The matchup proved to be straightforward for Goa who won the second (1-0) and third match (2-1) after drawing the first.
The second game saw defending champions Chennaiyan come up against Odisha. Navin Haridoss lost the first game against EightNates, but the team responded well to register a 1-0, and a 2-0 win in matches 2 and 3 for a 2-1 result.
In fixture 3 between Hyderabad and Bengaluru, Bengaluru registered a hard-fought 1-0 win in the first match which was followed by an exhilarating 3-3 draw. The final match saw Warsi04 of The Nizams registering a 3-2 win to bring home a draw.
Match Day 2: April 2, 2023
Matchday 2 kicked off with a showdown between Odisha and East Bengal. EightNates continued his impressive form and registered a 4-3 victory against sm_ben07. Vagya7 did enough to come up with a 3-2 victory in the final match to help them to a 2-1 win.
Fixture 2 saw The Highlanders come up against the Kerala Blasters. Led by saranshjain12 & Emaadrox, NorthEast United registered a straightforward 3-0 victory in the matchup.
The final fixture saw Chennaiyan being humbled by Bengaluru and the Blues claimed an easy 3-0 scoreline in the matchup.
Match Day 3: April 4, 2023
Matchday 3 began with a humbling of East Bengal at the hands of Mumbai City. In match 1, Sakky_8 registered a hard-fought 3-2 win which was followed by a 2-2 draw in the doubles match. The third match saw Sakky_8's teammate Krusher_7 produce 6 goals.
Fixture 2 saw Jamshedpur draw 1-1 with Odisha. The first game was won by The Red Miners while the team event saw The Kalinga Warriors take the victory.
The final fixture saw NorthEast United pull off another impressive victory, this time over ATK Mohun Bagan. Saransh Jain lost match 1 to Vicky_1227 before an inspired fightback was rounded off by a 1-0 victory by Emaadrox.
Match Day 4: April 5, 2023
Match Day 4 saw Hyderabad split points with Kerala Blasters in fixture 1. Match 1 was won 2-1 by Hyderabad, while the doubles match 2 saw a reverse scoreline.
Fixture 2 saw defending champions Chennaiyin produce a 2-0 victory over East Bengal, who have been the worst team in E-ISL season 2.
Fixture 3 was a high-profile matchup against Mumbai City and Goa. The Gaurs won the fixture by the smallest of margins. V-Sharma produced a 1-0 victory in Match 1 with the other two matches ending at 1-1.
Match Day 5: April 18, 2023
The first fixture of the day was between Hyderabad and Odisha. While Jenasid produced a commanding 4-0 victory in the first match, a 3-1 loss in the doubles match saw Odisha tying the fixture. The third game produced a 3-3 draw.
Fixture 2 saw Goa continue their daunting run against Bengaluru. Vanshaj and Aadizema produced a 4-1 win in match 2 after drawing match 1. Match 3 saw Aadizema score 5 goals to round up a 2-0 victory for his team.
The final fixture produced a rare win in this season's tournament for ATK Mohun Bagan against Jamshedpur.
Match Day 6: April 19, 2023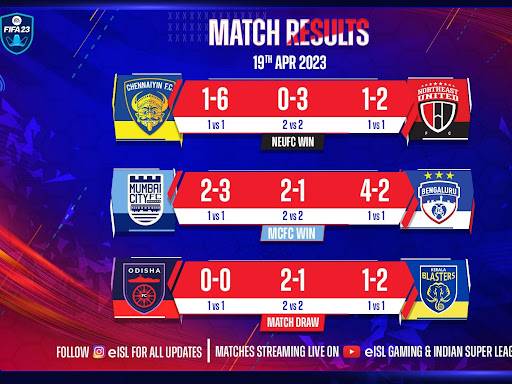 The day began with another reality check for Chennaiyan as Navin was handed a 6-1 loss by NorthEast United's Emaadrox. Match 2 and 3 also produced straightforward victories for NorthEast.
The second fixture of the day saw Mumbai City fight back after losing match 1. Krusher_7 won 4-2 against Bengaluru's xSagnik_ for a 2-1 overall win for Mumbai. The final fixture produced a 1-1 draw between Odisha and Kerala Blasters.
Match Day 7: April 20, 2023
Hyderabad opened the day with a 2-1 victory over Jamshedpur. D33KAY produced a 3-0 win over Warsi04 in match 3 to help his team to all 3 points.
Fixture 2 saw NorthEast United cruise to victory over Odisha. saranshjain12 & Emaadrox have proved their mettle the entire tournament and earned an easy 3-0 victory.
The final fixture of the day was between ATK Mohun Bagan and Bengaluru. The Blues won all 3 matches for a 3-0 scoreline.
Match Day 8: April 21, 2023
The first fixture resulted in Jamshedpur's first win of the season, against Chennaiyin. In fixture 2, Kerala Blasters produced a 2-0 win over Mohun Bagan after Matches 2 and 3 resulted in 2-0 margin victories for the Blasters.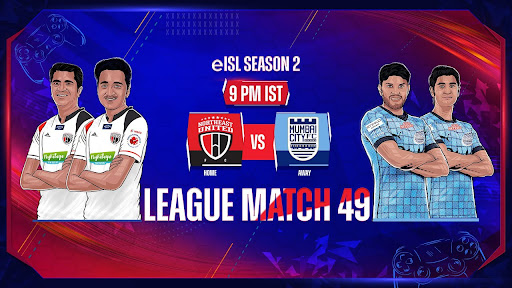 The final fixture of the day ended in a 1-1 draw between Mumbai City and NorthEast United. Sakky_8 produced a 2-1 win for NorthEast in Match 1, but the scoreline was reversed in the doubles match. Match 3 saw an entertaining 3-3 draw. Mumbai had the opportunity of moving up to the second spot had they won.
Match Day 9: April 25, 2023
The second-last match day began with Goa registering a 1-0 win over East Bengal. The other 2 fixtures involved expected wins for the likes of Hyderabad and Kerala Blasters.
Hyderabad produced a 2-1 win over ATK Mohun Bagan while defending champions Chennaiyin slumped to a 1-0 defeat against the Kerala Blasters in the final fixture of the day.
Match Day 10: April 26, 2023
Mumbai City opened the day with a 2-0 victory over Jamshedpur. Fixture 2 was a blockbuster matchup between Goa and NorthEast United. Saransh Jain produced a 5-3 victory over Aadizema in match 1.
After a draw in match 2, Vanshaj Sharma did enough to produce a 4-3 victory over Emaadrox, in match 3 to ensure a 1-1 draw.
The final regular season fixture of E-ISL Season 2 saw Bengaluru produce an easy 3-0 victory over East Bengal.
What to look forward to?
Goa has easily been the best team so far. Their draw with NorthEast United on the last match day was the only fixture they did not win, finishing with 28 points. They have been joined by NorthEast United (23 points), Mumbai City (21 points), Bengaluru (20 points), Hyderabad (14 points), and Kerala Blasters (12 points).
Still, Goa is the clear favorite with the dream duo of Aditya Dube & Vanshaj Sharma producing some big performances already. Their biggest challengers can be expected to be NorthEast United in the playoffs as well, with Saransh Jain & Emaad Ahmed forming a potent team.