India will send esports teams to the 2023 Asian Games in Hangzhou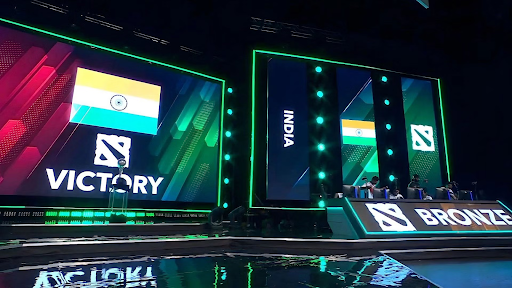 The Indian Ministry of Youth Affairs and Sports has taken a much-awaited step by including eSports as a part of multi-sport events, which gives the field a much-sought after shot in the arm.
Long confused to be in the same category as iGaming, which includes fantasy sports, teen patti, rummy, poker, online gaming, gambling, and betting, among other things, the Ministry's new amendment allows stakeholders in eSports to dream big and stake a claim as a legitimate sport seeking the same benefits as other sports.
The delay in categorising eSports as a "sport" came from various reasons, such as the incorrect association with iGaming, and the apparent lack of physical activity. However, the eSports stakeholders refer to its players and participants as "athletes," calling this as much of a sport as chess or shooting.
The inclusion of eSports in the 2018 Asian Games as a demo event has added further credibility, besides its recognition as a sport in other parts of the world.
Lokesh Suji, the Director of the eSports Federation of India (ESFI) and Vice-president of the Asian Esports Federation, said that this amendment would have some significant impact, including the distinction of gaming from eSports.
He said,
"When we talk of eSports, the biggest bottleneck is parental approval. Before December 23, if someone was practising for a tournament, their parents would say they were wasting their time. Now parents can see the government's support."
He believes there will be a change in perception as well since gambling and all card games were not looked at positively.
Suji further added,
"Drinking is legal, but do we encourage anyone to do it? No. Most brands want to be involved in eSports, but it is perceived as teen patti, poker, fantasy sports, and other such activities. They might have tested the waters with small activations but a brand can set up a long-term plan for eSports."
With the inclusion of esports in the 2018 Asian Games, a new era has begun for the Indian sporting community. For the first time, a significant international sporting event acknowledged eSports as a contest of skill, passion, teamwork, physical prowess, and mental toughness, much like conventional sports. Even though participants weren't vying for gold, it was their first opportunity to represent their nations in such a huge tournament.
This will be advanced by the Asian Games in 2022, legitimising it and potentially inspiring governments to fund this developing sector. The 2019 SEA Games, where competitors competed for six medals, also included eSports. Competitions for games such as Mobile Legends: Bang Bang, Arena of Valor, Dota 2, Tekken 7, Starcraft II, and Hearthstone were included in the event.
The 2023 Hangzhou Asian Games will feature eight medal events and two demonstration events.
The medal events are as follows:
– Arena of Valor (Asian Games version)
– Dota 2
– Dream Three Kingdoms
– EA Sports FIFA branded soccer games
– Hearthstone, 6. League of Legends
– PUBG Mobile (Asian Games version)
– 8. Street Fighter V.
The esports demonstration events are:
– AESF Robot Masters-Powered by Migu
– AESF VR Sports-Powered by Migu
India will compete in five eSports titles at the 2023 Hangzhou Asian Games: FIFA 2022, Street Fighter V, Hearthstone, League of Legends, and DOTA 2. The teams and players are yet to be announced.
The Indian DOTA 2 team of Moin Ejaz, Ketan Goyal, Abhishek Yadav, Shubhnam Goli, and Vishal Vernekar, won a bronze medal in the inaugural Commonwealth Esports Championship in Birmingham in August. India's Muhammad Ibrahim qualified for the final of the first-ever Sim Racing (simulated racing) World Cup, held in October, by finishing second in the Asian Continental Qualifiers in August this year.
The inclusion of eSports in the multi-sport category comes at a time when eSports is being widely adopted around the world. The International Olympic Committee (IOC) will host an Olympic eSports Week in 2023, with an eye on the 2024 Paris Olympics. Medals in DS and Dota 2. Besides the pro-active lobbying by the ESFI, the official recognition of eSports comes on the back of some strong numbers.
The online gaming segment is expected to reach Rs 15,300 crore by 2024 and be the fourth largest segment of the Indian media and entertainment sector, according to a FICCI-EY report 'Tuning into Consumer'. The eSports market in India is expected to generate an economic value of around Rs 10,000 crore between now and FY2025, says a June 2021 EY report 'The dawn of esports in India'.
According to various figures, the number of eSports players doubled from 300,000 in 2020 to 600,000 in 2021, and revenue grew by 29 per cent from Rs 750 crore in 2020 to Rs 970 crore in 2021.
Teams in eSports also grew from 60,000 in 2020 to 100,000 in 2021, while the total prize money in 2021 crossed Rs 20 crore. In all, close to a hundred brands are said to have invested in eSports, up from 70 or so in 2021.
The change in status would also have an impact on the entire eSports ecosystem. While only about 4 per cent of mobile games on the Play Store are from Indian publishers, according to the 2021 EY report, as Indian game developers transition from developing social games to multiplayer games, they are expected to create games that are better suited for eSports tournaments.
The number of Indian gaming studios has grown five times since 2015 with over 14 eSports broadcast platforms in 2021, expected to increase to 20 by 2025. 'The dawn of esports in India' report adds that over 85 million unique viewers will watch eSports tournaments in India by 2025.
The ESFI has been seeking recognition as the national sports federation. They want to focus on coaching, skill development, getting medals, encouraging investors, including foreign ones, and getting infrastructure, like monitors, workstations, accessories, etc.
India still has some catching up to do, compared to other nations. However, given its young population, the growth of mobile and data services, and a general proclivity to all things digital, eSports could well become a medal-generating outlet.