Epic Announce 500,000$ Dota 2 League Starting from November 2020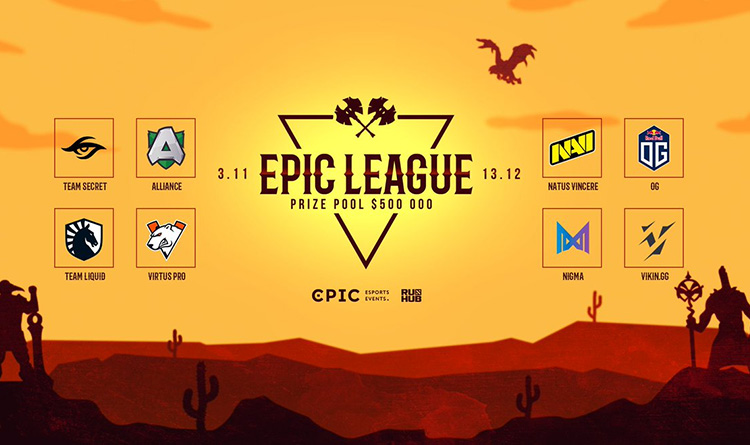 Epic Esports Events' previous Dota 2 league OMEGA was a huge success. To follow that up, they announced its successor in early 2020. But the pandemic hit hard, and they are finally back with the much coveted league, albeit with a new title "Epic League" and a hefty prize pool of 500,000$. The tournament will feature teams from the EU and CIS regions.
Mark Averbugh, Product Director of Epic Esports Events has said:
"After two great tournaments that Epic Esports Events have organized together with the partners, we are glad to return to our own flagship online product — EPIC League."
Open qualifiers are already underway on FaceIt from October 29th. Teams will be able to qualify for the closed qualifiers to be held on November 3-11, from which 2 best teams will eventually qualify for the first division.
The first division games or the main event is scheduled from November 12 to December 5, with the playoffs to be held from December 8-13. The number of teams to battle it out in the main event has been reduced from 12 to 10, although the number of matches have been increased exponentially — from 30 to 45. Already seeded teams OG, Virtus.pro, Team Liquid, NAVI, Alliance, Nigma, and Vikin.gg will join last season's champions Team Secret in the first division. All the teams will play in one group.
The prize pool for the first division is half a million US dollars, with the champion team getting hold of 200,000$ of them.
There will also be a second division, in which teams will compete against each other from November 11 to December 1, with the playoffs set to be held on December 8-13. The prize pool for this division will be 50,000$.
Dota 2 fans and players have been made to wait for a long time to experience the thrills and chills of a huge tournament like this due to the pandemic. Thus, the announcement has provided some must-needed "breath of fresh air" to the community.