All CS: GO teams qualify for ESL Pro League Season 17 playoffs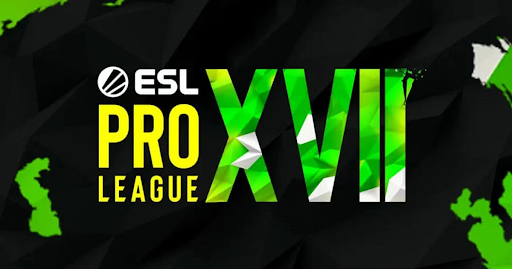 The ESL Pro League is arguably considered to be the biggest tournament in the CS: GO ecosystem. Season 17, which began on February 22, featured a new format, which saw 32 teams battle it out for a lion's share of $850,000, and a spot at both IEM Cologne 2023 and BLAST Premier World Final 2023.
The Group Stage came to an end on March 19, and the top 16 teams qualified for the Playoffs. Heroic, forZe, Cloud9, and Team Vitality have made the Quarterfinals, while Outsiders, FaZe Clan, MOUZ, and ENCE are in the Round of 12. Natus Vincere, 00 Nation, FURIA Esports, Fnatic, paiN Gaming, Team Liquid, G2 Esports, and Movistar Riders booked their berths in the Round of 16.
New Format
The 17th edition of the ESL Pro League featured 32 CS: GO teams from Europe, North America, South America, Asia, and Oceania, but only half of them reached the playoffs and fought in the single-elimination bracket after the triple-elimination group stage was over.
The new format still relies on having four groups of competition to start the event and featured 32 teams in play (up from 24 last year). Groups were to have eight teams each and featured a triple-elimination bracket.
Each group saw four teams advancing to the playoffs, where the best squads were placed directly in the quarterfinals, the second-best teams in the round of 12, and the third and fourth rosters landed in the round of 16.
Prize Distribution
Each of the 16 teams in the Playoffs will be competing for their share of the $850,000 prize pool, with the ultimate winner receiving $200,000, 3,000 BLAST Premier Points as well as qualifications for IEM Cologne 2023 and the BLAST World Final.
Qualified Teams
– Heroic
– forZe
– Cloud9
– Team Vitality
– Outsiders
– FaZe Clan
– MOUZ
– ENCE
– Natus Vincere
– 00 Nation
– FURIA Esports
– Fnatic
– paiN Gaming
– Team Liquid
– G2 Esports
– Movistar Riders
ESL Pro League Season 17 playoff schedule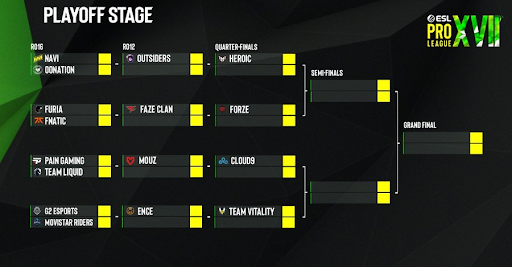 Tuesday, March 21
9:30 am: NAVI vs. 00 Nation
9:30 am: Fnatic vs. FURIA
1 pm: Liquid vs. paiN
1 pm: G2 vs. Movistar Riders
Wednesday, March 22
9:30 am: Outsiders vs. NAVI/00 Nation winner
9:30 am: FaZe vs. Fnatic/FURIA winner
1 pm: MOUZ vs. Liquid/paiN winner
1 pm: ENCE vs. G2/Movistar Riders winner
All times are listed in Central Time and are susceptible to delays.
How to watch ESL Pro League Season 17
​​ESL Pro League season 17 will be streamed on ESL channels on Twitch and YouTube. With the group stage featuring multiple matches broadcasted at the same time, you should also follow ESL's B channels on Twitch, since there will also be a number of matches streamed on them. Last but not least, it's likely that some community figures like Gaules will be live streaming some of the games on their channels.