Winning always gives you confidence and we are just giving our best in every match: Babar Azam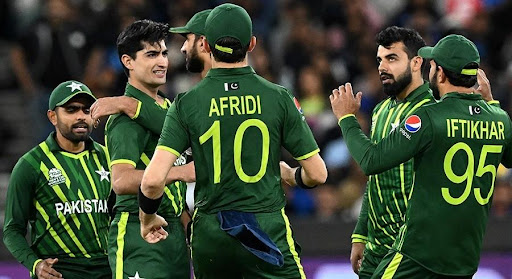 Pakistan defeated Bangladesh by 7 wickets in Super Four
Haris Rauf bowled six powerful overs with frightening velocity, erratic lengths, and unwavering accuracy that held Bangladesh to 193. The modest chase was then completed within 40 overs by Imam-ul-Haq and Mohammad Rizwan, giving Pakistan a commanding victory to begin their Asia Cup Super-Four campaign. That gave Pakistan two points and, more importantly, a strong net run rate.
Shaheen Shah Afridi and Naseem Shah each had Mehidy Hasan Miraz chip to square leg to begin the second over of Bangladesh's innings after they had decided to bat.
Shaheen Shah Afridi had first defeated Mohammad Naim off the first two balls, first on the outside edge and then on the inside. With the last two wickets falling to Naseem in the 39th over, the innings came to a close. Rauf was mostly focused on making the batters from Bangladesh appear almost illiterate in between.
Naseem injured his right shoulder after diving at the fine-leg boundary in Bangladesh's eighth over, which was concerning for Pakistan. He then walked off the field.
Rauf, who took over for Naseem to begin the eighth over, only needed three balls to get on target. He angled a hard length delivery at Naim from close to the wicket, and despite Naim's attempt to pull, the ball was returned for a catch off the top edge.
That was bowled at 140 kph, but Haris Rauf continued to press it and finished off Towhid Hridoy to begin the tenth over. The ball was somewhat of a dream: it had the ideal amount of length and movement, angled into the right-hander at 145 kph, and then straightened out to crash into middle and off. Bangladesh was already behind 47 to 4 when the power play ended.
The senior pair of Shakib Al Hasan and Mushfiqur Rahim then engaged in a fierce century stand. Despite the scenario they were in when they began, the first 44 runs only needed 61 balls to be scored.
Luckily for Pakistan, Naseem was back on the field by that point and came back to bowl the 18th over.
On the 20th over, Shakib was on 32 and struck lucky when he gloved a pull just past the wicketkeeper. Two more deliveries later, Naseem dropped him because the bowler was unable to hold on to a leading edge. Naseem was in his follow-through, but it was still a fairly straightforward opportunity to his right.
A composed Shakib reached fifty at the beginning of the 28th over, but exactly two overs later, he grounded a short ball from Faheem Ashraf to deep square-leg. Two balls later, Mushfiqur reached his half-century. Despite the fact that he immediately added 27 runs with Shamim Hossain, Bangladesh crumbled from 174 for 5 to 193 all out.
Rauf took two of those five wickets in the 38th over off of consecutive deliveries. Mushfiqur lost it on 64 by skipping down and edging behind from the second ball, and Taskin Ahmed also tickled Rizwan. Afif Hossain and Shoriful Islam were taken out by Naseem, ending the innings.
The defense was effectively launched by the Bangladeshi bowlers. Only 12 runs were scored in the first five overs for Imam and Fakhar Zaman when play was halted for around 20 minutes due to a floodlight malfunction.
The batters' advantage looked to increase after the break. Before Imam hit three consecutive home runs off Taskin in the eighth over, Fakhar had Shoriful out for four.
Shoriful, however, largely managed to keep them at bay, even trapping Fakhar for 20 in the last over of the powerplay. With his lines, Hasan Mahmud put the batters to the test.
Imam was on 16 when Shakib was persuaded to request a review of a not-out lbw call in the eleventh over. When Shakib reviewed another not-out lbw call, this time off Taskin, with Imam on 23 in the 14th over, it was determined that the ball was pitching outside leg.
Imam was relatively unassuming at 26 off his first 38 balls when Taskin misplayed the ball at fine leg, giving Imam a lucky boundary. The next ball, Imam skillfully pulled Mahmud for six. Babar Azam was out inside-edging Taskin off one that kept low two overs later, and Imam then experienced more good fortune.
Given out lbw off Mehidy's first delivery—Bangladesh didn't use spin until the 19th over—Imam reviewed and successfully obtained an overturn. Replays revealed that the ball had traveled down the leg side. Soon after, Mehidy bowled Imam a six over midwicket to take his score to fifty.
Rizwan, at the other end, ended undefeated on a steady 63 from 79 balls despite having hammered a four and a six each off his first ten deliveries. His innings of 78 featured five fours and four sixes; he was eventually bowled by Mehidy.
With the Pakistan portion of the Asia Cup coming to a conclusion on Wednesday, Pakistan will play India in Colombo next.