Will Starc play in Delhi? Boland is glad to make things harder for the selectors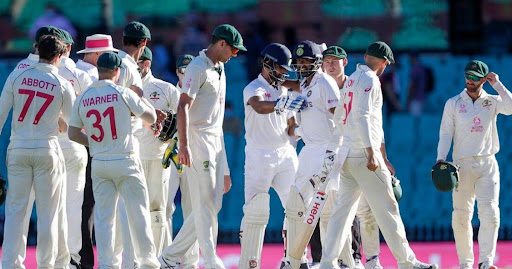 India vs Aus Match Preview
Considering Mitchell Starc's anticipated recovery from a finger injury, Scott Boland feels he has applied enough pressure to Australia's selection committee to maintain his spot for the second Test against India in Delhi.
Due to the finger injury he received in late December, Starc was unable to play in the opening Test in Nagpur. He started the tour at home but has already traveled to Delhi and will train alone today.
Aaron Kellett, the physical performance coach for Australia, has flown to Delhi to oversee Starc's preparation while the rest of the team is still in Nagpur, where they are training ahead of their Tuesday trip to Delhi.
Due to Josh Hazlewood's Achilles injury, Boland was able to play in Nagpur while not previously being scheduled to do so. He bowled 17 overs for just 34 runs during India's 400-run innings.
On the second morning, he bowled one of the finest fast-bowling periods of the game, delivering three maidens in six overs and allowing just three runs when facing Rohit Sharma.
After Australia had given up 40 runs in the first 13 overs in the morning, it followed. Todd Murphy picked up two wickets at the other end thanks to his ability to lower the scoreboard.
Boland was hoping to fill in for Mitchell Starc, who appears to be a certainty to return after playing every Test on Australia's two-spinner tour of Pakistan and Sri Lanka last year as the second fastest behind Pat Cummins.
"I felt like I bowled well, but when you are bringing in someone like Mitchell Starc, who is a gun in these conditions and has bowled really well in Sri Lanka and Pakistan, hopefully I made the selectors job a little bit tougher than what it originally was,"

Boland said.
"In places like here, it is tough to judge how you went as a fast bowler but I think I contributed to our game plan and I played my role pretty well."
"I think I had a pretty good spell in conjunction with Toddy a couple of times so I was happy with how the ball came out."
"Obviously I want to play. I enjoyed the challenge of bowling in these different conditions. I've just got to make the selectors' job as hard as I can to bring someone in," Boland said.
"We don't know. I'm not sure. I haven't seen Starcy bowl. I'm not sure if he's going to be right to play. I assume he is if he's over here. I don't think we're going to play three fast bowlers. There's only going to be two spots up for grabs, I reckon."
At one point during India's innings at Nagpur, they were 168 for 5, although Boland only bowled eight overs after that. Early in their innings, he hit the outside edge of both Ravindra Jadeja and Axar Patel's bats, but neither ball was caught.
Even though Boland appeared to be Australia's second-best bowler after Murphy, head coach Andrew McDonald did not believe that Boland was underbowled in the innings.
"I think it was about right,"
"I think we wanted to come in with the quicks and use reverse swing. We probably didn't get as much reverse as we thought and nor did they. There wasn't as much reverse on offer but definitely Scott did the role we expected him to do."
"He allowed the spinners to be well-placed, and we knew that we were going to have combinations where Scotty would bowl with the spinner down the other end and there were going to be other periods where the spinners would bowl together. The question for us, was it too similar with two off spinners operating in tandem spinning the ball in?"