Wells and Charlesworth watch as Hampshire is passed by Gloucestershire in the rain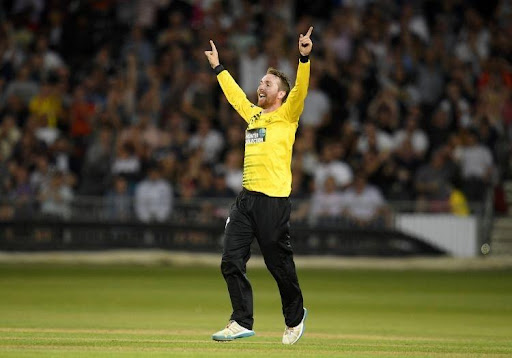 To stop Hampshire, Tom Smith went 3 for 26
At Bristol's Seat Unique Stadium, young guns Ben Wells and Ben Charlesworth put on a scorching, uninterrupted third-wicket stand of 55 as Gloucestershire defeated Hampshire by eight wickets using the Duckworth/Lewis method to maintain their delicate chances of progressing to the Vitality Blast's knockout rounds.
The experienced slow left-armer from Gloucestershire, Tom Smith, returned remarkable figures of 3 for 26 in four overs as Hampshire recovered from 114 for 6 in 16.2 overs to make a competitive 158 for 7 after being put in. Ross Whiteley scored an unbeaten 41 off 25 balls during this period.
Gloucestershire's response was then stopped by rain, which cost them 11 overs. When the players resumed play at 9.15 p.m., the home team was chasing a new target of 84 from nine overs.
Wells led the attack, slamming a brilliant 43 off 22 balls with three sixes and three fours, while Charlesworth joined in with three fours and a pair of sixes, blasting 29 off 15 deliveries to lead the home team to victory with five balls remaining.
While Gloucestershire's slim chances of making it to the quarterfinals are still alive thanks to their fourth win in 10 games, Hampshire, who are still in fourth place in the South Group, squandered an opportunity to increase their margin over nearest rival Glamorgan to four points.
Grant Roelofsen pushed obstinately against John Turner and provided a simple catch to mid-on for Gloucestershire, who have yet to perfect their powerplay efforts this year. Gloucestershire lost the wicket early.
At 15 for 1 in the third over, the home team was obliged to leave the field due to the arrival of severe rain. 69 runs in 40 balls at a run rate of 10.35 needed to be scored by Gloucestershire before play could restart when the weather finally let up, which was slightly over an hour later.
Their hopes were first dashed when, with the score at 30-2, Miles Hammond hit Liam Dawson to mid-off and left the game for four in the fourth over. Wells didn't let the loss of his captain stop him from continuing the fight.
He grabbed a pair of fours from one Dawson over and greeted the Australian Nathan Ellis with a straight-driven four. Charlesworth showed himself to be a willing collaborator, slamming two fours and a six off three consecutive deliveries in the sixth over, when the home team still required 29 runs off 18 balls.
Charlesworth responded admirably to the situation by hitting Turner for a straight six then boosting the following ball for four runs in an over that produced 11 runs, significantly lowering the goal to 18 off the final two overs. As the hosts reduced the run rate to one per ball in the last over, Wells reverse-swept Howell for another six, making the rest of their chase a formality.
Ben McDermott was clean bowled by Zafar Gohar in the second over after the Australian played down the wrong line and lost his middle stump without scoring. Earlier, Hammond won his first toss as captain, put Hampshire, and won the toss.
As the visitors took control, James Vince and Toby Albert eventually gave the innings momentum with a boundary-filled stand of 41 runs in 4.3 overs. In the sixth over, when Vince attempted to pinch a quick single from David Payne, Wells came in from wide mid-off and scored a direct hit to superbly run out Vince for 15. This came just when Gloucestershire needed to come up with something last-minute.
After that, the home team tried to contain the opposition by using spin at both ends. This strategy had some success as Albert and Joe Weatherley fought hard to raise the score to 71 for 2. Although Zafar and slow left armer Smith were victimized by Weatherley's use of the reverse sweep to hit boundaries, the third-wicket partnership were mostly limited to scampering quick singles in an effort to keep the scoreboard moving.
With the score at 84 and his patience at an all-time low, Albert finally drew the trigger and lifted Graeme van Buuren straight to Tom Price at long-on. He left for a 33-ball 36 in the twelfth over after partnering with Weatherley for 43 runs.
Ollie Price was the fourth spinner to be used as Gloucestershire decided to slow things down. Weatherley attempted to speed things up by pulling Price for six over midwicket as Hampshire reached three digits in the fifteenth over.
However, the cunning Smith delivered a twin punch in the subsequent over by getting Weatherley stumped for 37 runs and then, three balls later, dismissing James Fuller for one runs to bring the visitors' total down to 102 for 5 and give Gloucestershire new life.
As Tom Price raced in from deep midwicket to take a remarkable one-handed catch low to the ground and energize the crowd, Smith then caught Howell, a former teammate, before he could cause any harm.
Hampshire were in danger of losing when they were 114 for 6 in the seventeenth over. Hampshire were thankful for the hard-hitting Whitely, who muscled his way into the seamers and harvested 3 fours and 2 sixes in a furious knock of 41 off 25 balls.
In the last over, Payne bowled Dawson, but not before the former England player had contributed to a supportive partnership that helped the south coast team reach a respectable total. The partnership, which lasted 36 runs over 20 deliveries for the seventh wicket, was broken by Dawson.