Top 5 Highest Scores on Debut in Away Tests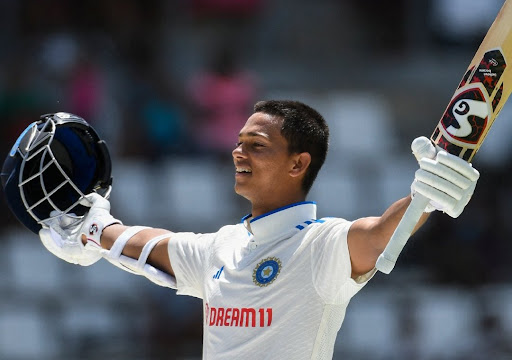 Yashaswi Jaiswal enters the elite list with his debut innings against West Indies
Only a small number of cricketers are up to the task of conquering foreign territory in the enthralling world of Test cricket when players don the whites and engage in epic conflicts across the globe. These brave batsmen leave their marks on the illustrious history of the game, equipped with fortitude and a dash of creativity.
A new entry to the cricketers on their way to master foreign conditions is Yashasvi Jaiswal, who scored 171 runs to help India defeat West Indies by an innings and 141 runs. At just 21 years of age, Jaiswal stands tall at the fifth spot in the long list of batters who have left an indelible impact in their debut innings in Test cricket.
A look back to 1903, when RS Foster rammed his way on the Australian soil with his 287 runs in the first innings itself, keeps him on top of the legendary list, followed by other emerging champions of the game.
Here are the top five highest scorers in Test cricket in away matches:
#5 Yashaswi Jaiswal (171 runs vs WI in 2023)
Jaiswal, at just 21 years of age, had a dream debut innings at Windsor Park in West Indies when he went on to pave his way into the Indies bowling attack by hitting 16 fours. An innings of 171 runs off 387 deliveries in the first innings itself by this young opener was truly remarkable for the Indian side.
When he accomplished the feat against the West Indies, Yashasvi Jaiswal became the first Indian opener to strike a century on his Test debut away from home. A young batsman who had previously been noted for flair and quick aggression demonstrated tenacity and patient run-scoring on a challenging pitch to record a tonne, which soared to a massive 171-run innings.
Before Jaiswal, 16 Indians had already made a debut Test century, including two openers, but only four had done so away from home. Only seven additional players had more than 150 runs on their away debut.
#4 Devon Conway (200 runs vs Eng in 2021)
Devon Conway, the 32-year-old New Zealand batsman, is a well-known hard hitter in the T20s.in the test cricket realm, he left a mark in his first innings itself by scoring a double ton on English soil in Lord's cricket stadium against England.
Conway amassed a total of 223 runs in both his innings, helping New Zealand draw the match against England. The left-handed batter also bats first in T20s. He carries the potential to get going from the first ball itself and has a special liking for pace bowling.
At Lord's in 2021 against England, Conway scored 200 off 347 deliveries. batting first on a pitch with only a tiny seam movement and a little swing. Conway played it late and managed to get through the heavy bowling attack of England, just to get run out by Ollie Pope.
#3 Kyle Mayers (210* runs vs Ban in 2021)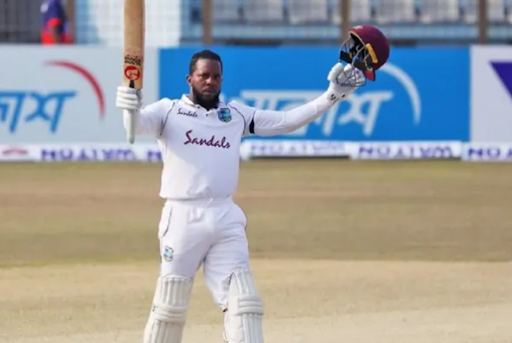 30-year-old Kyle Mayers is a left-handed batter for West Indies. Mayers is also trusted well in the T20 realm, but his innings against Bangladesh stood out on top for his Test career. Mayers ranks third in the top-five list with his massive innings of 210 runs. He scored 250 runs in total in both of his innings to help West Indies win by three wickets.
Batting last on the subcontinent is never simple, especially if your team is inexperienced and many of your top players aren't available. And especially not while facing three strong spinners when chasing a total of 395 runs. Even in T20s, Mayers, who had a dismal track record against spin prior to that Test, defied all expectations.
His unbeaten 210-run knock in the second innings came off just 310 deliveries where he had hit 20 fours and seven huge sixes. Kylie Mayers showcased his T20 potential in that Test match against Bangladesh at Chattogram.
#2 Jacques Rudolph (222* vs Ban in 2003)
Another left-handed batter scored the second-highest knock on Test debut at Chattogram against Bangladesh, coming in one down for South Africa against Bangladesh in the first of the two-Test tour, playing an unbeaten innings of 222 runs off 383 balls.
His knock comprised of 29 fours and two huge sixes, which was part of a 429-run partnership with Boeta Dippenaar, the first 400-plus stand for South Africa in Tests. Rudolph ranks second in this top-five list with his dominating innings of 222 runs.
Jacques Rudolph was just 21 years old when he went to score an unbeaten huge knock of 222 runs in his first innings itself. In his prime, he was well known for his picture-perfect cover drive and nifty footwork.
#1 RE Foster (287 vs Aus in 1903)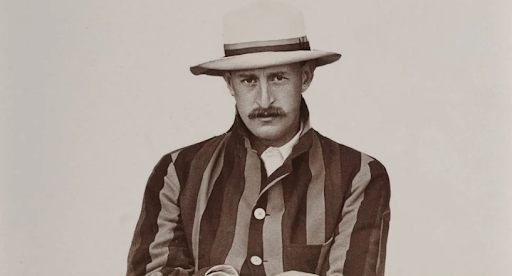 When just three nations had ever participated in a recognized Test match and when England was better known as Marylebone Cricket Club, the only right-handed batter to register a double-hundred on their Test debut did so 120 years ago. He still holds the first rank in the top five highest scorers in the away tests list, which just shows what a legend of this game was RE Foster.
England's RE Foster, also nicknamed Tip Foster, exhibited his batting prowess in an extraordinary manner during the second innings in Sydney. In a display of sheer brilliance, he amassed an astonishing 287 runs in a span of 419 minutes, comprising an impressive tally of 37 boundaries.
Remarkably, Foster's score surpassed Australia's entire first-innings total by a mere two runs. This remarkable feat not only catapulted England to a commanding 292-run lead but also played a pivotal role in their eventual triumph, as they secured a resounding victory by five wickets.
Foster, a unique figure in English sports, held the distinction of captaining both the cricket and football national teams. Interestingly, he never had the opportunity to face Australia on home soil.
Among his eight Test matches, this particular innings stood as his lone century. In his brief but impactful career, Foster accumulated a total of 602 runs at an impressive average of 46.30. Tragically, his life was marred by diabetes, and he met an untimely demise at the tender age of 36 in 1914.