Tom Prest's century sets Hampshire to sweep over Yorkshire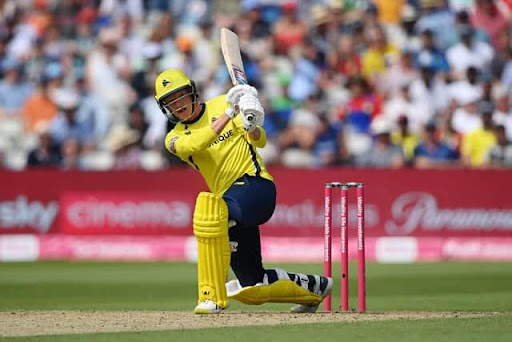 Tom Prest scored a superb century to win the game
Hampshire's young guns took a huge stride towards knockout qualification in the Metro Bank One-Day Cup with a resounding 177-run victory over Yorkshire at York, propelled by Tom Prest's superb 105 and a vicious bowling display.
Ex-England Prest, the captain of the Under 19s, came in at 24 for one and led the recovery from 108 for four in the 26th over to contribute the majority of Hampshire's 311 for six runs while batting.
Yorkshire's reply subsequently lost momentum and fell to 36 for seven before being declared out for 134 runs in 32 overs.
With two and three wickets each, Dom Kelly and Eddie Jack, two other 17-year-old speed bowlers, made an impression, while Ian Holland's seam took three for 12 from eight overs.
With two games remaining, Hampshire is on track to participate in the knockout round after picking up their fifth victory to move into a tie for first place in the table with 10 points from six games.
While all was going on, Yorkshire lost for the second time in six games and dropped out of the crucial top three. Two victories are required for them to have a chance of qualifying.
20-year-old Prest began carefully as wickets dropped all around him before advancing with 19-year-old ally Joseph Eckland, whose 72 off 55 balls with 11 fours marked his first first-team fifty in his fourth game.
Prest was given a life after being dropped on 23, and he made Yorkshire pay by scoring his second List A century in 118 balls with 10 fours and two sixes.
The Clifton Park field used for Yorkshire's victory over Surrey on Tuesday was the identical one.
Throughout the first half of Hampshire's innings, a steady stream of wickets kept them in check, including two wickets in as many overs for seamer Ben Mike.
With the score at 24 for one in the sixth over and Fletcha Middleton feeling upset, he was dismissed as Ben Coad bowled a magnificent 10-over new ball session straight through for only 21 runs to increase the strain.
Nick Gubbins, the captain, was caught behind off an inside edge against the seam of George Hill, and Ben Brown was similarly put behind off Mike's third ball.
Hampshire was four down for 108 when Aneurin Donald was caught tamely chipping to midwicket in Mike's subsequent ball thanks to his increased pace.
The second half of the innings was quite different as Yorkshire made mistakes and the youthful Hampshire pair successfully attacked. Prest then found his partner in Eckland.
As they shared a partnership of 125 for the fifth wicket in just 18 overs, both guys pounced on anything short.
Prest needed 67 balls to reach his fifty, and Eckland did so shortly after him with only 45. The score at that point was 210 for four in the 40th.
Prest used 114 balls to turn his fifty into his second century for the first team.
In terms of wickets, Mike was Yorkshire's most productive bowler, but his three-for cost 84 runs.
The Vikings knew they were in for a difficult chase after only recently chasing 242 to defeat Surrey by one wicket earlier this week. They lost ground quickly, falling to 36 for seven inside the first 15 overs, which cemented that opinion.
Fin Bean was caught behind off Holland before Harry Duke was trapped at deep backward square-leg pulling at Kelly. After four overs, Yorkshire were six for three when the former struck again, catching George Hill at first slip.
The procession kept going.
After Will Fraine was caught at first slip by Holland with the score at 27 for four in the eleventh over, Jack had James Wharton caught behind the wicket and yorked Mike on the following ball.
Yorkshire was seven down and out of this match as Masood feathered behind in the following ball to give Holland his third wicket.
By this time, people were checking the record books for low totals and noteworthy losses and victories.
Yorkshire overcame their previous low List during a game that began with a minute of silence in honor of Yorkshire supporter Sir Michael Parkinson. 54 in total.
Dom Bess scored 24 and Matthew Revis made 23, but both fell as Felix Organ added an off-spin wicket to an earlier 32 not out. Scott Currie, a pitcher, also had a strike.
Jack thereafter went back to finish off a fantastic Hampshire performance by getting last man Leech caught at mid-on for 23.