Tim Paine fascinated by the bowling performance of Australian pacers, who outshined at Adelaide against Indian batting order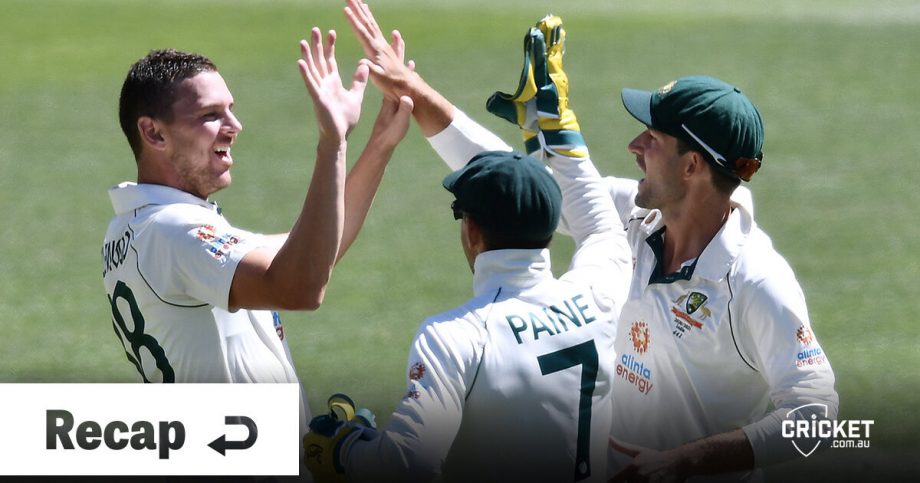 cricket.com.au/Twitter
Australia ripped off India on the third day of the first Test at Adelaide, outclassed India with their lowest history score of 36 all-out. Before the third day, the visitors were on the driving seat with 62 runs lead but an amazing spell of Australian pacers did the trick and quickly put the game in Australia's lap, who won by 8 wickets.
At the start of the shiny morning of day 3, the first Test at Adelaide, India were on the driving with 62 runs lead. However, the Australian pacers did miracles as it turned out a dramatic session when Patrick Cummins and Josh Hazlewood ripped out the cream of the Indian batting order, with India scoring their embarrassing lowest total ever in their Test history. Australia chased the target of 90 runs with the loss of two wickets.
Australian captain, Tim Paine applaud his pacers but he also showed concern toward their batting as Australia was in real trouble in the first innings with 79/5 until Tim Paine showed up and backed up his team and countered the situation with an unbeaten 71 runs knock.
"I'm absolutely rapt with how we bowled in this Test, but we've still got a lot of work to do with our batting – our first innings was well below what we'd expect – so it's a good thing to have a good win and not play anywhere near our best. It fills our team with confidence. At 5 for 79, if we lose another couple of quick ones then India are a long way ahead,"

said the Australian skipper, Tim Paine.
"To hang in to give our bowlers a chance to have a little crack under lights last night, then to have Pat start the day as he did and Josh Hazlewood from his very first ball was just on. When you are as tall and quick as our boys and they get it right, it can be an absolute nightmare. Full credit to our bowling attack again,"

he added with joy.
'Something delicious is being cooked'
The first day/night Test match was expected to be a dog fight between India and Australia but it was a low scoring game as India was bundled out on 244 I the first innings. The visitors then did a fine job with bowling as they bowled out Australia for 191 runs. But, then the duo Australian pacer, Pat Cummins and Josh Hazlewood snuffed out Indian batting line up which bites the dust one after another to reach the lowest ever Test score of 36 runs.
Tim Paine also praised the fine half-century of Joe Burns in the second innings of the game. The opener was out to form for quite a long and ended up scoring ducks or in the '20s as his previous scores in Sheffield Shield 2020-21, the warm-up matches against India and the first innings against India following 7, 29, 0, 10, 11, 4, 0, 0, 1, 8.
"Burnsey is a really important part of our team, all cricketers know how hard it is when going through a run like that, to come out in Test cricket and try and find your way out of it, it's a very difficult place to be so we are thrilled for Burnsey. Fifty [51] not out will do his confidence a world of good,"

the skipper backed up the opener.
Meanwhile, the Australian pacer said that the home team was "a bit stunned" with their bowling. He also said that despite being behind the game in the first innings, the Australian dressing-room stayed calm and came back with some high-octane bowling spells. Hazlewood also said that when he looked at the scoreboard and India were six down, he sensed that something delicious is in being cooked.
"I can't put a finger on when I realised we were doing something special. It might have been when I looked up and it was 6 for 20 or something, and Cummo (fellow quick Pat Cummins) had Pujara and Kohli both out and we just had the tail to come. I think around that time you know you've got something special going, and I just felt like if we kept bowling in those areas that nicks were going to keep coming. We just didn't let up really. It was just one of those days when everything went to plan, we kept putting it in on that spot and the nicks kept coming."