The only game that I feel that we've been outplayed in – Ricky Ponting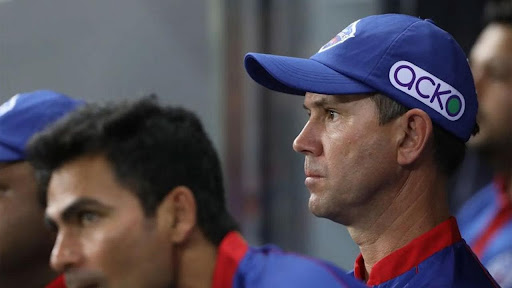 Twitter
Ricky Ponting mentioned that the game against KKR in Qualifier 2 was the only game in this season that they had been outplayed in all the departments and he is disappointed for not winning the title this year.
Delhi Capitals head coach Ricky Ponting pointed out that Qualifier 2 of IPL 2021 was the only game this season where his side was outplayed in.
He further highlighted that Delhi didn't bat very well and the score wasn't enough. They were 8-10 runs short and couldn't perform up to the task with their batting in the powerplay.
Delhi was going very well throughout the season and at the top of the points table after the league stages but their two consecutive losses in the playoffs ended their campaign in the tournament.
Ponting felt the two powerplays were the difference between two sides that "changed dramatically."
"To be honest, looking back at this whole season, I think today is the only game that I feel that we've been outplayed in,"

Ponting said after Delhi's three-wicket loss in Sharjah. 
"We didn't bat well enough today, we didn't get enough runs in the powerplay, we lost wickets too regularly through the middle of our batting innings. If it wasn't for Hetmyer and Shreyas at the end, we weren't looking anywhere near 130 odd, so we've been outplayed and we'll talk about that when we make it back into the rooms after. It's disappointing for us certainly to finish the way that we have.
"I think the powerplays in both innings was probably the difference in the game. I don't think we got enough in our powerplay with the bat. I think we were 37 (sic) at the end of our powerplay, which is probably, you know, 8 to 10 runs short of where we wanted to be and what the sort of par score is on this sort of wicket.
"As you would have noticed watching the game, the conditions changed dramatically from first innings to second innings. I mean the first probably 10 overs of their beginnings, when they had a newish ball and dew was on the ground, certainly made batting look a lot easier than what it seemed for our guys, but that's more the reason why we had to make more runs than we did in the first innings. Not trying to defend them… but well done to the opening stand today for KKR, they did a great job and I think they have found a really good player in Venkatesh Iyer. He looks like someone that could be a terrific player for Kolkata and maybe even India in the future."
Read here: Why India makes major changes in T20 WC squad
Ponting defended his decision when the question was asked why Marcus Stoinis was sent to bat at No. 3. He said that we have thought hard about our decisions and we meant all that we did.
"No, I don't think so,"

Ponting said when asked if the Stoinis promotion backfired. 
"We thought long and hard about where Marcus's best bet would be the batting order for us today. I mean, as we all are aware, he missed about three weeks with a hamstring injury, so he hadn't played any cricket. We desperately wanted him back into the team today because we knew he could bat at the top of the order and bat down at the death if required.
"As you saw today, with that type of pitch, it's really difficult for any new batsman to come in and start on. Even Shikhar at the top didn't get away to the flier that we were after. Middle-order players, Indian players even struggled to get going on that surface. So, I think it was the right decision. We probably didn't get the outcome that we were after, though."
Anrich Nortje could bowl only one over in the first 10 overs but Ponting mentioned the justification behind it. It was part of their plan to save Nortje from death overs.
"We wanted to have Nortje through the middle overs. Some of the batsmen in the middle we feel, are probably a little bit susceptible to good quality fast bowling, so we wanted to save a couple for him through the middle and one at the end. So we're running tactically tonight. I think Rishabh did a really, good job. We didn't get enough runs and we did a good job to claw our way back into the game and give ourselves a chance to win going into the last two overs.
"I think the captain was looking at trying a few different options to get a wicket in the powerplay. And then we wanted to be able to use a couple of overs of spin in the powerplay before the ball got too wet and difficult for the spinners to hang on to it too much. And it's a technique you can use, not let the batter get settled against one type of bowler."
"I would like to keep everyone, to be honest,"

Ponting said with a smile.
"We have got this terrific group of people at the Delhi Capitals. The playing staff and the coaches have done an amazing job for the last couple of seasons and I think our performances so to speak for themselves. Disappointed that this season has finished the way that it has, but yeah obviously we know that we will probably only be able to retain maybe three or four players. So a lot of players will go back into the auction and then I'll be doing everything I can certainly to bring as many people back into the Delhi Capitals family as possible.
"Because, as I said, it's been an incredibly enjoyable last three seasons really for me and this playing group, and to bring everyone or most of the guys back together again will certainly be a big goal of mine."