The game is not out of our reach yet – Collingwood on NZ vs ENG Lords Test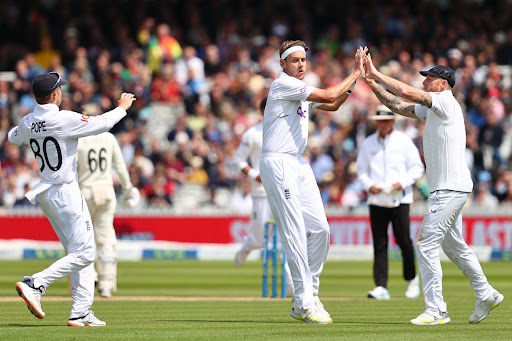 England assistant coach, Paul Collingwood says that the Lord's Test is still in our hands and the work is in process
It was an anguished smile when another edge from Kane Williamson's bat had dropped down from the slip cordon and it remains clear that he had a bit of luck going his way.
It was an uncomfortable smile when another edge from Kane Williamson's bat had dropped down from the slip cordon and it remains clear that he had a bit of luck going his way. It was the soft hand shots that forced the slip cordons to stand closer to him for over a decade.
Only moments later in the second morning at Lords, Williamson went back to his crease and typically punched off the back foot to give an outside edge straight to the third slip position.
The action of getting dismissed was not different from what was seen a day before. Mathew Potts got the better of Williamson and as many as six wickets fell in that session until the lunch break came in.
After four sessions of ups and downs, the action finally settled down so did the pitch. England found them in deep trouble as Tom Blundell and Daryl Mitchell joined for a massive 180 runs stand that went on in their traditional fashion of quick way.
"We know that things aren't going to change overnight,"

Paul Collingwood, England's Assistant Coach, said after the second day's play in London on Friday (June 3). 
"It's going to take some time for us to get the team playing the way that we want them to play. Obviously, that's a work in progress.
"Brendon's a glass-half-full kind of man. He'll stay calm, he won't change his values and beliefs just because of one inning, that's for sure, and neither will Ben."
It is a tough time going for England. Winning just a single game in the last 17 Test matches, means that they need something extraordinary to get over the line which they almost did in the first innings with the batting order being failed.
Their batting collapses have been a trend we have seen in the recent past. England, as a result just gave a tiny 9-run lead to blow away the chance of leading they have built in the first innings.
"We came out of that first day all evens; both teams got pretty much exactly the same score. It's disappointing that we haven't gone ahead and created a big lead, but if you dwell on it for the rest of the game that's no good. This game's not out of our reach yet,"

Collingwood said.
"From our point of view we tried everything, and you can see in Ben that we've got a proactive captain who is willing to try different things,"

he added.
The story is totally different for the hosts who are the World Test Champions and are looking for their second Test series win in England. For now, they are in the driving seat with Tom Blundell (90) and Mitchell (97) eyeing to mention themselves on the Lord's honors board.
"Obviously it would mean a lot but there is a long way to go in this game,"

Blundell said.
"Daryl and I have a big job tomorrow to build that lead. Those milestones will take care of themselves but first and foremost we got our job to do.
"(Today) I was just doing my things and playing the way I like to play. I was being positive… I thought Daryl batted especially well and to build a partnership with him was pretty pleasing.
"The pitch is a little bit slow, quite hard to get a rhythm at times, but if you get through that and keep on bringing the bowlers back…I thought we did that really well."