Sunil Gavaskar questions Virat Kohli after poor dismissal in WTC final second innings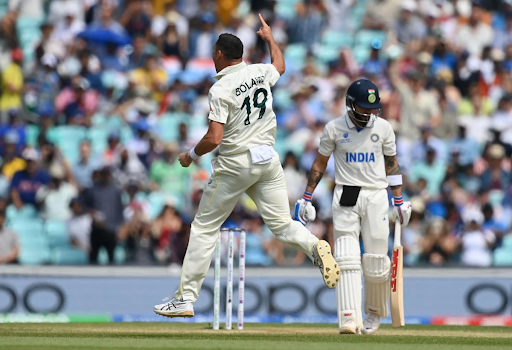 Virat Kohli was dismissed by Australia fast bowler Scott Boland in the second innings of the World Test Championship final.
The legendary Indian batsman Sunil Gavaskar has criticised modern batting great Virat Kohli heavily after his poor shot led to a batting collapse for India against Australia in the final of the world test championship at the oval on Sunday.
Virat Kohli was batting well on 49 when he chased one outside the off stump from Scott Boland only to be caught in the slips by Steve Smith, who took a sharp diving catch on the right.
India, who had resumed their second innings on the final day at a steady position of 164/3, were bowled out for just 234 with their remaining seven batsmen only 70 runs and lasting just one session when they should have batted for the entire day in perfect batting conditions.
The former India captain Sunil Gavaskar was particularly livid on Virat Kohli, saying that he was focusing more on his half-century a lot on batting for his team on the final day of the world test championship, which Australia won by a huge margin of 209 runs.
"It was a pretty ordinary shot. Outside the off stump. He was leaving till then. Maybe he was conscious that he needed one run to reach his half century. It happens when you are nearing a milestone,"
Sunil Gavaskar said on TV during the commentary session with star sports. 
"It happened to Jadeja. He played a delivery he shouldn't have when he was 48. Happened to Ajinkya Rahane who was on 46. He hadn't played that shot all this while. Suddenly, why do you play that shot? Because you are aware of that landmark,"

Sunil Gavaskar added. 
"It was a bad shot. You should ask Kohli what shot he played. He talks so much about how to win a match you need a long innings. How are you going to do that if you play a ball so far outside the offstump?"

he said. 
Sunil Gavaskar said India should have done better with the bank since they have a long batting line-up and pitch and conditions were perfect for long innings, something that the Indian batsmen like.
"In the first innings as well in the second innings. When Australia scored 469. The kind of batting line-up we often boast of, we should have got much closer to that. We gave Australia a big lead. It's never easy to come back from there," said Sunil Gavaskar.
Sunil Gavaskar was also heavily critical of number three batsmen Cheteshwar Pujara who also played a ridiculous shot in the second innings to be dismissed for cheap.
"The batting was in shambles today. It was just ridiculous what we saw today. The shot making, we saw some pretty ordinary shot yesterday from Pujara. And today some of the shots that we saw. How do you expect a win?" 

Sunil Gavaskar said. 
"We didn't even last a session with this batting line-up with eight wickets in hand. Come on!"

he added.