Stuart Broad has retired but James Anderson wants to continue playing Test cricket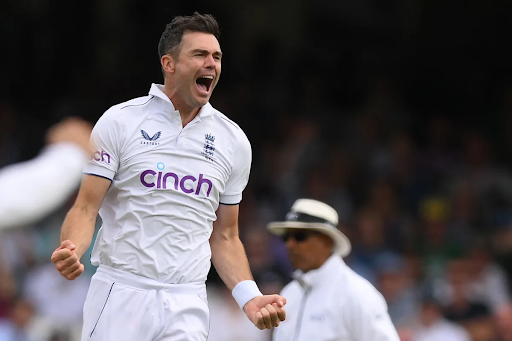 James Anderson has had a very ordinary series with the ball for England against Australia in the Ashes
Despite his partner in crime retiring from Test cricket after the end of the fifth and final Test match against Australia in the Ashes series, legendary fast bowler James Anderson has no plans to call his retirement and time soon and has defended his ordinary form which has not helped the home team in the ongoing series.
Stuart Broad, who is only the second bowler in the history of Test cricket to have taken 600 or more wickets for any fast bowler, announced on Saturday that the end of the fifth and final Test match against Australia will be his last for England.
Both James Anderson and Stuart Broad have together played many Test matches for England and have been their best bowlers for more than a decade.
James Anderson, who has been in the forefront of England fast bowling for more than one and a half decade now, is only 10 wickets short of completing 700 wickets in Test cricket and it is quite evident that the right arm fast bowler, who is about to turn 41 is in no mood of retiring anytime soon.
James Anderson told Sky Sports,
"I'd like to [make my own decision], yeah. But I've tried not to listen to the talk, because, for me, that question has been there for the last six years, and even longer than that.
James Anderson complained that for fast bowlers, it is always a question as soon as they turn 30, that they are using and or not fit enough to bowl in the longest format of cricket irrespective of the fact that someone like him is fit enough to play on.
"As soon as you get into your 30s as a bowler, it's 'how long have you got left?' And for the last three, four years, I feel like I've bowled as well as I ever have. I feel like I've been bowling with so much control. My body's in a good place. My skills are as good as they ever have been,"

said James Anderson. 
The legendary seam bowler, who is also fondly called as the Burnley Express said,
"So I don't feel like I'm bowling badly, or I'm losing pace, or on the way out. I feel like I can still offer a lot for this team."
James Anderson has taken only five wickets in the ongoing Ashes series in England, a place where he has taken majority of us wickets in his career and has played a significant role in several of their series wins over many years. But James Anderson has been unable to make his impression on the current Australian batting lineup, which has done an incredible job on this tour.
"Unfortunately we all know, as professional cricketers, that you go through lean patches, whether you're a batter and bowler. You just pray that it's not in the most high-profile series that you can play in!,"

said the right-arm fast bowler.
"But for me, I try and look at it objectively. I look at how I've bowled in the game. Yes, I've not got the wickets that I wanted, but I'm still trying to do a job for the team, still trying to help the guy out at the other end as well, trying to create pressure and create something in the game.
James Anderson said that selection is something that is not in his hands and if the current England captain and coach, Ben Stokes and Brendon McCullum respectively, felt that he was not fit enough or of any use to the team, they would have told him accordingly.
"The selection side of it is a completely different issue. If Stokesy and Baz [Brendon McCullum] say you've not got the wickets we would have liked, I'm absolutely fine with that. But in terms of retirement, I have no interest in going anytime soon. I just I feel like I've got a lot more to give,"

added James Anderson.