Shaheen Afridi is surpassed by Daryl Mitchell as Lancashire defeats Notts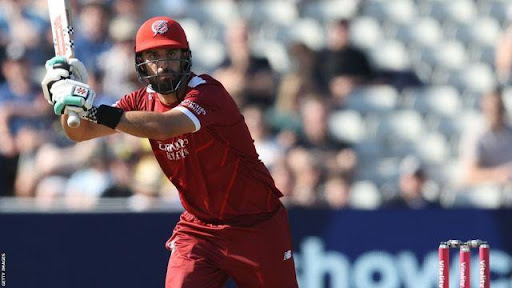 From 41 balls, Daryl Mitchell scored 85
With the glamorous acquisition of Shaheen Shah Afridi, Nottinghamshire is hoping to win the Vitality Blast. He still might, but his debut stats were indicative of a losing Nottinghamshire night as Lancashire put up a beautifully coordinated performance to win for the third time in a row with no indication that they would lose it.
As for Daryl Mitchell, well, he's that New Zealand guy, isn't he? He's a decent player, has been around for a while, is well-known among experts, scored three Test hundreds in a single series in England last summer, and even spent some time as a child in Manchester. Despite all of that, however, Mitchell isn't someone who will excite the casual fan.
However, this was a night that flowed to the beat of a steady heartbeat; it wasn't a night for the superstar, but rather for the largely unsung professional, or at least as unsung as 95 international appearances and a quietly-built reputation as one of the most productive, adaptable players around, able to adjust his game and his role in all formats, can be.
His upbringing in Manchester ensures that he has adapted to the season without giving too much consideration, making him one of the foreign additions of the summer. A sense of belonging actually helps, even though it's uncool to express it and tough to attain in today's world.
With an unbeaten 85 from 41 balls and six sixes, Mitchell helped Lancashire move forward to 208 for 4. Mitchell then added to the sense that they were strong favorites by bowling out Matthew Montgomery with a fast, flat throw from long-off, taking out the fourth wicket and leaving Notts 97 short with 50 balls left to bat. After that, they were unable to reconcile.
Mitchell is having a wonderful summer and also scored a century in the Championship against Somerset in his first game. He was saved three times, the first time on 7 when he rocketed Conor McKerr, a Surrey loanee, through Steven Mullaney's hands at mid-on; the second time on 32 when Mullaney returned the catch. On both occasions, he chose a look-at-me straight six to calm himself down rather than resetting by gently scratching his guard.
Although he was dropped once more on 79 by Lyndon James, running in from the cover boundary, Afridi this time was the bowler who suffered. Three sixes against Afridi, including a spectacular ramp over fine leg, were later to rival such casualness.
The opening partnership for Lancashire, between Phil Salt and Luke Wells, was worth 56 runs in 5.3 overs, as they made light of Keaton Jennings' absence due to injury. Even his hometown of Eastbourne would consider Wells, who was formerly known as one of the dullest Championship openers around, to be unduly sedate. Salt has had an adventurous nature from the moment he first picked up a bat.
The advancement of Lancashire was halted by Samit Patel. His full-on Tudor house phase is just a few seasons away at 38, and it must be stated that his pants have a bit of an overhang, but his bowling acumen should never be underrated.
Although he thinks hitters are out, he doesn't give flying any thought, especially not on a flat surface like this. It was unclear why Steven Croft chopped a harmless delivery to backward point, but when he bowled Salt by slipping beneath his attempted pull, he dragged one on with a superb line.
Dane Vilas, a stalwart for so many years, is unable to play in the T20 side mostly due to the existence of Mitchell, who fills a similar role. Liam Livingstone assumed the job of captain for Lancashire and handled it with dignity, scoring 18 runs off of his first 18 balls as Mitchell ran riot.
He was Afridi's lone victim for the evening, but not before he pounded the brand-new hotel with two enormous midwicket sixes, the second of which was acknowledged by a steward in a white crash hat. The new hotel is expected to be finished in time for the Ashes Test.
Previously, blows like this would have soared out of the ground, but now they are doomed to smash into a shatter-proof window as someone places a room service order.
If Lancashire had started out in a commanding manner, Nottinghamshire responded in a devastating way as Luke Wood showed his talent to his former county. In his first over, he yorked Alex Hales with a superb inswinger; you can't get much better than that. Afridi would have been proud. Afterward, in his subsequent over, he outdid Joe Clarke with a short ball that missed it to midwicket.
The more dangerous player was Colin Munro, who came in at position three and hit five sixes in his 60 off 29 balls. Wells' leg spin was picked by Lancashire over Matt Parkinson's since Parkinson's career looked to be in a precarious place. The plan worked when Munro attempted to hit Wells over long-on but skied a top-edge to the wicketkeeper.
Statistics show that Lancashire and Nottinghamshire have won more T20 games than any other counties, and this victory puts Lancashire ahead, 138 to 137. It wouldn't be surprising to see either of them at another Finals Day, but Lancashire, who lost to Hampshire in a tense final last year, must be feeling especially confident.
They have the exciting possibility of having Livingstone and Jos Buttler working together for the entire month of next year thanks to a Blast summer without any conflicts with England's white-ball internationals. Naturally, Daryl Mitchell's accomplishments should not be overlooked. Mitchell, a late-developer, is a force to be reckoned with.