Shafique's 201 and Agha's 132* proved to be the game changer for Pakistan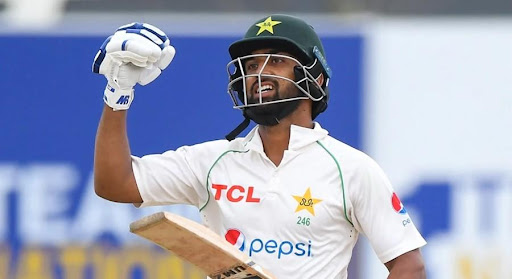 Agha Salman shines as Abdullah Shafique celebrates his first Test double-ton
The two biggest highlights of a day in which Pakistan wore Sri Lanka down and ended any remaining aspirations of winning this Test were an Abdullah Shafique double-ton and a quick Agha Salman century. 385 runs were made by the visitors on day three for the loss of just three wickets, giving them a comfortable victory.
By stumps, Pakistan had a score of 563 for 5, a lead of 397, and the only issue was how and when the declaration would be made. There are still two more days of cricket remaining to play, but it's unlikely that the weather will permit all six sessions to go as planned.
At the end, Agha was on 148 balls for 132, while Mohammad Rizwan was next to him on 37 off 61. Despite Sarfaraz Ahmed taking a bouncer from Asitha Fernando to the back of his helmet, Rizwan was sent in as a concussion replacement. Sarfaraz Ahmed would continue to bat despite taking the blow, but he would eventually have to retire hurt due to a late onset of symptoms.
The bowlers from Sri Lanka struggled all day for little pay. Prabath Jayasuriya, Ramesh Mendis, and Asitha Fernando were the three primary offensive possibilities, and they were all selected for triple digits. And the few wickets that did come came at a painfully slow rate of one each session and only after major damage had been done.
If you take a quick look at the session scoring rates, you can see how each one gradually snuffed out the Sri Lankan attack.
For example, the early session saw 95 runs at 2.92 per over, the middle session saw 124 runs at 4.43 per over, and the last session saw Pakistan rob 166 runs at 5.03. Meanwhile, Pakistan's list of alliances included the following numbers: 13, 108, 89, 109, 25, 124, and 95.
As if those figures weren't enough, there were also records to add. In addition to scoring two hundreds, Saud Shakeel, who just reached his sixth Test fifty in seven games, made history by being the first player to ever score fifty or more in each of their first seven Tests.
Along with scoring his first Test double ton, Abdullah Shafique became the SSC's highest-scoring opener. If there had been a device to measure such things, there might have been a record for the amount of collective mental anguish inflicted on the opposition as Babar Azam instructed his charges to simply bat and bat and bat.
However, this should not be taken away from the batting, which was not at all boring. In fact, one might argue that it's among the best methods now in use. In hindsight, it appears that the day's play was paced to detect any prospective Sri Lankan attempts to reenter the match.
The scoring rate indicated earlier demonstrates how slow-moving the morning session was. Only two runs were scored in the following 18 deliveries after the first scoring shot, a draw to the backward square leg boundary, took 13 balls to land. Although the session might occasionally be littered with boundaries, the guests were generally cautious. Importantly, however, they had only lost Babar's wicket.
Pakistan's batters, however, got better as the day wore on and the afternoon heat started to pound down harder. Shafique would establish himself as the constant, steadfastly defending, lofting beautifully, and relieving pressure like an efficient valve. The dynamism was sought at the other end. The initial obstacle was Shakeel, but after he fell ill, things really took off.
At that moment, Pakistan had a lead of just over 150 runs, with fast runs being the order of the day. Enter Sarfaraz, who hit three boundaries in 22 balls before the Test was declared over. He would hardly slow down as Agha followed. By the end of play, he had hit 15 fours and sixes in addition to his fifty, which took just 50 deliveries and his century, which took 123.
Shafique, on the other hand, kept playing the same way he had throughout the innings, smacking the strike and throwing in the occasional boundary. He didn't play a shot in rage until after reaching his double century, slashing one high to mid-off.
But like every wicket that came before it, this one just made things worse for the home team as Rizwan, a replacement sweeper who was suffering from a concussion, matched Agha's ferocity and the visitors continued to score runs.
There were rumors that a declaration might be made in the final hour before stumps, but right now everyone is waiting to see if one will be made. Though Sri Lanka may be anticipating the break, if rain doesn't step in, they still have a long road ahead of them if they want to win this Test.