Ricky Ponting backs Prithvi Shaw to fire in IPL 2023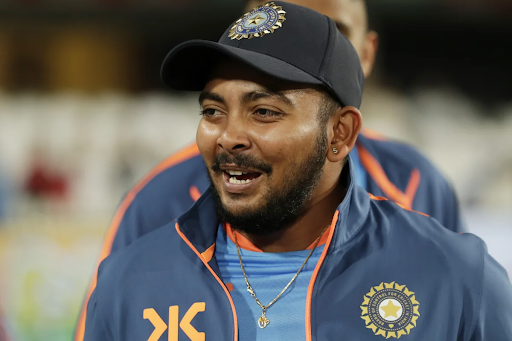 Prithvi Shaw will likely open the batting for Delhi Capitals with the new captain David Warner in IPL 2023.
Delhi Capitals coach and former Australia captain Ricky Ponting is quite impressed with how Star India batsman Prithvi Shaw has shown up in the nets ahead of the start of the 2023 season of the Indian Premier League (IPL).
Ricky Ponting said recently that Prithvi Shaw is looking with a different fire in his eyes and he could be on the cusp of a splendid season with the bat for the Delhi Capitals.
During the jersey launch event in the capital city of New Delhi, the head coach of the Delhi Capitals team said, "He's trained harder and better than I've ever seen. I'm pretty sure leading into an IPL, he is in better physical shape than I've ever seen him before. And I spoke to him the other day about his attitude and the way that he's working and how things are going. I honestly feel that this is going to be his biggest season ever in the IPL."
Ricky Ponting said the aggressive right-handed opening batsman, who is likely to open the innings for Delhi Capitals with their new captain David Warner, has looked different in the training sessions that the team has had.
"He just has that different look in his eye this year – you can see that he's probably hungrier than ever. Yes he's had some success for us, but I think with the level of talent and ability that he's got, I think we're going to see the real Prithvi Shaw this season,"

Ricky Ponting said. 
Ricky Ponting admitted that there have been issues with the Indian cricketer regarding his fitness and conduct of the week but he would like please be sure to turn on that in the past chapter.
The Delhi Capitals head coach said,
"It's well documented that I had some issues early on, but it's all about just being true to yourself and wanting to be the best that you can be. The one thing that I always say to our players is I don't like laziness and I don't like guys not utilising the talent that they've got. That's one thing I always say.
"And so that's then my job as a coach. If I can see that guys aren't working as hard as they should, they're not getting the most out of them, then it's up to me to try and change that. So, you know, it just seems to me that this season, though, something has really clicked in Prithvi. He seems to be in a better space than ever before,"

he added. 
Delhi Capitals will start their journey in the IPL 2023 season with their first match against Lucknow Super Giants at the Ekana stadium in Lucknow on April 1 before they move back to the Arun Jaitley Stadium in the national capital to take on the defending champions of this year, Gujarat Titans on April 4.
Delhi Capitals will then travel to Gauhati to face Rajasthan Royals on April 8 while the next match is against the most successful team in the competition, Mumbai Indians, in their home ground in New Delhi on April 11.