Rapids are stopped by Northants after powerful strikes from Freddie Heldreich and Saif Zaib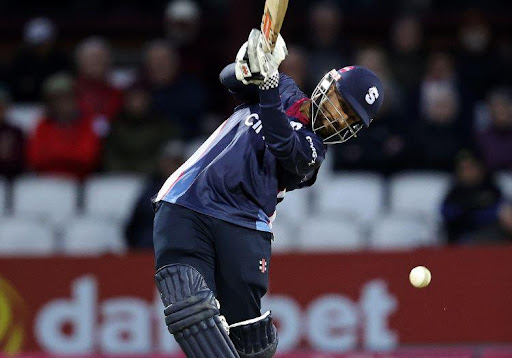 Saif Zaib led Northants to victory with an unbeatable 70
Northamptonshire Steelbacks defeated Worcestershire Rapids at New Road by a margin of six wickets, ending their Vitality Blast undefeated streak and denying them the opportunity to create cricketing history.
The Rapids had been trying to become the first team to win the first five games of a T20 competition. Nevertheless, Steelbacks spinner Freddie Heldreich delivered a brilliant stint that resulted in the dismissals of Adam Hose, Brett D'Oliveira, and Kashif Ali in three overs.
After that, Saif Zaib fired up the score for the visitors with his bat, launching consecutive sixes in Pat Brown's final pitch to help his team cross the finish line with two balls remaining. He scored an undefeated total of 70 off just 35 balls, including nine fours and two sixes, giving the Steelbacks their third victory in the previous four games.
The Rapids' batsmen D'Oliveira, Jack Haynes, and Mitchell Santner all contributed in a significant way, but it was keeper Ben Cox who gave the game's last push.
Saif held his composure to lead his team over the finish line after Ricardo Vasconcelos, who was fit again and started the game, showed the Steelbacks some early aggression.
Michael Bracewell's drive to short third man allowed Ben Sanderson to score for the Steelbacks in the first over.
With consecutive strikes off of Steelbacks opponent David Willey, D'Oliveira found his groove. Though replays showed he was short of his ground to Willey's powerful hit on 12, he came dangerously close to being run out after hitting Sanderson to midwicket.
Tom Taylor gave Haynes two opportunities in a single over, the first being a low caught and bowled and the second being at short third man. He began to gain from these escapes, collecting two fours in two balls at Willey's expense and smashing a Sanderson full toss over the far on boundary.
Haynes, who chopped a skier into third man's hands, was defeated as a result of Andrew Tye's entry into the attack.
Hose attempted to hit left-arm wristspinner Heldreich over the top but was caught at long-off despite being in excellent form recently. Heldreich was even happier when D'Oliveira had space to cut but only managed to pick out backward point, turning it into three dismissals in three overs as Kashif Ali also left in the same way.
After Taylor's return to the attack, Santner holed out to long-on after striking the ball beautifully to make 33 from 21 balls. Cox and Ed Pollock made sure the score was competitive with Cox's unbeaten 46 from 29 deliveries.
Before Chris Lynn's launch of Brown over the long-on boundary against Leicestershire on Friday night, the Steelbacks had only managed 14 runs from their first three overs. But when he could only find mid-on, Adam Finch caused his downfall.
Vasconcelos hit Bracewell for three fours and a six by capitalizing on the addition of spin for the victory on the powerplay.
Santner was cut to backward point by Willey, who appeared to be in terrific form but once again failed to capitalize on a strong start. Vasconcelos' slicing of the ball through the throat of deep cover resulted in a vital victory for Bracewell, who had taken a lot of punishment.
During a stand of 70 in eight overs by Zaib and Josh Cobb, the Steelbacks appeared to be in charge.
Saif was up to the task of scoring 15 from the last over, sending balls two and three over the ropes before smashing the next for the winning boundary. Cobb eventually succumbed to Brown, but Saif was up to the task of scoring 15 from the final over.