Quinton de Kock has been given the Test captaincy for South Africa, he wants to protect the upcoming tours of his team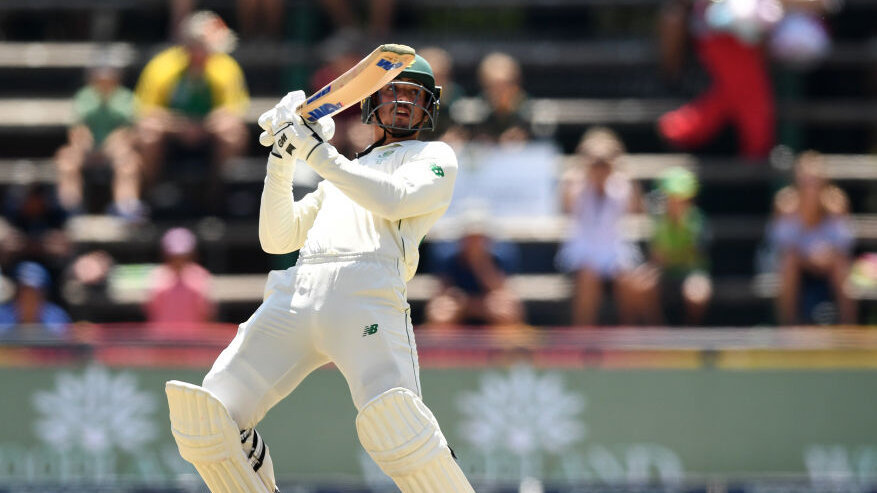 ICC/ Twitter
South African skipper, Quinton de Kock says that he and his fellow mates are taking responsibility to ensure that future South African cricket tours take place under Covid-19 protocols and there may not be any mishap.
The wicket-keeper batsman, de Kock said on Monday that he and his teammates have felt the responsibility that the upcoming tours of South Africa take place under strict Covid-19 protocols without any compromise. He said that the South African team is under quarantine 'bio-bubble' facility at Pretoria ahead of a two-Test match series against Sri Lanka, starting at Centurion on Saturday.
Moreover, Quinton de Kock was appointed Test captain for South Africa on December 11, despite the CSA director, Graeme Smith, saying that it would not happen. Also, de Kock himself was not ready to take the position. He said that I have been called by the authority and they told me the situation we are going through so I gave it a thought. I did not take that immediately, it kept me late at night to think about it.
The former South African captain, Faf du Plessis announced his retirement for the long format of the game in February. The vacancy was unfilled for five months and given the situation that South Africa is going through, someone has to take responsibility. De Kock said that it is not a long-term position as he is also the captain of white-ball cricket and he will not be able to manage the workload so he has taken the position for short-run until they find a perfect match.
"It's not a long-term thing. It's just until we get someone who really puts up their hand as the leader of the Test team, and they will take over. The guys are looking for a long-term leader. I won't be doing that. It does seem as if I have a lot on my plate but I'm happy to do it for now, until things happen,"

said Quinton de Kock.
On the other hand, the skipper is worried for South African upcoming tours. He said that the players are under strict observation of room service meals, social distancing and training in small groups plus the pending Covid-19 test to be held on Tuesday. We can see each other but have maintained our boundaries and we can't mingle with each other.
The teams will stay at Centurion and Johannesburg for the two-Test matches with an easy journey as both the grounds have few distances with each other.
'Throw first punches'
The South African team is not under a bio-secure bubble following the abandoned series against England due to positive coronavirus cases which then find out false-positive results.
The Sri Lankan team has arrived in South Africa in the past week for the WTC matches but there are doubts for a planned Test series tour of Australia earlier next year.
South African players were tested on Saturday and all the results came back negative but de Kock said that training will be started after the second round of test, taking place on Tuesday.
However, de Kock is confident in his captaincy and he is looking forward to leading his team with a good start following the Test matches against Sri Lanka, also part of the ICC WTC round.
"We want to play clever Test cricket. We want to be streetwise in the way we go about things. We want to be able to throw first punches. In the past, we've let other teams throw first punches, instead of us. That's where we want to get better,"

said de Kock.
The South African squad was reduced from 19 to 17 and the officials are said that they are not allowed to announce the names due to medical and labour relationship reasons. A new squad list will be announced after the second round of tests on Tuesday and the final announcement will be made if anyone is missing or not.
"We do have protocols, and from day one everyone has been adhering to them. We have that responsibility but it's nothing that we can't handle. It's a small thing we can do to help out to ensure tours during bubble life and Covid times. We do what we can to make sure our bubble is safe,"

said the new Test captain, Quinton de Kock.