Powell: 'Series will be decided on how West Indies bat spin in middle overs'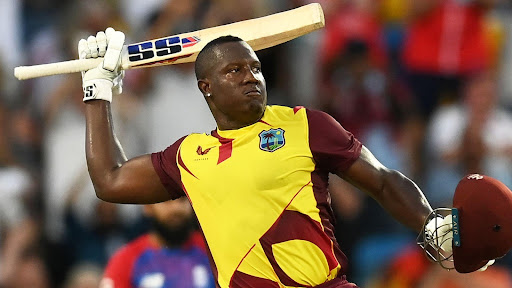 Powell's innings the difference in the game
Rovman Powell stated that the West Indies' middle-over hitting against India's spinners will be crucial to the outcome of the series after the team won the first of five T20Is against India on Thursday.
"It was difficult," Powell said of West Indies' slowdown in the middle overs – they went from 54 for 2 after six overs to 96 for 3 after 14 – in the first T20I. "We always knew that the new ball was going to give us runs. It was always going to be a good powerplay and then it [was going to] slow down in the middle, because they have a lot of very good spinners.
"This series will be decided on how West Indian batters bat spin in those middle overs. If we bat spin well during the middle overs, then we have a lot of batters at the back end and we have a lot of power in the back end. That makes left-handers – [Shimron] Hetmyer, [Nicholas] Pooran and Kyle Mayers – very, very important for those middle overs.
"It was going to be difficult to start, it's always difficult to start in the Caribbean. But once you get a start, runs are there."
West Indies, who lost the ODI series 2-1, battled valiantly to win the opening T20I in Tarouba by four runs after scoring 149 for 6.
Three of the six West Indies wickets fell to spinners Kuldeep Yadav, Yuzvendra Chahal, and Axar Patel's combined nine overs on a slow, unpredictable ground.
It was Powell's 48 off 32 balls that helped the team reach what felt like a below-par total at the halfway stage when Pooran left West Indies at 96 for 4 in the 15th over after scoring 41 runs in 34 balls.
Akeal Hosein was the only specialist spinner chosen by the West Indies, whereas India fielded three spinners. Shubman Gill was out in the third over of the chase, as the left-arm spinner only allowed 17 runs to be scored in four overs while bowling 14 dots.
Did West Indies miss having a second spinner despite the fact that Jason Holder's 2 for 19—which included a double-wicket maiden—took them home in the end?
"Yeah, after watching what the Indians bowled, I was thinking if we were a spinner short, to be honest,"

he said.
"But we've got to utilize what we have, and back our skills. We know what our fast bowlers bowl, with many change-ups, it will be difficult for the Indians."
When India had three wickets in hand and needed ten runs off the final over, the game was still equally matched. But Romario Shepherd delivered a superb last over in which he allowed only four runs, got rid of Kuldeep, and got a run out to get rid of Arshdeep Singh, ending India at 145.
"I think it was a game [for West Indies] to lose, to be honest," Powell said of the last over. "Because they didn't have a set batter, one of their top six batters wasn't there. So I was confident going into the last over.
"Not just the 18th over, he [Holder] summed up the conditions very well. At the interval, he tells us in the dressing room that 'pace off – force the Indians to hit the ball, not use the pace'. And I think today Jase was fantastic."