Ponting demands an investigation by the ICC after the opener claims the replacement "hit the bat so hard"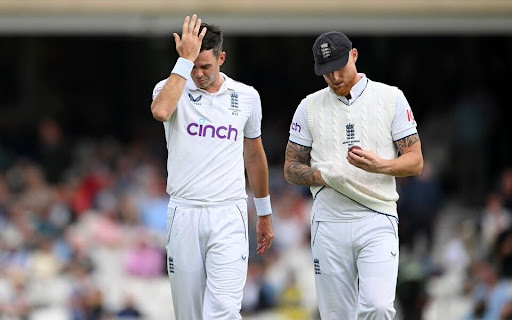 A ball replacement on the fourth afternoon was advantageous for England
Usman Khawaja, the opening batsman for Australia, echoed Ricky Ponting's displeasure at the crucial ball-change midway through the fourth innings of the fifth Ashes Test at the Kia Oval, saying that he "hadn't felt the ball hit my bat as hard" at any other point of the series despite facing more than 1200 pitches over all of the five Tests.
Usman Khawaja concluded the series as Australia's top hitter with 496 runs at 49.60, and as he and David Warner were putting 140 runs together for the first wicket, their pursuit of a challenging 384-run mark appeared to be well on track.
However, following the opening delivery of the innings' 37th over, when Mark Wood hit Khawaja on the helmet with a bouncer, umpires Joel Wilson and Kumar Dharmasena altered the ball because they believed it had lost its shape. On the second afternoon following the ball change, only 11 further balls were bowled.
The new ball seemed to be much tougher and newer than the one that had been used before. On the fifth morning, England claimed three early wickets, with Chris Woakes dismissing Khawaja and Warner in back-to-back overs, followed by Wood's slip catch off Marnus Labuschagne.
After that, Australia lost five more wickets in rapid succession to Moeen Ali and Chris Woakes before Stuart Broad, who was still in possession of the new ball, put an end to the innings in the 95th over.
"We started off really well,"

Khawaja said at the post-match presentation.
"The big thing was that ball. As soon as they changed that ball, the first over they changed that ball." 
"I knew straight away this ball was very different. I went straight up to Kumar and said 'how old is this ball you've given them because it feels like it's about eight overs old.' You could see the writing on both sides and it hit my bat so hard."
"Obviously I got hit in the head by Woody, and they changed the ball because they said it got damaged. But that new ball that came in, when I hit my bat … I've opened in every single innings this Ashes series and I haven't felt the ball hit my bat as hard as that ball felt when I hit my bat.
"So I said to the boys even coming into today to be careful, this new ball, it's going to be tricky. It's going to be a lot harder than that other ball. Some things you can't control in this game. It was disappointing for us because I felt like we had a real stranglehold on that game."
The former Australia captain, Ponting, stated that the umpires had either been "blasé" in their attitude to changing the ball, or that they had not been provided an acceptable substitute in the box of balls that the fourth umpire, David Millns, had carried onto the ground.
"The biggest concern I have is the big discrepancy in the condition of the ball that was chosen to replace the one [that had gone out of shape],"

Ponting said on Sky Sports.
"There's no way in the world you can even look at those two balls there and say in any way are they comparable.
"At the end of the day, if you are going to change the ball, you want to make sure that you get it right, so [you make it] as close as you possibly can to the one that you're changing it from. Now if you have a look in that box, there weren't too many older-condition balls in there. There were some older ones that were picked up, the umpires looked at that and threw them back.
"I just cannot fathom how two international umpires that have done that a lot of times before can get that so wrong. That is a huge moment in this game, potentially a huge moment in the Test match, and something I think actually has to be investigated: whether there was the right condition of balls in the box, or the umpires have just, blasé, picked one out of there that they think will be okay to use."
Ponting requested an investigation after Sky revealed ball-tracking data that appeared to show the ball had both seemed and swung substantially more on the fifth morning than on the fourth afternoon.
"The conditions were perfect for bowling this morning, let's say that,"

Ponting said.
"The conditions were better for bowling this morning. But what I saw last night, that ball there, I'll put my hand up and say I've got absolutely no doubt at all that that ball would not have done anywhere near as much as what that one did this morning.
"Double the amount of movement this morning from yesterday afternoon, seam movement and swing. I think it's a huge blunder that needs to be investigated."
According to Law 4.5, if the umpires agree that the balls has become "unfit for play through normal use", they should replace it "with a ball which has had wear comparable with that which the previous ball had received before the need for its replacement".
The new ball appeared "just a little bit harder" than the old one, according to Marcus Trescothick, England's assistant coach, on the second evening.
"The boys could sense the ball was making a different sound off the bat,"

he said.
"Immediately, there's a bit more life in it. Balls seem to have gone very soft, very fast in this game – and this series. Both captains have tried to change them on numerous occasions."
Glenn Maxwell, who is part of Australia's limited-overs set-up, tweeted shortly after the first wicket to fall:
"Beware the 2nd newy #ashes".
An ICC spokesperson told a reporter:
"We do not comment on on-field decisions. As you would expect, umpiring performance is continually evaluated."