Pat Cummins: I am feeling pretty good, my wrist is all healed now and I am 100 percent (fit)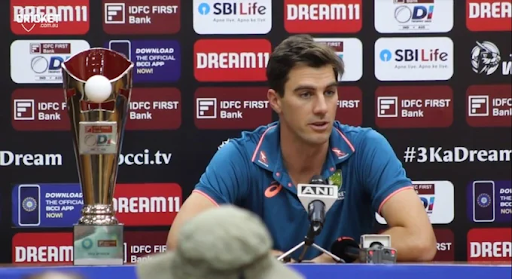 Pat Cummins says I always find Indian pitches pretty similar whatever time of the year you play while the only difference is the heat
After fully recovering from his left wrist injury, Australian captain Pat Cummins hopes to play in all three one-day internationals against India while he said that Mitchell Starc, his new ball partner, will miss Friday's series opener and the Australia captain also hoped that Marnus Labuschagne would carry on his good form in the series against India
After fully recovering from his left wrist injury, Australian captain Pat Cummins hopes to play in all three one-day internationals against India. However, he said that Mitchell Starc, his new ball partner, will miss Friday's series opener.
The Australia captain also hoped that Marnus Labuschagne would carry on his good form in the series against India and make his claim to a spot in the ODI World Cup's final 15.
"We have plenty of people at different stages. I am feeling pretty good. My wrist is all healed now. I am 100 per cent (fit). I will run around tomorrow and hope to play all three games,"

Cummins, who had a left wrist fracture, said during the pre-match press conference on Thursday.
Starc has been recovering from a groin injury sustained in the Ashes while after suffering with a wrist issue following the Ashes, Steven Smith will also make a comeback.
"In terms of a long list, (Mitchell) Starcy isn't available. We will give plenty of game time to everyone but also keep an eye on the World Cup,"

he added.
Steve Smith, who had a good hit on Wednesday evening, is also free of the wrist pain.
"He (Smith) is all good and he will play tomorrow. He has got a few good hits and he looks one hundred percent,"

the skipper informed.
When all-rounder Cameron Green was struck in the head during a recent match against South Africa, Labuschagne was brought in as a replacement.
"Marnus (Labushagne) is always ringing in my head, 24 hours,"

laughed Cummins. 
"He was fantastic. He was our best batter in South Africa. Not only batting-wise, his intent was excellent there in South Africa. I am sure he will get his chance in three games and push for his spot."

Cummins also hinted that Adam Zampa, who got thrashed in South Africa, could be used in death overs against India.
"Particularly, if you pick four frontline bowlers, they have to be ready to bowl in all phases.
"Zamps (Adam Zampa) is not only good in keeping the run rate down but can also pick a couple of wickets in death overs, which could be hard on pace bowlers. So I won't be surprised if we keep his 2, 3, or 4 overs up our sleeves,"

Cummins said.
Before the World Cup, Australia wants to win the series but does not want its players to become overextended in the heat.
"We want to get those combinations but don't want to already get cooked by the time we play that first game. We will try different combinations and a few different players will get a chance,"
The regular captain was impressed with Mitchell Marsh's leadership; and in case he takes a day off, Mitchell Marsh will lead the side.
"He (Marsh) was great. Excellent. We saw in the T20 series (in SA), started with a bang but it was a disappointing finish in ODIs. We did a lot of good stuff as well. We were impressed as to how he was around the boys and looked very calm every time on the field,"

Cummins said.
"Hopefully I will play every game and if I am not then he will be there to step right in."
According to Cummins, the only difference in October will be the temperature; the tracks will remain the same as they were in March.
"I always find Indian pitches pretty similar whatever time of the year you play. The only difference is the heat. Quite hot this time of the year compared to March but we bowled a lot of overs here so we have pretty good information about the conditions,"

he added.
Cummins is happy that all-rounders Marsh, Marcus Stoinis, and Green would bolster Australia's batting.
Cameron Green will bat in the top order while Marcus Stoinis has been used as a new-ball bowler. Sean Abbott, another option for a pace-bowling all-rounder, split his webbing in Johannesburg. Aaron Hardie is also available as cover for Abbott and Nathan Ellis.
"The more all-rounders you have, you can bolster your batting. It gives us the option to pick four genuine bowlers or three bowlers and a batting all-rounder at No. 8.
"Hope Maxi (Glenn Maxwell) comes back later in the series but the other 3 guys (Cameron Green, Marcus Stoinis, and Mitchell Marsh) are bowling fantastic. So feeling confident,"

he signed off.
As they are on paternity leave, Maxwell and Ashton Agar have not yet arrived but are expected to join the Australian team later in the series.
Ashton Agar, a member of Australia's preliminary World Cup squad, is unavailable for this series having returned home for the birth of his child.