Pakistan wins with the help of centuries from Babar and Iftikhar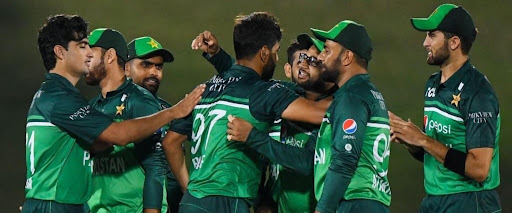 Pakistan defeated Nepal by 238 runs in the opening game of Asia Cup
In the opening game of the 2023 Asia Cup, Babar Azam led Pakistan to a 238-run victory over Nepal by playing a masterful game of ODI batting, hitting 151 off 131 balls.
Pakistan found itself in a vulnerable situation as Nepal made early inroads on a challenging ground in Multan. With 72 balls needed to achieve his fifty, Babar extended the innings throughout that time. He went from 51 to 100 in 37 balls as the tempo was gradually increased by him. He switched to T20 mode after reaching 100 and scored 51 runs off the next 22 balls.
ODIs are difficult because you must bat like in all three forms, according to Suryakumar Yadav, who recently made that claim. Babar Azam demonstrated how to accomplish it on Wednesday.
Pakistan reached 342 for 6 thanks to a fifth-wicket stand of 214 runs off 131 balls between Babar and Iftikhar Ahmed, who scored an unbeaten 109 off 71. Shadab Khan led the team throughout the chase when Babar didn't come out to field the ball. It didn't really matter because Nepal was dismissed for just 104 runs in 23.4 overs.
As well as playing Pakistan for the first time in any format, Nepal was competing in their first Asia Cup. It was clear multiple times that I was inexperienced and possibly nervous. Sompal Kami made a few leg side drifts in the opening over of the game, and Fakhar Zaman took advantage by hitting two boundaries.
But Nepal was saved by the slow pace of the pitch and some excellent fielding. Both Fakhar and Imam-ul-Haq struggled with timing as the ball did not come onto the bat. Aasif Sheikh, the wicketkeeper, extended to his left and reached out to snare Fakhar's thick outside edge on a length delivery from Karan. Rohit Paudel struck Imam short in the following over with a direct hit from mid-off.
As soon as Pakistan reached 25 for 2, Babar and Mohammad Rizwan began reassembling the innings. They led the side to 100 in the 22nd over by playing risk-free cricket while still occasionally scoring a boundary.
But then Nepal responded once more by fielding. This time, Rizwan's bat and both of his feet were in the air as the batter attempted to avoid being struck by the throw when Dipendra Singh Airee, bowling from cover, struck the stumps at the bowler's end. Rizwan would have been secure if he had grounded his bat and run normally. Out of 50 balls, he made 44.
In the first three balls he faced, Agha Salman attempted a reverse sweep and a sweep from far outside off, but neither shot resulted in any runs for him. He attempted a second reverse sweep off Sandeep Lamichhane three over later, but was unable to keep it down and was caught at short third.
Babar remained calm despite Pakistan being in trouble at 124 for 4. He rotated the strike well against spin and reached fifty in just 72 balls by making good use of the cut stroke.
When Nepal played, they sometimes looked like the World XI and other times like the Ilford Second XI. They dropped Babar on 55 after dropping Imam on 5 earlier. Several other causal attempts that resulted in misfields were also made.
Babar forced them to pay. In 109 balls, he reached his hundred after beginning to locate the boundaries more frequently. He reached the landmark appropriately thanks to a second cut shot against spin.
Iftikhar was even more vicious on the opposing side. Actually, it was his knock that made it possible for Babar to progressively change the gears.
Iftikhar launched an attack as soon as he entered the crease. In the 35th over, he blasted Kami over deep midwicket for his first six of the innings. He needed just 67 balls to reach his first ODI hundred against a defenseless Nepali lineup. When Pakistan ransacked 129 in the final ten overs, Iftikhar hit a total of 11 fours and four sixes.
Then, in the opening over of the chase, Shaheen Shah Afridi took two wickets. Prior to trapping Paudel lbw for a first-ball duck, he choked Kushal Bhurtel first down the leg side. Aasif was caught at first slip by Naseem Shah in the following over, bringing the score to 14 for 3.
By contributing 59 runs in 78 balls, Aarif Sheikh and Kami gave the innings some sense of steadiness, but they couldn't hold on against Haris Rauf's speed. Aarif was cleaned up first, and Kami was left in the dust after that. Shaheen and Haris had to leave the field for a break after their first spells, which was the only resistance Pakistan's fast bowlers encountered.
For Shadab's variations, Nepal's lower order was no match. He captured the final four wickets by combining his leg breaks and googlies to record a 4 for 27 total.