Pakistan will play the home series in-country, abroad is not an option – PCB CEO Wasim Khan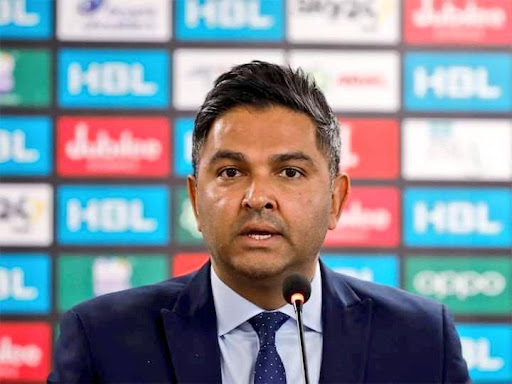 Twitter
PCB chief executive Wasim Khan said PCB will raise this matter in the ICC after the New Zealand team decides to pull out from the tour citing security concerns over their abandonment.
Pakistan Cricket Board (PCB) CEO, Wasim Khan made it clear it clear on Monday that Pakistan will play its home series only in the country, playing abroad is not even an option.
"PCB has a clear vision for now that Pakistan will play home series in Pakistan only and will not play anywhere else for which we're in talks with different boards. We've worked day and night to bring back international cricket in stadiums of Pakistan,"

Khan was quoted as saying, according to a report published in ARY Sports.
Wasim Khan, the Pakistan Cricket Board chief executive, has also highlighted the fact that "Inequality" exists in terms of behavior with Pakistan.
Black Caps tour of Pakistan which included three ODI and five T20I was abandoned due to security concerns.
Wasim Khan said that the decision by New Zealand Cricket has raised a question mark over the credibility of Pakistan to host the games.
He further said we provided them Presidential level security and we have also hosted a royal couple and many more cricket teams in a few couples of years very well and still, they create a security threat.
We will raise this issue in the ICC and do whatever we can.
"Ramiz Raja, the chairman, and I will be taking this up at the ICC level but also with New Zealand. It is something that we'll be pushing to have a discussion more broadly over this topic when we sit at the ICC table,"

Khan said at an online press conference on Sunday (September 19).
"Because as I said, the issue we have at the moment is that people can unilaterally make that decision without any consequences for themselves. There are consequences for the others who are the recipients, in this case, it was us. Is it fair that that can happen?
"Yes, we understand that there was the guidance provided by the New Zealand government. But were we not owed the respect to at least to have some dialogue to share the information, security to security, to see if we can mitigate the potential threat…If at that level, we cannot share information outside a circle, then it's going to be very hard for countries to be able to deal with and mitigate any potential threats that might be.
"There is inequality. I don't care what people say and I've been around cricket for a very very long time. We went to New Zealand, Bangladesh. We've done everything that's been asked of us. We've shown solidarity in cricket…It's easy to walk out of countries like Pakistan without any reason, dialogue, or discussion. That has to stop. Because the inequality has to stop in world cricket, unless we do that we're not going to have an even playing field, both in treatment and in finances."
The PCB chief executive, who spoke about the security input that emerged from Five Eyes – the joint intelligence section of Australia, New Zealand, Canada, the UK, and the US.
We have struggled very hard to bring international cricket back to Pakistan and the decision taken by the NZ board was very disrespectful.
Khan was hopeful that England will be touring Pakistan as per schedule, ESI head of security Reg Dickinson gave 'a clean bill of health.'
"Our understanding is that from a security perspective, as I mentioned, the travel advisory is an indicator of threat levels…Nor has it changed for the US, Australia, and Canada who are also part of that five-eyes alliance.
"England are meeting today to decide on whether they will tour Pakistan or not. We know what the guidance is, we know from a security perspective there's a clean bill of health. We certainly hope England will tour. We certainly believe they should be coming and hope they will be coming, based on what the competent authority in Islamabad and the security expert are saying.
"The same security expert who guided for the ECB to go to Bangladesh, six weeks after the bomb blast that killed 12 people [in 2016] – so there a lot of trusts put into this security expert who is understood and respected around the world. We certainly hope when the board meets, the ECB will decide to send their team to Pakistan for this short tour."
Wasim Khan ruled out snubbing playing against New Zealand in the T20 World Cup as a mark of protest.
"I don't think the answer to that is not taking part or playing against New Zealand in the World Cup. We have a duty to the fans, we have a duty still to get out there and play. We must go out and win that match. This is an ICC World Cup and our job is to go out and do that and we'll continue to have dialogue and discussion offline, myself and the chairman will do that with the competent authorities."