Once we move ahead in the Super Fours, there's no room for complacency – Rohit Sharma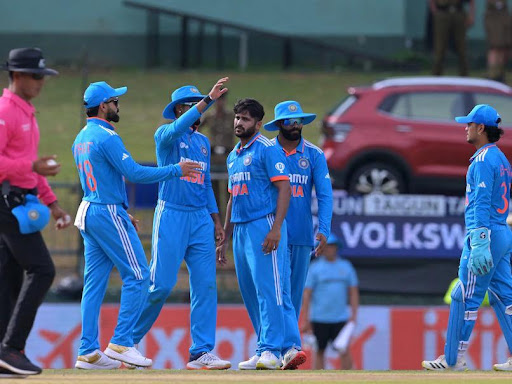 India defeated Nepal by 10 wickets
India defeated Nepal to earn a spot in the Super Fours of the 2023 Asia Cup in a match that was postponed due to rain. India's pursuit of the amended target of 145 runs in 23 overs was finished off in fine fashion by openers Rohit Sharma and Shubman Gill, who blasted unbeaten half-centuries while rarely being troubled.
Gill made the most of the breadth provided by the pacers' frequent use of the back foot to pelt the offside boundary early in the innings. The game was then abruptly stopped by rain, which washed out a big portion of the innings and forced a restart only five minutes before the deadline.
The responsibility was assumed by Rohit, who went after the leg spinner Sandeep Lamichanne, striking him for a four and a six off consecutive balls on two separate occasions as India accelerated toward the revised goal.
While Rohit sped to a half century off 39 balls, Gill also succeeded in lofting the spinner for a six in between. While Gill was somewhat slower than average, reaching the boundary in 46 balls, he made sure that the momentum didn't shift and successfully led India to victory.
In contrast, India's first bowling effort in the Asia Cup was a combination of both good and terrible, and Nepal was able to take advantage of the generosity when it was given and finished with a respectable score of 230.
In the first five overs of their innings after being put into bat, Nepal's openers received three lives. At first slip, Shreyas Iyer dropped a fine opportunity, while wicketkeeper Ishan Kishan and Virat Kohli at cover also missed easy chances.
Khushal Bhurtel started things off immediately, making his intentions obvious with a spectacular pull off Mohammad Siraj that easily cleared the stands beyond the boundary. He took advantage of any length errors made by the pacers, scoring 38 runs off just 25 balls before losing his way. He pulled Shardul Thakur for another six, trying to drive him, but quickly fell behind.
Aasif Sheikh, Bhurtel's partner, initially struggled to keep up with the seam movement offered by the seamers but eventually found his footing and began to lead the innings. He demonstrated that he was more skilled against spin and went on to reach his tenth ODI fifty.
For the middle order, Spin and Jadeja in particular proved to be a pain. When Bhim Shakri got an inside edge onto the stumps in his second over, the spinner struck.
Soon after, he struck again when Rohit Sharma pounced on a crisp opportunity at a slip to eliminate his opponent Rohit Paudel for 5. Jadeja's third victim in five overs came from Kushal Malla, who attempted to hit out against the left-armer but spooned a straightforward catch to mid off.
Sheikh's wicket stabilized one end, but when Siraj was summoned back for a session in the middle overs, Nepal were shaken once more. Before bringing Nepal to 144/6 when Gulsan Jha nicked behind, the pacer had Sheikh chipping a straightforward catch to Kohli at short cover.
However, a fast partnership between Dipendra Singh Airee and Sompal Kami for the seventh wicket, which they shared before the rain delay, supported the innings once again. In contrast to the former, who was quickly trapped by Hardik Pandya's slower ball after play resumed, Kami led the lower order by falling just two runs short of a half century against Mohammed Shami.
India 147 for 0 (Rohit 74*, Gill 67*) beat Nepal 230 (Aasif 58, Kami 48, Jadeja 3-40, Siraj 3-61) by ten wickets via DLS method