Oliver Price eases to century to leave Glamorgan out of pocket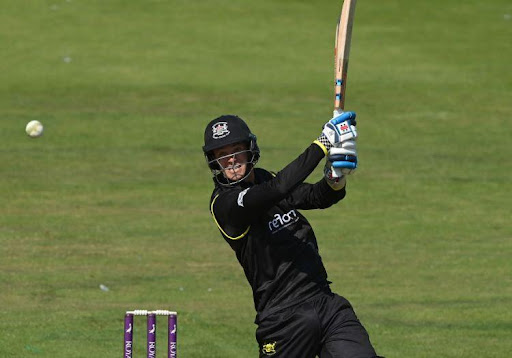 Ollie Price played an incredible innings of 109* runs
The Prices were correct for Gloucestershire, as brothers Oliver and Tom led them to a victory over Glamorgan that boosted their chances of finishing in the top three in Group A.
Following Glamorgan's 217 all out in 46 overs, Oliver Price took the lead with 109 not out, but he was running out of partners when brother Tom joined him at the crease. Tom became the second-highest scorer with 32 in that half-century stand. With 3.5 overs remaining, Gloucestershire declared at 218 for 5.
Ben Kellaway and Graeme van Buuren both took three wickets on the day, while Graeme van Buuren took three for Gloucestershire and Ben Kellaway took three for Glamorgan, who had lost their last eight wickets for 49 runs due to a batting collapse.
That was after Eddie Byrom and Kiran Carlson's half century had put them in a good position to advance. As a result, Gloucestershire moved up to second place in the standings, while Glamorgan remained in fifth place and still had to finish strongly and have good results in order to have any hope of finishing in the top three.
After captain Kiran Calrson won the toss and elected to bat on a track that had previously hosted the Hundred, Glamorgan's openers got off to a steady start without any indication of the impending collapse.
Sam Northeast and Eddie Byrom cobbled together a partnership of fifty runs in just 12 overs until Northeast top edged a pull attempt at a head-high bouncer from Paul van Meekeren and was caught behind by James Bracey.
With Carlson's aggression added to the batting equation, the 100 was reached in the 24th over. Carlson quickly followed Byrom in reaching the landmark after only 45 balls, bringing up his fifty in 82 balls.
Even before Byrom's dismissal for 60 on a fine catch by Chris Dent at midwicket off Tom Price, off 92 balls, they appeared to have a decent foundation on 158-2 after 30 overs.
Carlson was out after only guiding the ball back into bowler van Buuren's hands for 59 off 56 balls, which was an oddly easy dismissal.
Ben Kellaway left LBW swiping left arm spinner Tom Smith after a light 13. The innings ended after only 46 overs when Prem Sisodiya was caught and bowled by van Buuren, owing to excellent fielding by Gloucestershire.
Seven of the wickets were taken by the spin combination of Zafar Gohar, Tom Smith, and Graeme van Buuren, with van Buuren taking three and Smith and Gohar each collecting two.
Chris Dent, the Gloucestershire team's opener, was lost early thanks to Jamie McIlroy's swing bowling. The score was brought up to 70 by Bracey and Oliver Price before Bracey, who was on 27, was bowled behind the legs while attempting to sweep Sisodiya.
Price continued on to reach his half century off 51 balls, but the addition of Kellaway resulted in the clean bowling of Wells, who was struck by a sharply turning ball soon after the 100 had been reached in the 24th over.
When Jack Taylor lofted Kellaway to the safe hands of Ingram at far on, Glamorgan had some hope. A second sharply turning Kellaway ball knocked van Buuren through the gate for 23.
For the third time in his brief List A career, Kellaway finished an innings with three wickets in hand.
In an excellent run of form, Oliver Price launched Carlson down the ground for a six to bring up his century off 107 balls, his fourth in as many weeks. His brother gave him a hearty hug as they stuck together to secure the victory.