NZ wins the series 2-1 as Young and Chapman both hits fifty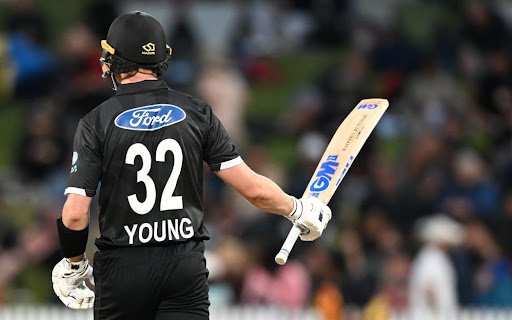 In order to win the third T20I by 32 runs and end the three-match series 2-1, New Zealand put on a comprehensive performance. They had lost the previous match on Saturday but had come back in style.
Will Young, who was playing in his first game of the series, and Mark Chapman, who picked up where he left off in the second game, each scored fifty runs as the visitors amassed 166 for five in their 20 overs, setting up the victory. The most effective host bowler was Junaid Siddique, who finished with 3 for 26.
As a response, some limiting New Zealand bowling completely destroyed the top half of the UAE. The sixth wicket partnership between Basil Hameed and Aayan Afzal Khan added 68 runs off 57 deliveries, but the hosts could only manage 134 for 7 runs as a result.
At the toss, Muhammad Waseem made it three wins in a row and continued to field first as he has throughout the series. The UAE bowlers then supported their captain's choice by limiting New Zealand to 38 in the powerplay and taking out the openers as well.
Tim Seifert got things started with a powerful cut, and Chad Bowes followed suit with a swipe through the defense. But Bowes' happiness was short-lived when Muhammad Jawadullah sent him back with a short-of-a-length ball that was skiddy and which he could only top-edge to short third, where Zahoor finished the catch on the second try.
The fielder running low to his right and hauling off a screamer, Seifert hacked his draw to the right of Hameed at deep backward square leg, and Siddique subsequently removed him. Although they were only moving at a run rate of slightly more than six, New Zealand was more aggressive during the powerplay.
Although the start resembled the previous game in several ways, Young and Chapman made sure they handled the middle overs differently this time. Will Young started the game off by hitting Siddique over the long leg fence with his second ball, which he expertly edged for a four.
When Seifert was out, Young did slow down a little bit, but three straight fours from Hameed got him going again, and he achieved his fifty off just 40 balls.
Young found a partner in Chapman, and their third-wicket partnership of 84 runs off only 60 balls tipped the scales back in New Zealand's favor. Chapman was cautious at first but eventually found his groove after scoring 17 runs off a Mohammed Faraazuddin over.
In comparison to the first two games, the surface seemed to be more conducive to shot-making, and both batters took advantage of it as New Zealand went from 55 for 2 after nine overs to 132 for 3 after sixteen. With five fours and two sixes in 30 balls, Chapman achieved his fifty as New Zealand appeared poised for a large total.
After being rested for the second T20I, Siddique made a strong comeback by taking three crucial wickets to keep his team in the match. In the powerplay, he got rid of Seifert, and in the following two overs, he got rid of Young and Chapman as well. Young was caught off guard by a short, slower ball that Chapman swung straight to deep backward square leg while Young could barely spoon it to extra cover.
The final stretch of New Zealand's innings was stopped by Siddique's spell. Only 24 runs, including a six off Mitchell Santner's final pitch of the inning, could be scored in the final three overs.
Waseem chopped away at Ben Lister for two consecutive fours after Tim Southee overthrew him for a maiden. Lister soon countered, however, catching Waseem's outside edge. After hitting a few impressive boundaries, Vriitya Aravind was dismissed by Kyle Jamieson as the visitors reached 40 for 2 after the powerplay.
The UAE was unable to capitalize in the middle overs, even though it was still better than what New Zealand managed in theirs. Santner stumped Aryansh Sharma for 16 before Adithya Ashok took his first international wicket and returned Asif Khan. UAE lost 3 for 9 in 11 balls after Ansh Tandon made a very improbable run two balls later.
The asking rate was constantly going against UAE when they were 56 for 5 after 10 overs. Although UAE was able to continue operating thanks to Hameed and Aayan, the huge hits never appeared. There were occasionally a few boundaries, but New Zealand bowled steadily.
After that, Lister took two wickets in the 19th over to conclude with 3 for 35 and give New Zealand the easy victory.