NZ vs PAK: Great Resilience from Pakistan batsman but not good enough to save the match, NZ leads 1-0 in two Test matches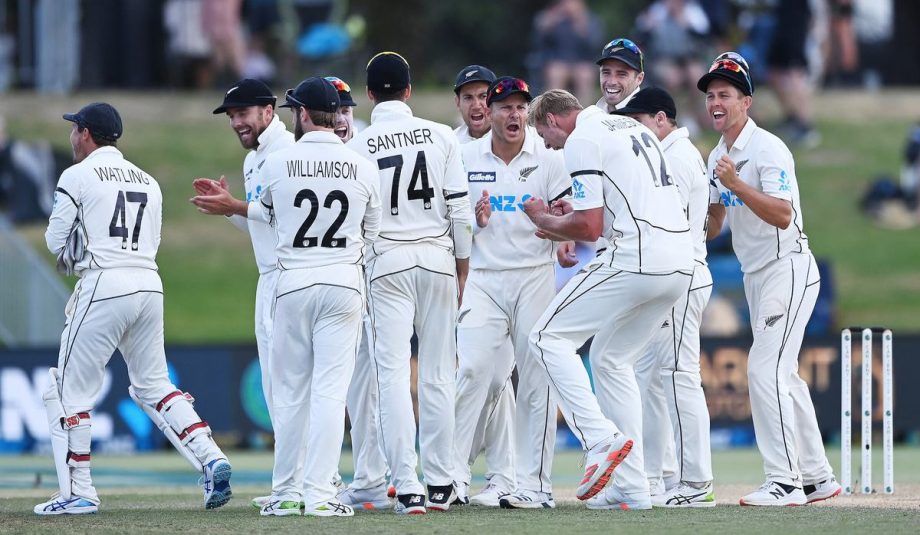 BLACKCAPS/ Twitter
Fawad Alam and the skipper, Rizwan were resilient with the bat on day 5 but they were not good enough to save the game for their side as New Zealand beat Pakistan by 101 runs with the visitors just short of 27 balls to draw the match at Mount Maunganui on Wednesday.
New Zealand beat Pakistan by 101 runs with a thrilling end on day 5 at Mount Maunganui on Wednesday with the visitors just short of 27 balls to draw the match for their side. The tail-enders, Shaheen Afridi and Naseem Shah blocked the Kiwis for seven overs in dim daylight before Naseem Shah got caught and ball by Mitchell Santner for one, breaking Pakistan's brilliant resistance.
Things started to fall when the birthday boy, Kyle Jamieson broke the fifth-wicket stand of 165 runs by Fawad Alam and Muhammad Rizwan. The victory was very significant for New Zealand to make in the World Test Championship final at Lord's in June 2021.
Once Jamieson took the crucial wicket of Rizwan by getting rid of him on 60 with an lbw, Neil Wagner bowled brilliantly despite playing with two broken toes, removed Fawad Alam on 102 with the same delivery he was trying again and again since the morning but this time Fawad broke the resilience to give an easy catch to BJ Watling. New Zealand was straight into the tail as Pakistan batting folded from 240/4 to 271 all out with 27 balls to spare.
Jamieson produced an absolute ripper after the tea break, bowled nine overs in the spell and took 2 wickets for only four runs.
Apart from day one morning session, when Pakistan pacers ripped-out the New Zealand openers cheaply, the game was in real control of New Zealand after Kane Williamson and BJ Watling put up a great partnership. The Pakistan team was bowled out cheaply in the first innings, New Zealand scored 188/5 and declared, giving Pakistan a huge target of 373 to chase in the last session of day 4 and so on.
It was New Zealand all over until the Pakistan skipper, Rizwan joined Fawad Alam on 75/4 in the morning. NZ required six more wickets to seal the victory while Pakistan needed 298 runs with more than 78 overs to face.
They put a great defensive show as New Zealand got nothing in the first session as well as in the second session. By tea, the two batsmen were still together and narrowed the target to 158 in 36 overs and NZ still needed six wickets to win.
But Jamieson came and turned the match towards his side after getting Rizwan lbw for 60 after 11 overs into the final session.
Jamieson was trying to get rid of Rizwan from the morning session but he was to close every time and finally he got his reward when the umpire refused to give out on an lbw call, which later on reviewed and overturned the decision.
'Very special from Wags'
Fawad Alam who faced 63 overs alongside Rizwan could play only three more overs before Wagner bowled him a short delivery and nicked it back to the keeper, BJ Watling on 102.
Fawad was disowned by Pakistan side since 2009 when he played three Test matches with the best of 168 and he was recalled a few months back in August when he scored a highest 21 against England.
There were some lousy moments earlier but was not lucky enough to get through and he held his nerve for 269 deliveries before bringing up his century on the ball of Wagner, scoring 2 more runs in the next 33 balls.
The New Zealand bowling attack comprising Tim Southee, Trent Boult, Kyle Jamieson, Neil Wagner and Mitchell Santner took two wickets each.
Apart from all the happiness, the New Zealanders faced, Neil Wagner was the one who won the hearts of everyone. Azhar Ali and Williamson praised his efforts of playing for the nation even though he broke his toe while batting.
"I said that to him — that's what it means to play for your nation. I think he's showing that and he's an inspiration, everyone knows he's got not one, but two, broken toes and he's fighting for his team. He was giving 100 per cent and maybe more than that, so I have huge respect for him,"

said Azhar Ali.
"People talk about the size of his heart in terms of what he (normally) does on the cricket field but to have a couple of broken toes, and he's in a lot of pain and going off to get injections and numbing his foot, and we're trying to use him. It was very, very special from 'Wags', one the team appreciated. We needed him out there and he delivered,"

Kane Williamson praised him for his patriotic effort.