New Zealand beat Afghanistan by 149 runs to keep their World Cup winning streak alive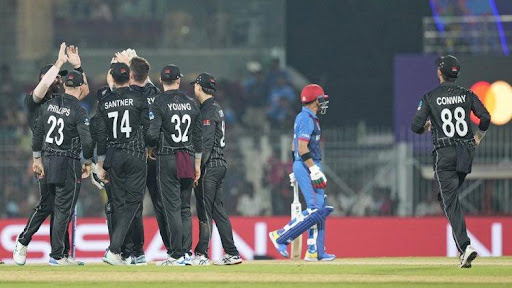 Tom Latham says pleasing start, and another great performance today; we were put under pressure at certain times but putting pressure back on them at the end of the innings was great
Afghanistan had won the toss and decided to bowl first while New Zealand scored 288 for 6; Santner's took Nabi wicket to reach 100 ODI wickets, and in the 34th over, Ferguson dismissed Rashid and Mujeeb and after that, Santner ended the game in the 35th, and New Zealand won easily.
Afghanistan had won the toss and decided to bowl first. After scoring 109 for 1 with relative ease in the 21st over, New Zealand lost nine balls to score a dismal 110 for 4.
But a 144-run partnership for the fifth wicket between skipper Tom Latham and Glenn Phillips saved the innings. Their cause was further enhanced by Afghanistan's carelessness in the field, where they allowed up to six opportunities (five catches and one run out) to be wasted while New Zealand scored 288 for 6.
On just his fourth delivery of the day, Fazalhaq Farooqi found Will Young's outside edge, but Rahmat Shah at wide slip lost an easy catch to his left. Young went on to score 54 while on a 1 at the time.
After taking 13 balls to get off the mark, Rachin Ravindra was given a life on 0 after Hashmatullah Shahidi mishandled a simple catch at midwicket. As he and Young put up a quick 79 runs for the second wicket, he made sure to punish Afghanistan.
Both batters extended their shoulders after an ordinary first power play. In the 13th over, they both hit Mohammad Nabi for six runs and in the 15th over, Young went after him once again.
As New Zealand crossed the 100 mark in the 19th over, the opener quickly reached his second consecutive fifty off 57 balls with a brilliant cut off Rashid Khan.
The pacers discovered movement, and the ball began to turn a little bit more. In the ten overs between 21 and 30, Afghanistan gave up just 29 runs with only two fours and three wickets.
However, Latham and Phillips managed to hold their own during all of this. The two did a good job of staying grounded despite a few nervous moments.
After drinks, the two decided to go for a more aggressive approach. Phillips took Nabi over deep midwicket after Latham had paddled Mujeeb fine past the stumps. After 40 overs, New Zealand was still only able to reach 185 for 4, but two mishandled catches helped them win.
Mujeeb dismissed Latham at short fine leg in the 41st over, before Shahidi put down a sitter at short cover in the 43rd, both off Rashid. New Zealand also took a risk. In the final ten overs, they scored 103 runs to surpass the 280 mark. Mark Chapman also contributed with an unbeaten 12-ball 25.
Afghanistan's chase of 289 never really got off the ground. Trent Boult was able to get the swing going for him right away. Matt Henry took the lead despite having both Rahmanullah Gurbaz and Ibrahim Zadran in the early strike.
The fast returned with a length that seemed sharply back, bypassing the batter's defenses and smashing into his stumps after being pushed by Gurbaz straight over his head.
Ibrahim was the next to go as he closed the bat face too soon on a Boult scrambled-seam delivery and flung a straightforward catch to Santner at cover two balls later.
Rahmat Shah and Shahidi took 47 balls to reach a 16-run partnership, which Santner's ended. Shahidi poorly parried Lockie Ferguson's sharp bumper, but he appeared to have enough bat on it to pass the fielder at square leg. Santner, though sprinted back, kept his eye on the ball before leaping with his outstretched left hand to complete a blinder.
Afghanistan's chances of winning were dwindling as they were down to 43 for 3 after 14. For the fourth wicket, Rahmat and Omarzai did add 54 runs, but New Zealand never allowed the game to slack off.
It was difficult to find the boundaries, and even the strike rotation wasn't always accurate. With two fours in the 25th over, Azmatullah had broken the shackles, but Boult claimed the next ball, and when Rahmat fell in the 29th over, the Afghanistan innings soon collapsed.
Santner's brilliant return of Nabi took him to 100 ODI wickets, and in the 34th over, Ferguson dismissed Rashid and Mujeeb. After that, Santner ended the game in the 35th, and New Zealand won easily.
Tom Latham, New Zealand Captain:
"Pleasing start, another great performance today. We were put under pressure at certain times but putting pressure back on them at the end of the innings was great. I think at that time we lost three wickets in a short time, we tried to get a partnership there…took it nice and deep, and there were a few chances here and there I guess. We tried to capitalize on those chances. Glenn played a fantastic inning took pressure off me. The guys set the tone at the top in the first 10 overs and kept chipping in. Pleasing all around. (Game versus India) I guess on the back of some good performances, we are stepping in the right way. We have a week or so and then we will play India and Australia, we are hoping to continue the momentum."
Hashmatullah Shahidi, Afghanistan Captain:
"Yeah, very disappointed because at this level you have to take those kinds of catches. End of the day those catches hurt us otherwise the team was doing well but the fielding made us feel a little bit down. Last six overs, a lot of runs (were made) by New Zealand, before that we dropped two catches before the 40th over and the set batters were there, that's why we couldn't stop them but everything went their way. Yeah, the toss I can say…we couldn't judge properly the pitch. I think in the first innings, it was spinning and was a bit slow, we bowled well but the fielding was not good. (On next match) tonight's game will hurt us but we still have more games to come, The next match is against Pakistan. We will go back and discuss where we can improve and will try to come back stronger."Glenn Phillips, Player of the Match: "Afghanistan spinners are incredibly talented. We did lose a couple of wickets early in the middle there, and just the way we went about was pleasing to see. It was great how we were able to take it till the end and I think we understood what we could get in the last 10 overs. Was amazing how Chapman and Santner finished it. I thought 250 was par. We are in an environment where we keep working for each other and play as a teach. Latham was really good towards the end."