Mohammad Nabi is replaced as the Afghanistan T20I captain by Rashid Khan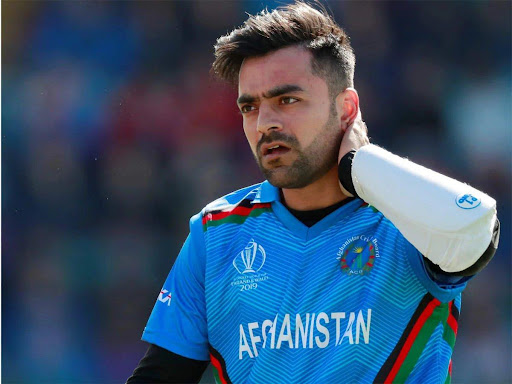 This time around, Rashid Khan's first task as T20I captain is a tour of the United Arab Emirates in February 2023
After Mohammed Nabi resigned as Afghanistan's T20I captain following the 2022 T20 World Cup, Rashid Khan was given the position once again.
Rashid is experienced in the position; he has already led Afghanistan in a variety of settings. Rashid's participation in several T20 tournaments throughout the world, according to ACB Chairman Mirwais Ashraf, will "raise the team to a new level."
Rashid Khan was suggested to take up the position by Afghanistan Cricket Board Chairman Mirwais Ashraf because the legspinner had previously led Afghanistan in seven T20 Internationals in 2019. Rashid also commanded Afghanistan in two tests and seven one-day internationals in 2018–19.
As Rashid's first assignment, he will tour the UAE in February of the following year for three T20 International matches.
"Captaincy is a huge responsibility," Rashid said after the appointment was announced. "I have the experience of leading my country before, there are a great bunch of guys with whom I have a good understanding and feel pretty comfortable. We will try to stick together, will work hard to put things on the right track and bring pride and joy to our country and nation".
In Rashid's last captaincy tenure, Afghanistan won four of seven games, including two victories over the West Indies in Lucknow. When Afghanistan visits the UAE to play three T20 Internationals against the hosts in February 2023, Rashid's most recent captaincy tenure will start.
In the past two years, the ACB has been eager to give Rashid the captaincy. Rashid turned down the T20I leadership position in June 2021 because he thought it would negatively impact his ability to participate. However, he was chosen as the skipper for the 2021 T20 World Cup in July.
Rashid resigned from his position as captain a month before the competition started, claiming that the selection committee and ACB had not gotten his approval before choosing the team. Nabi therefore assumed command.
He has also been in high demand in franchise cricket, playing 361 T20 matches with 15 different clubs globally since 2015. He ranks behind Dwayne Bravo (614) as the second-most productive bowler in the format with 491 wickets.
Rashid is the third-highest wicket-taker in the division, after only Bangladesh left-arm spinner Shakib Al Hassan (134) and New Zealand pacer Tim Southee (128). Rashid has played for Afghanistan in 74 T20I matches thus far.
"Rashid Khan is a massive name in Afghanistan Cricket,"

Ashraf said.
"He has colossal experience of playing the format around the world which will help him take the team to a new level in the format.
"Rashid Khan has the experience of leading Afghan Atalan in all three formats before and we are happy to have him as our skipper for the T20I format again. I am sure he will come out on top and will bring more glory to the nation."