Middleton's first century gives Hampshire the victory over Middlesex in a match marred by weather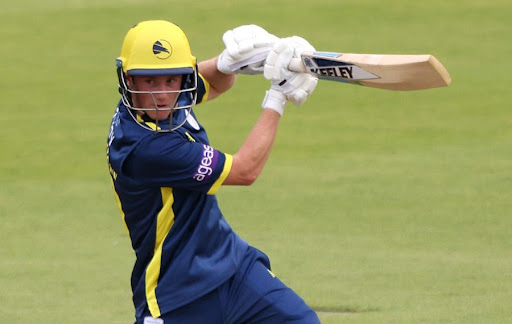 Fletcha Middleton scores his century
With Hampshire winning by an 18-run DLS margin over Middlesex to begin their Metro Bank One-Day Cup campaign, Fletcha Middleton played a masterful innings to register his first professional century.
Middleton, who batted first and struck out exactly 100 times, continued his remarkable season at the Ageas Bowl after making a name for himself in the LV=Insurance County Championship.
As Hampshire reached 238 for 5 while pursuing 310, Nick Gubbins and Tom Prest each contributed with 40 and 38, respectively, before rain forced an early finish.
Ryan Higgins had earlier smashed a 53-ball 78, but Middlesex was limited to 309 for 7 thanks to Scott Currie's 3 for 54.
Before Mark Stoneman was defeated by a little more bounce from Currie to draw out to deep square, Middlesex stuck with it and successfully completed the power play without taking any risks.
Joe Cracknell skillfully cycled strikes in stands of 54 with Stoneman, 43 with Sam Robson, and 35 with Joe Davies, never intentionally straying out of control.
Second List of his A fifty came in 59 balls, which caused him to adopt an offensive mindset. In the end, he advanced and chipped to short cover, which led to a pulled six, a stunning one-bounce four over mid-off, and his failure.
As soon as Davies fell, bringing the score to 156 for 4 in the 30th over, it appeared that attacking strokes were being wasted and that 300 would require some work. Higgins laughed at that judgment.
Since making an unbeaten 55 for Gloucestershire against Australia A in 2019, Higgins hadn't played List A cricket because to his involvement in The Hundred. In his 40-ball half-century, he got the innings going quickly and largely went after the shorter boundaries. He slog-swept Gubbins twice, smacked Felix Organ over the head, then tonked Dom Kelly over long-on two more times.
Higgins was caught by 17-year-old Eddie Jack, one of three Hampshire youngsters, on the next ball, and before the end of the next over, John Simpson had accompanied him back to the dressing room. The latter had established a century stand with Simpson, who had mostly moved out of Higgins' way.
Josh de Caires didn't stay long after giving Currie his third run; nevertheless, Luke Hollman's 17-ball 28 gave the end of the game momentum and easily led Middlesex past 300.
Middleton and Gubbins kept the DLS par score in close focus and skillfully moved ahead of it despite the fact that rain was present at the end of Middlesex's inning, briefly delaying Hampshire's start, and was anticipated nearby.
During a fast-paced 74-run partnership, both players tried to outdo the other in terms of aesthetics by hitting delicious V-strikes.
Gubbins was thrown when he pulled too far off, but Tom Prest kept up the canter, and Hampshire's success was much aided by his aggressive racing.
Middlesex's problems were made worse when Blake Cullen injured himself in his fourth over. Nevertheless, Prest, who had already hit his first six, tied his second shot to deep midwicket Robson with Ben Brown after being fooled by a Hollman googly.
Middleton performed admirably in last year's competition, but as he took control of the pursuit, his increasing confidence and maturity were evident in spades. His maiden century was scored in exactly 100 balls and displayed every talent he possessed, including patience, gap-finding, shot-making, and a dash of power.
Cullen's overs needed to be partially offset by Robson's occasional leg spin. He got Organ stumped and Middleton caught behind in three balls, which had the effect of turning the game around. Hampshire, who won their division last year, was up on DLS by 18 runs when it started to rain shortly after.