McCullum: Anderson, Robinson will be 'fit for Ashes' but sit out Ireland Test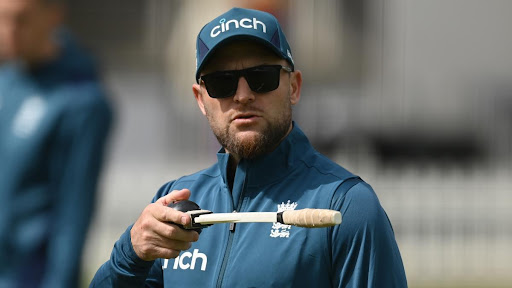 Brendon McCullum monitors Lord's training sessions
Despite being unable to play in England's opening summer Test against Ireland at Lord's starting on Thursday, James Anderson and Ollie Robinson are expected to be fully fit for the start of the Ashes at Edgbaston on June 16. This is according to Brendon McCullum.
Anderson injured his groin playing for Lancashire against Somerset earlier this month, and Robinson hobbled off the field during Sussex's Championship game against Glamorgan last week due to inflammation in his Achilles tendon.
Since then, neither bowler has bowled in a competitive match, and Ben Stokes' ability to play the role of an all-rounder following an injury-plagued IPL season with Chennai Super Kings continues to raise questions.
However, McCullum stated that his players would be prepared to "play the cards you are dealt" while addressing at Lord's as England assembled for their first summer training session. Mark Wood, who was spotted working hard in the nets on Monday morning, may receive his first Test match of the year. Wood was rested from the spring tour of New Zealand and returned home early from an impressive IPL stint with Lucknow SuperGiants.
"We've got a couple of niggles, so we're just monitoring those at the moment,"

McCullum told Sky Sports.
"Every team that goes into a series has got a couple of little things that you need to work through, but we're pretty confident we'll have a good squad to be able to pick from."
"For the first Ashes Test, I think [Anderson and Robinson] should be fit. They won't be fit for this one against Ireland. We'll just have to monitor it over this next sort of while, but we've got some great options right throughout the squad."
"Stokesy is progressing well too," he added. "He looks really fit as well, looks in great order and has a big smile on his face. He is delighted to be back around the group and as our leader, having that sort of energy he brings is fantastic, so again we'll monitor that and see what happens."
"I think he'll bowl at some stage throughout the summer, yeah, no doubt. He is a world-class allrounder and if he is able to bowl, fantastic. If not, we'll find a way."
"When I first took over this job, people said there wasn't much depth in English cricket and I disagree with that completely," McCullum added. "I think there is an immense amount of depth. There's no point being concerned. You just deal with what you've got and play the cards you are handed. I am confident we will have a good squad to pick from right throughout the summer, and we'll see how we go."
In the year after McCullum and Stokes assumed leadership roles in a new coach/captain pair, England's reputation has improved and they enter the season with a newfound reputation.
In that time, they have won ten of their twelve Test matches, with their most recent performance against New Zealand in Wellington in February ending in a stunning one-run defeat. This defeat served as more evidence of the "no-fear" style of cricket that the squad has adopted since then.
The Ashes are already looming large in the team's minds, despite the fact that the team's immediate challenge will be to defeat an Ireland squad that humiliated England for 85 in their most recent outing at Lord's in 2019, according to McCullum.
"It's been a great year, this will be a big summer," McCullum said. "There will be a lot of eyeballs on us, not just in the UK but also around the world, and that's what you want to be involved in. Who knows if we are going to win this summer but we're going to go into it with the right attitude, the right environment, and the right team which believes it's got a chance."
"We're a team that knows how we want to play now, and we're not afraid to lose, which is quite a remarkable trait, and that's led by the skipper and some of the senior players as well. If we do play how we want to play, we give ourselves the best opportunity and we've got the talent to put world-class teams under pressure."
McCullum was hesitant about the strengths of the team's composition when asked if England will be able to play their newly released brand of cricket in the full glare of an Ashes summer against a talented Australian team.
"Look, Australia is a very good line-up, right? They have world-class bowlers and have been a very good team for a long period of time. They'll be a formidable challenge for us, but it is a challenge we're really looking forward to," he said. "It is what you want to play sport for, right? You want to be playing against the best, in the biggest series and on the biggest stage, and there is no greater opportunity than what lies in front of us in the next six to eight weeks.
"From our point of view, we don't go into it prescribed with our method, it is about trying to ensure we are nice and free of mind, and being able to live in the present and deal with what comes our way. If it is a high-scoring rate, great. If it's not, that's great too. We'll just see what happens."