The 50s by Buttler, Stokes, Malan, and Livingstone lift England to a respectable 291 for 6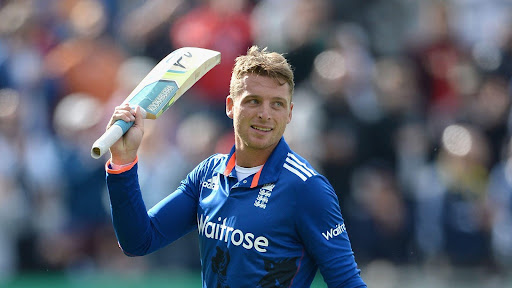 Jos buttler played an incredible innings of 72 runs
As he and Jos Buttler relied on Dawid Malan's previous efforts at the top of the order to carry England to a challenging 291 for 6 in the first ODI against New Zealand, Ben Stokes celebrated his 50-over comeback with a valiant half-century on a sluggish Cardiff surface.
Before David Willey's dazzling finish (21 from 11) added some gloss at the end, including a last-ball six off the pricey Tim Southee, Liam Livingstone also contributed with a timely 52 from 40 at the back end of the innings, his first England half-century in any format since June 2022.
In contrast, Harry Brook, who was given the unexpected chance to start the batting in Jason Roy's absence, found it difficult to create an impact with a quiet knock of 25 from 41.
Regardless of what they did, England could be pleased with their efforts on a surface that supported spin and seem equally and made going aggressively risky. Fortunately for England, Buttler is in some of his best form of his career right now, which is no small accomplishment given his customarily high standards.
As a result, it is surprising that even he struggled to unleash himself against a cunning New Zealand attack in which left-armer Rachin Ravindra excelled with 3 for 48, the best total of his brief ODI career.
He eventually settled for 72 from 68, including five fours and a pair of straight sixes, dumped up and over the short straight boundary at the River Taff End as Ravindra twice missed his mark in rare departures from New Zealand's otherwise strictly adhered to gameplan of bowling into the pitch, which invited awkward cross-batted launches out into the deep pockets square of the wicket on either side of Sophia Garden's rectangular playing surface.
The majority of his runs were gained during an 88-run fourth-wicket stand with Stokes, which served as a sort of payback for their World Cup final recovery effort. Three fast wickets, including an uncharacteristically erratic Joe Root, had left the innings in jeopardy at 101 for 3 in the 21st over.
He was then more passive during a spirited 77-run stand with Liam Livingstone, whose long-levered approach landed on three fours and three successive sixes off the lanky Kyle Jamieson, who was playing in his first ODI since April 2022 as he continues his comeback from back surgery.
Buttler's innings may have come to an end on 37 when he toe-ended a draw from Lockie Ferguson back over the bowler's head, but in the end, it was another top-edge as Southee delivered up a slower ball in his penultimate over that Ferguson held at mid-off.
Even on a pitch that didn't fully play to their full-throttle capabilities, England had been given more than a fighting chance under his watch, and much like in the 2019 World Cup, they had found enough muscle to put their runs on the board even on that surface.
Despite Buttler's efforts, the anticipation for England's innings may have reached its height with his squad announcement at the toss. Their batting was started not by a reunion of the 2019 old guard, but by a potential forerunner to the 2023 defense, as Harry Brook was forced up to open alongside Malan. Jason Roy had a back spasm and Jonny Bairstow was rested after his shoulder ailment in the fourth T20I.
It was an intriguing experiment that rather typified the hasty preparations England is being forced to do as their World Cup defense approaches in less than a month.
Although Malan had argued last week that Brook is "4, 5, 6" thus they couldn't possibly be competing for one position, the management decided to put an end to that train of thought right away because there is no time for standing on ceremony in the race for spots in the final 15.
Perhaps everything was set up for a funny run-out. The final result was a measured opening partnership of 80 in exactly 15 overs, and perhaps in contrast to any pre-innings expectations, Malan made the most of that running in another pointedly combative knock, studded with nine cherry-picked fours, the majority of which blazed through the covers as he took advantage of New Zealand's longer lengths in the powerplay.
After England's engine room had struggled to match his even tempo, especially Root, who never looked settled in his torturous knock of 6 from 15, it was an innings that appeared even better in retrospect.
After rolling his wrists on a pull through fine leg to bring up a 48-ball fifty, Malan appeared to tap his pad with his bat in an act of self-congratulation, a tacit acknowledgement of the pressure he is currently under.
However, despite his impressive performance, those opposed would not have been completely dissuaded, especially given how it concluded. A weakness against spin is hardly the best Achilles heel given that the World Cup will soon be held in India.
However, Ravindra's start was quickly undone after just two balls, when he put his front foot on the line of off stump and likely would have been given out lbw had the ball not ricocheted off his elbow and down onto his stumps.
Despite a first-ball clip off the pads for four, Brook cut a subdued figure in his first attempt as an ODI opener and given that this is only his fourth 50-over match of any vintage since before the last World Cup. However, in the personal shoot-out stakes, Malan had been quicker on the trigger than his opening partner.
For a significant portion of the powerplay, he was obviously strike-starved, going from 24 balls to 48 at one point, which may or may not have been an insincere attempt by his teammate to outdo him. In spite of this, he found it difficult to score any significant blows throughout a total of 41 balls of his 25; his only other boundary was a wristy blap across the line against Jamieson.
Four balls later, Ferguson bowed his back in a furious mid-innings period to find a wonderfully aimed bouncer that Brook could only apologetically fence to the keeper. This came just four balls after Malan left the game.
Thus, England's multi-format old team of Root and Stokes was reunited at 80 for 2 without either player having faced a ball. When Stokes fenced his first ball, another terrific lifter, inches over Glenn Phillips' head at gully while he was sprawled, they might have already been split apart before they ever got going.
One over later, Root, who had inside-edged Ravindra onto his pads, escaped a significant and reviewed appeal for lbw, but eventually his stay would be as sluggish as his previous ODI against New Zealand, which featured his forgettable 7 from 30 in the World Cup final.